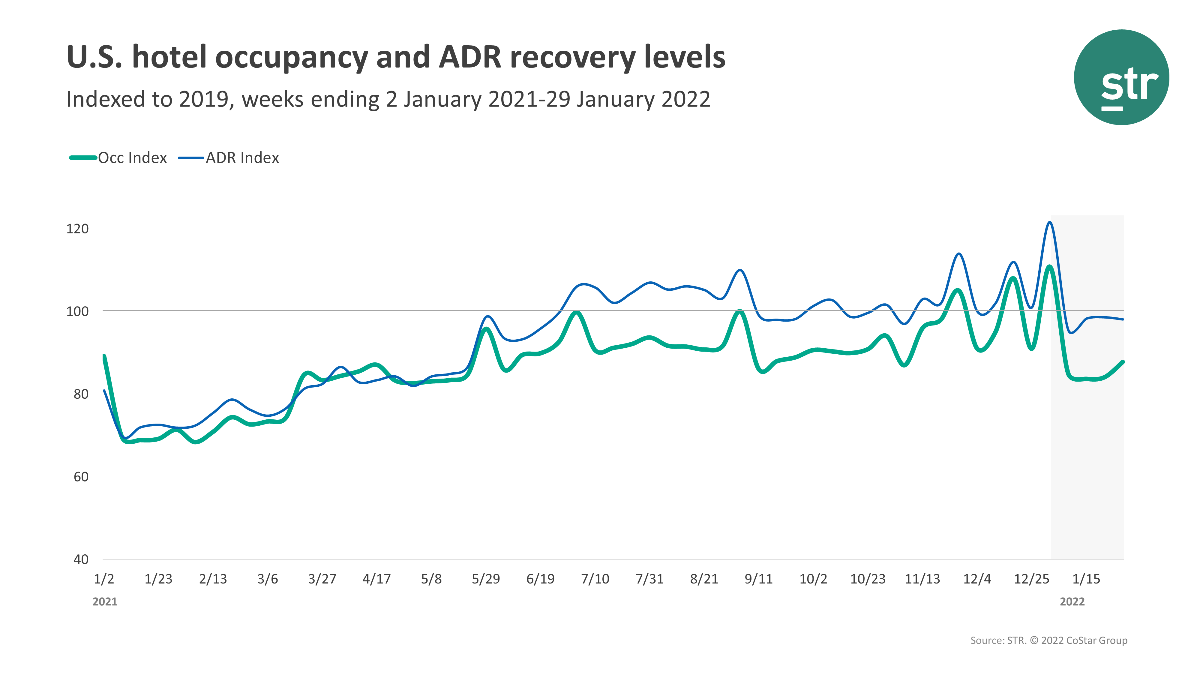 THERE WAS A slight increase in U.S. hotel performance in the fourth and final week of January compared to the week before, according to STR. Improvements also happened during the period compared to two years ago.
Occupancy was 49.7 percent for the week ending Jan. 29, up from 48.7 percent the week before and down 12.2 percent from the comparable week in 2019. ADR was $122.40 for the week, almost same as the week before at $122.17 and down just 1.9 percent from two years ago.
RevPAR reached $60.82 during the final week of January, up from $59.52 the prior week and down 13.9 percent from the same period two years ago.
Among STR's top 25 markets, Norfolk/Virginia Beach registered the only occupancy increase during the period, up 2 percent to 46.6 percent and the highest RevPAR gain, an increase of 15.2 percent to $41.15 over 2019. The highest ADR increase happened in Miami posted, up 14.8 percent to $273.88 when compared to two years ago.
San Francisco/San Mateo posted the largest occupancy decrease, down 41.3 percent to 42.4 percent, from 2019.
The steepest RevPAR deficits were in San Francisco/San Mateo, 56.3 percent dip to $69.29 during the fourth week of January, followed by Atlanta, a decrease of 55.5 percent to $62.16 when compared to 2019.