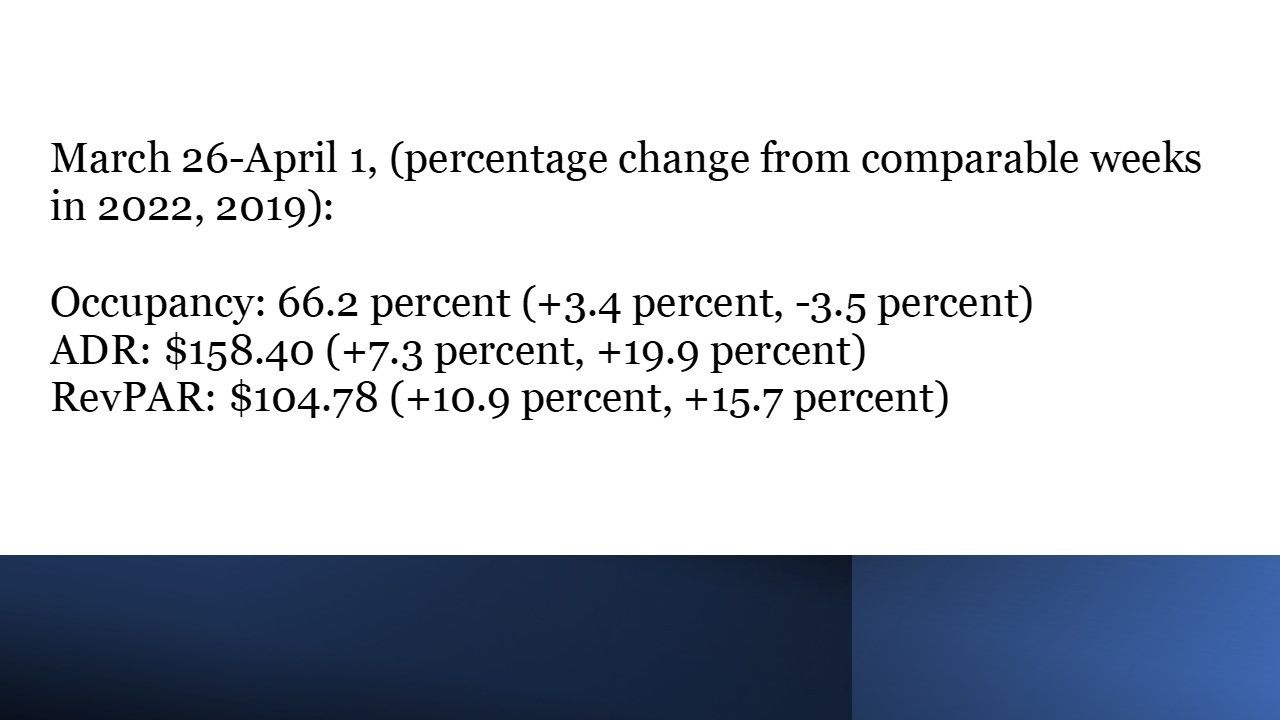 AS NORMAL SPRING break patterns continue, U.S. hotel performance increased in the first week of April compared to the previous week, according to STR. Metrics improved over the previous week as well as year-over-year in most cases.
Occupancy stood at 66.2 percent for the week ending April 1, up from 64.9 percent the week before, and rose 3.4 percent than the comparable week in 2022 and decreased 3.5 percent over the comparable week in 2019. ADR was $158.40, down from $158.61 the week before, increased 7.3 percent and 19.9 percent against 2022 and 2019, respectively. RevPAR was $104.78 from $102.98 in the last week and rose 10.9 percent and 15.7 percent over the same month in 2022 and 2019.
Among the top 25 markets, Washington, D.C., registered the highest year-over-year increase in occupancy, up 18.2 percent to 78.7 percent, while Dallas saw the highest occupancy lift over 2019, up 6.2 percent to 73 percent.
Houston showed the most substantial ADR, up 25.8 percent to $133.5, while Phoenix reported the highest ADR increase over 2019, up 49.4 percent to $232.54.
Las Vegas witnessed the highest RevPAR increase measuring against 2019, up 49.8 percent to $168.41, while Washington, D.C., posted the largest year-over-year increase in the metric, up 44.1 percent to $165.44.
The steepest RevPAR declines were seen in Minneapolis, down 37.4 percent to $66.73 and San Francisco, down 27.5 percent to $123.96, over 2019.  New Orleans also reported the largest year-over-year RevPAR decrease, decreased 26.4 percent to $125.83.