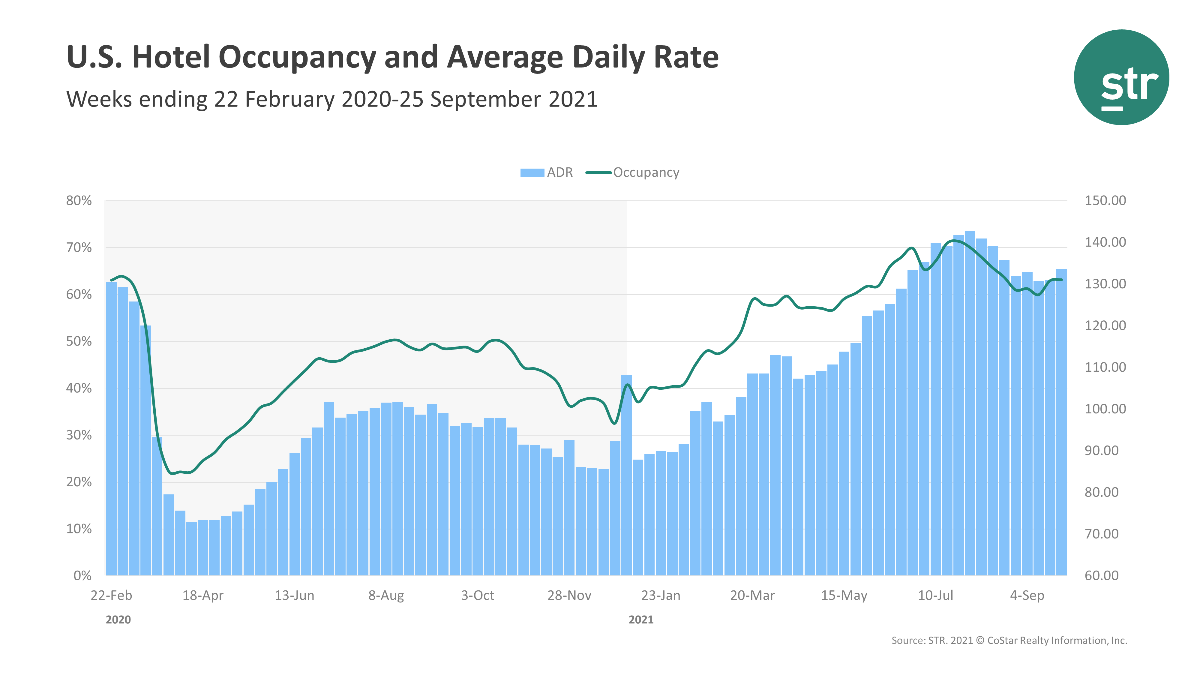 THE GROUP TRAVEL business for U.S. hotels rose again to almost 1.3 million for the last full week of September, according to STR. It exceeded 1 million people for the first time since beginning of pandemic a week ago.
Group ADR moved past $200 for the first time since February 2020, the report added.
Occupancy remained relatively flat week over week at 63.2 percent during the week ending Sept. 25, but down 11 percent from the comparable time period in 2019. ADR was $133.69, up from $131.04 weekly and down 2 percent from two years before. RevPAR rose to $84.54 on a weekly basis from $82.50 but dropped 12.8 percent from 2019 levels.
Norfolk/Virginia Beach was the top 25 market which recorded the only occupancy increase over 2019, rising 0.1 percent to 63.9 percent, as well as RevPAR, up 17.8 percent to $74.71.  Miami reported the largest ADR increase over 2019, up 19.5 percent to $172.29.
San Francisco/San Mateo, California, experienced the steepest occupancy decline from 2019 levels, dropping 44 percent to 51.3 percent.
The largest RevPAR deficits were also reported in San Francisco/San Mateo, which dropped 66.1 percent to $89.58 and Washington, D.C., which fell 45.2 percent to $79.12.
Profitability dips
Gross operating profits for U.S. hotels decreased in August compared to a month ago mainly due to the end of the summer travel surge, the monthly P&L data from STR stated.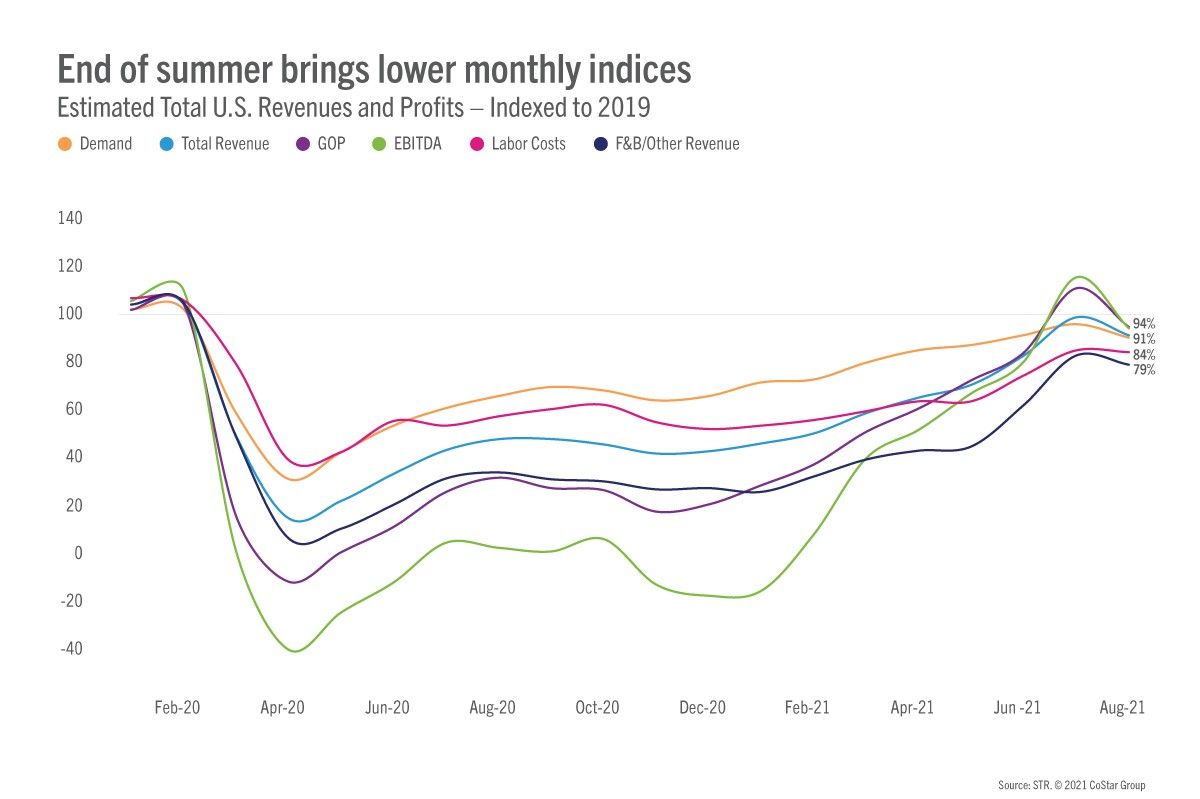 Estimated GOP was 111 percent of 2019 levels in July but just 94 percent in August. The only key profitability metric to increase month-over-month was labor per available room, the data revealed.
GOPPAR for August was $49.31 and TRevPAR was at $146.22. EBITDA PAR for the month was $32.13 and LPAR (Labor Costs) was $47.99, according to STR.
"Lower profitability levels were not surprising given the lower top-line performance we reported for the month," said Raquel Ortiz, STR's assistant director of financial performance.
"There was a decline in the percentage of U.S. hotels to break even on both a GOP and net income basis, and labor costs were up even with weakened demand. An encouraging sign came in the major markets, with improved TrevPAR and GOPPAR indices because of higher realized occupancies, but obviously those markets have the longest way to go.
According to Ortiz, July was likely the profitability peak for this part of the recovery cycle, but September P&L data will be quite interesting given the gains we've seen in group demand over the last few weeks.
"F&B revenues, specifically in the catering departments, have been incredibly low because of the low volume of events in hotels," she said.