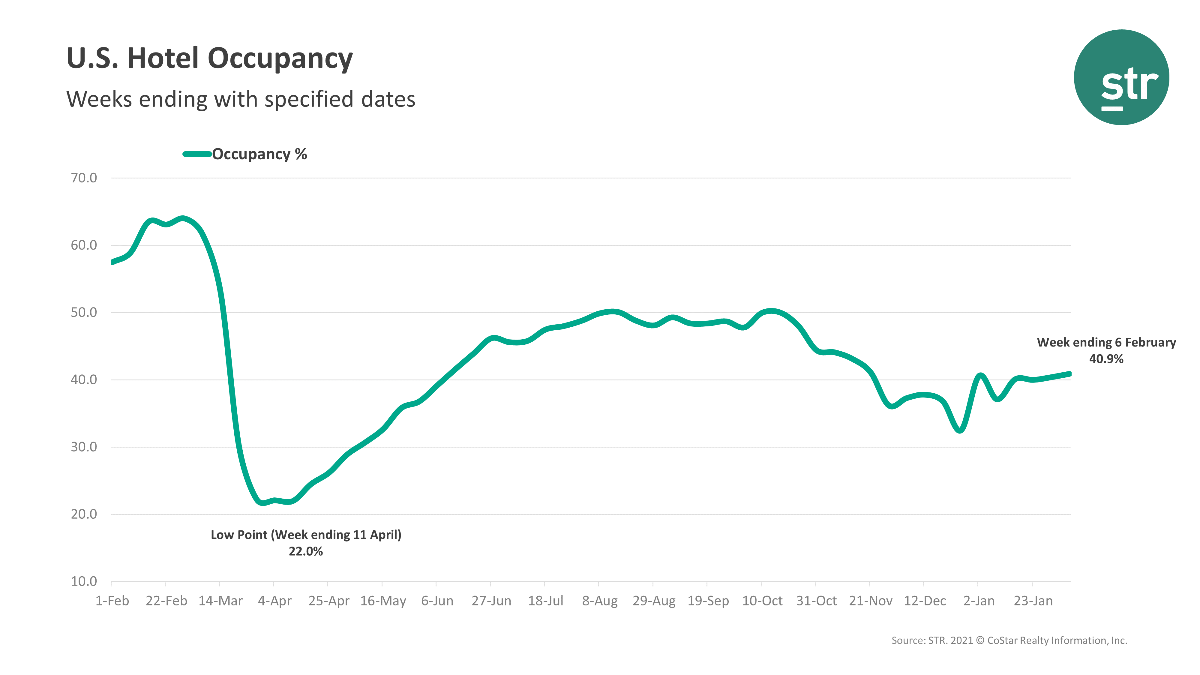 THE FIRST FULL week of February saw mostly flat performance by U.S. hotels, according to STR. However, the Super Bowl did boost occupancy for host city Tampa, Florida.
Occupancy for the week ending Feb. 6 was 40.9 percent, up slightly from 40.4 percent the previous week and down 30.5 percent from the same week in 2020. ADR for the week was $91.44, a rise from the prior week's $89.62 but a 29 percent decline year-over-year. RevPAR finished at $37.44 compared to $36.23 the week before and down 50.6 percent from 2020.
Lifted by Super Bowl LV, Tampa/St. Petersburg, Florida's 62.9 percent occupancy was the highest among the top 25 markets.
"Among STR-defined submarkets, Tampa East, with 90.4 percent, saw the highest spike in Friday/Saturday occupancy, while Tampa CBD/Airport posted the highest ADR at $379 on those nights," STR said. "STR will release a more detailed Super Bowl analysis following next week's data processing, which will include the night of the Super Bowl Sunday."
With 23.4 percent, Oahu Island, Hawaii, continued to see the lowest occupancy rate among the top 25, followed by Minneapolis/St. Paul, Minnesota-Wisconsin, with 28 percent.
Overall, the top 25 showed lower occupancy, 38.9 percent, but higher ADR, $99.20, than all other markets.