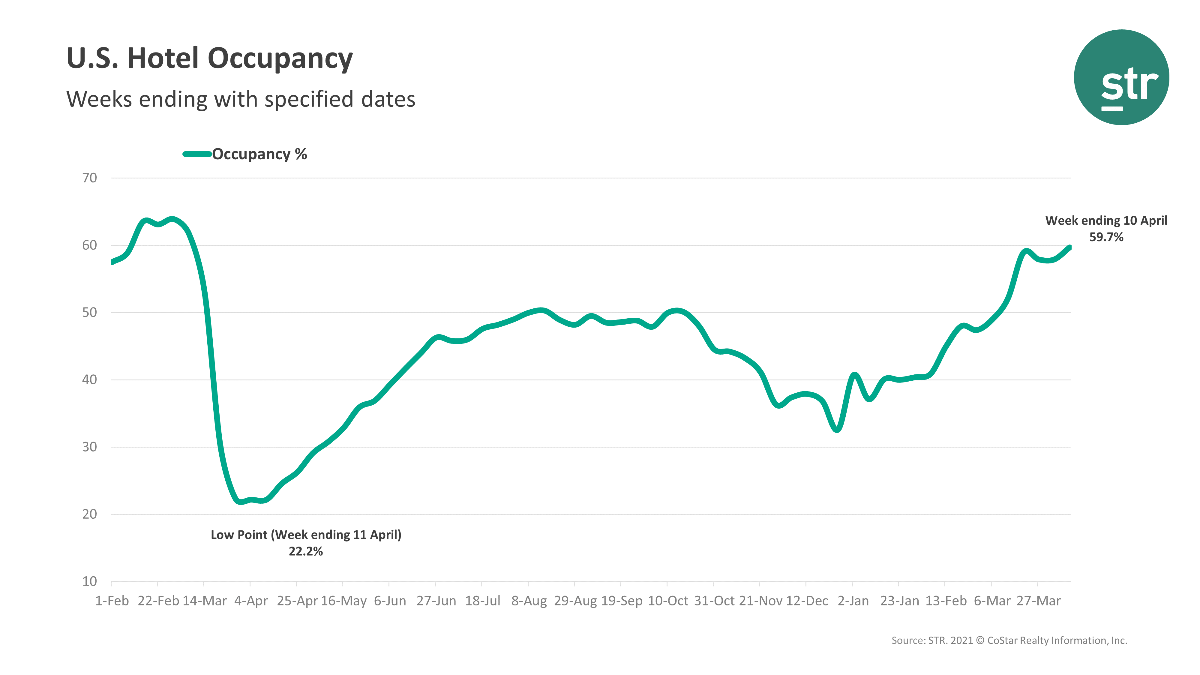 DEMAND FOR HOTELS in the U.S. is rising and in the second week of April it reached its highest level since the pandemic began, according to STR. However, the country's hotel construction pipeline continued to slow down in March.
Occupancy reached 59.7 percent during the week ending April 10, up from 57.9 percent the week before. ADR was $112.22, down slightly from $112.76 the previous week, and RevPAR was $66.99, up from $62.68 the week before.
"Reflecting the country's almost 2-point improvement in occupancy from the previous week, more than 50 percent of properties posted a weekly occupancy above 60 percent," STR said. "Additional insights are available in STR's Market Recovery Monitor."
STR's top 25 markets together saw slightly lower occupancy than the national average at 57.5 percent but higher ADR at $119.86. Tampa, Florida, and Miami had the highest occupancy at 83.7 percent and 74.1 percent respectively. The lowest occupancy in the top 25 markets came in Minneapolis with 40 percent and Boston at 40.7 percent.
With the exception of Europe, hotel construction was down worldwide, according to STR. For the Americas total, there were 240,635 rooms in construction, down 11.6 percent year-over-year. The number of rooms in final planning, 254,389, also were down by 13.4 percent while the number of rooms in planning, 265,702, were up 2.8 percent.
"The U.S. led the world in new hotel openings during the first quarter 2021, despite a year-over-year decline in construction activity," STR said. "In addition to the U.S., Mexico (14,491) and Canada (8,804) have the highest number of rooms in construction in the region."
Europe saw a 26.9 percent rise in rooms in construction, at 258,129, and a 23.7 percent increase in final planning at 181,101 rooms.