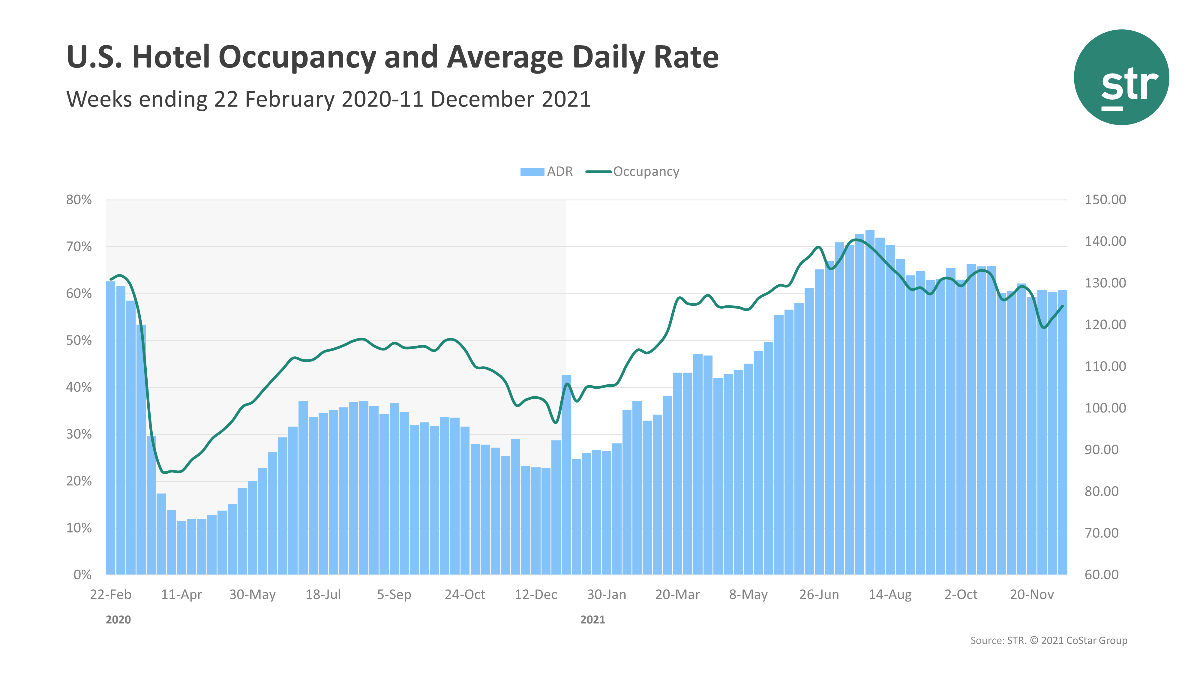 U.S. HOTEL PERFORMANCE increased in the second week of December, according to STR. ADR was up during the week when compared to same period in 2019.
Occupancy was 57.4 percent for the week ending Dec. 11, up from 54.8 percent the week before and down by 4.8 percent for the same period in 2019. ADR for the week was $128.35, up from $127.92 the week before and increased 2.3 percent when compared to two years ago. RevPAR increased to $73.73 during the week from $70.08 for the week before but dropped 2.7 percent for the same period in 2019.
Among the Top 25 Markets, Norfolk/Virginia Beach saw the only occupancy increase among STR's top 25 markets during the week, up 4.2 percent to 55.2 percent over 2019.
New York City reported the highest weekly occupancy level of any STR-defined U.S. market at 81.5 percent. However, its occupancy level was 13 percent lower than two years ago.
Miami registered the largest ADR increase during the period, up 30.1 percent to $229.34, when compared to 2019.
San Francisco/San Mateo experienced the steepest occupancy decline from 2019, down 32.7 percent to 59.8 percent.
The largest RevPAR deficits were in San Francisco/San Mateo, dropped 53.2 percent to $106.83, followed by by Washington, down 32.6 percent to $69.23 during the week under review.