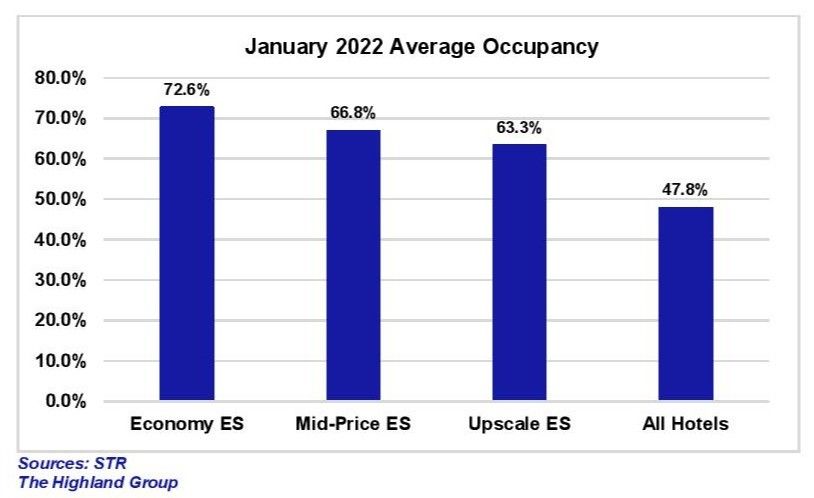 U.S. EXTENDED-STAY hotels posted record high demand in January and monthly RevPAR was up by more than one third mainly due to record ADR growth during the period over 2021, according to hotel investment advisors The Highland Group. Occupancy extended-stay hotels also remained high in the month when compared to the overall hotel industry's long-term average.
The supply growth of 3.5 percent in January further indicated that mid-price and upscale supply increases should be well below pre-pandemic levels during the near term, according to "U.S. Extended-Stay Hotels Bulletin: January 2022" report by Highland Group. It is the fourth consecutive month of 4 percent or lower supply growth.
The report said that the overall hotel industry lost far more revenue than extended-stay hotels in 2020 and 2021, so it is now recovering revenue more quickly. Besides, overall hotel industry lost far more RevPAR than extended-stay hotels in 2020, its RevPAR growth in January this year compared to last year was considerably greater.
According to STR, all hotel room revenue was up 73.5 percent in January compared to one year ago.
"Upscale extended-stay hotels endured the largest fall in demand in 2020 and the greatest rebound in 2021. All three segments report recorded high demand in January. Extended-stay hotel demand exceeded 11.5 million room nights increased demand the fastest in January partly because it has the lowest occupancy," the report said.  "Overall hotel occupancy gained more than extended-stay hotels in January compared to last year, decreasing extended-stay hotel's occupancy premium to 18.6 percentage points. However, the premium remains above its long-term average, where it has stayed for the last two years."
The Highland Group report further said that mid-price and upscale extended-stay hotels continued to lead the ADR recovery in January, though lower than in December. However, the economy segment improved its ADR recovery index over the same period, it added.
"The upscale segment continued posting the strongest RevPAR growth over 2021.  However, unlike the economy and mid-price segments, it has not recovered monthly RevPAR back to 2019," the report said.
The collective recovery indices of U.S. extended-stay hotels exceeded 100 percent in November for the first time in 2021.