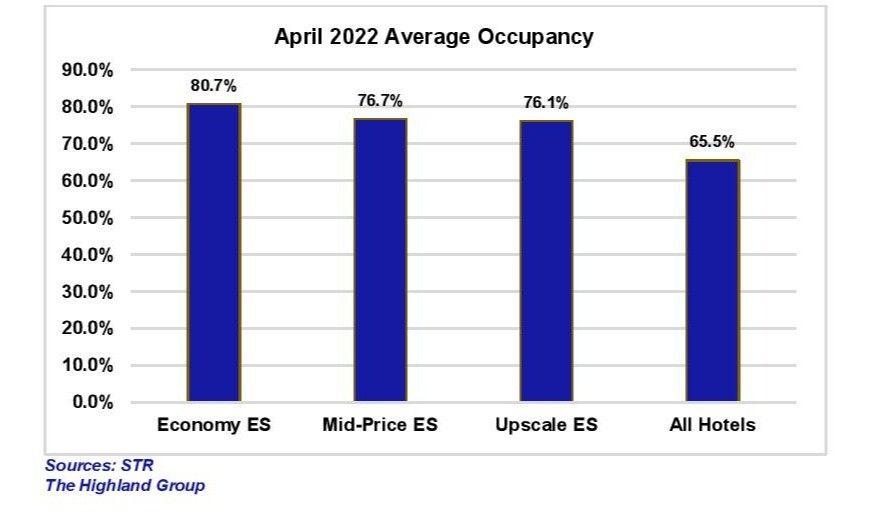 U.S. EXTENDED-STAY HOTELS continued their good performance in all measures of performance in April compared to 2019 and higher than in March, according to hotel investment advisors The Highland Group. Due to seasonal increases in leisure travel, the upscale extended-stay hotels benefited the most from the greatest lift in recovery indices except ADR.
Meanwhile, mid-price extended-stay hotels achieved the strongest monthly gains in ADR and room revenues compared to April 2021, the U.S. Extended-Stay Hotels Bulletin: April 2022 report said. Economy extended-stay hotels continued the lead the recovery compared to 2019, but, demand declined 1.4 percent in April this year compared to April 2021, mainly due to strong increases in ADR over several months.
"The 1.8 percent increase in extended-stay room supply in April is the first month supply growth reported below 2 percent since 2013 and the seventh consecutive month of 4 percent or lower supply growth. It is likely that the supply increases should be well below pre-pandemic levels during the near term," the report said.
The overall hotel industry is now recovering revenue more quickly than extended-stay hotels. STR reports all hotel room revenue was up 59 percent in April 2022 compared to a year ago.
The report added that all extended-stay segments reported their lowest monthly change in demand so far this year.
"For the first time in more than a year mid-price extended-stay hotel demand increased faster than the upscale segment which endured the greatest demand decline in 2020," the report said. "Except for February 2021, which was impacted negatively by the leap year in 2020, economy extended-stay hotels reported the first monthly fall in demand in 22 consecutive months."
Overall hotel occupancy gained more than extended-stay hotels in April 2022 compared to 2021, decreasing extended-stay hotel's occupancy premium to 12 percentage points, the report added. Mid-price and upscale extended-stay hotels continued to lead the ADR recovery in April and the upscale segment has now fully regained ADR back to its nominal 2019 value.
"Mid-price and upscale segments continued posting the strongest RevPAR growth over last year. Upscale extended-stay hotels fully recovered monthly RevPar back to 2019. The RevPAR growth in April 2022 relative to April 2021 was considerably greater," the report further said.
The Highland Group earlier reported that extended-stay hotels registered an increase in occupancy and ADR in the first quarter of this year.