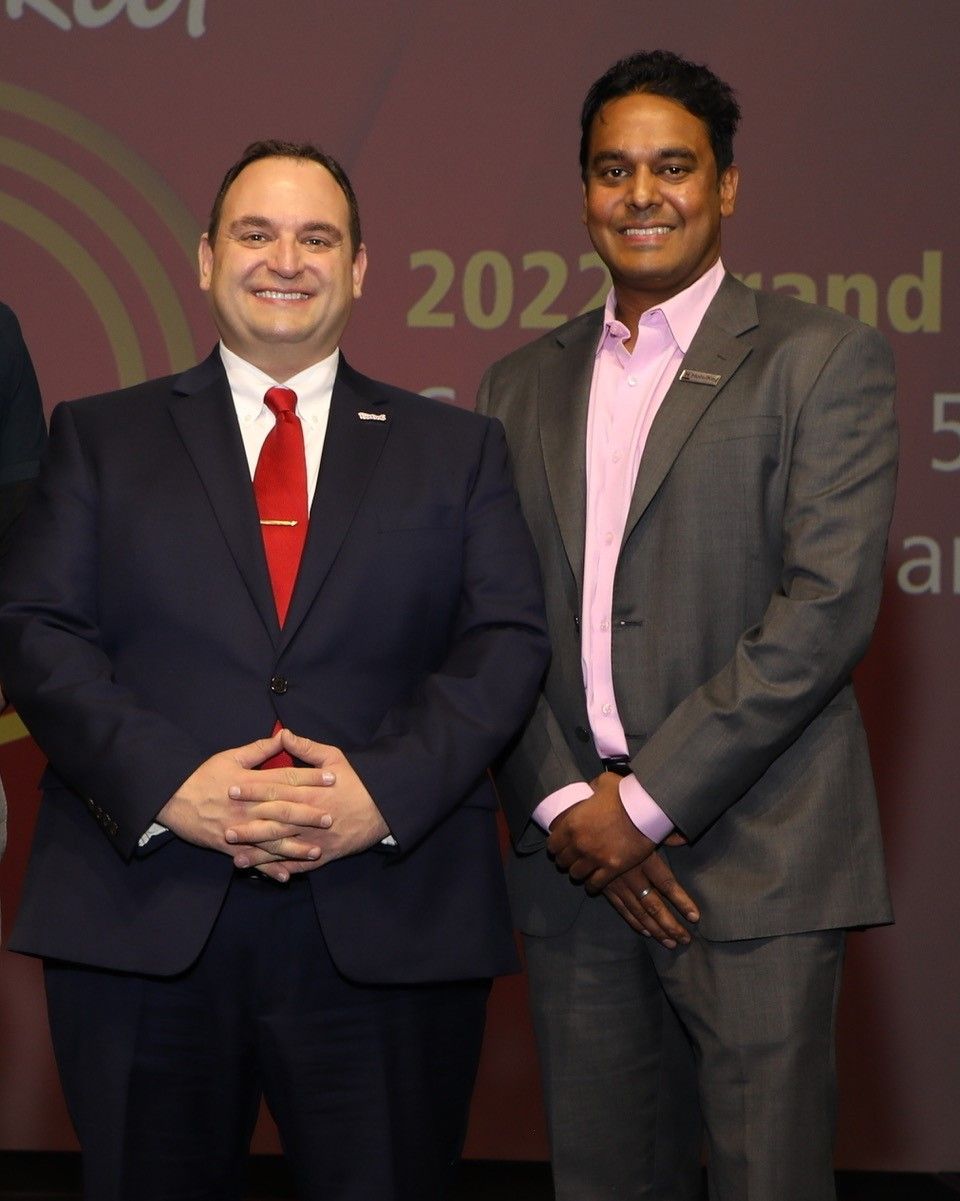 MARKING 50 YEARS in the hotel business, Red Roof held its annual brand conference at the Broadmoor Resort in Colorado Springs, Colorado, Nov. 11 to 13. During the conference, the company announced a new partnership with software company HotelKey to install a multi-functional, cloud-based system in its more than 675 properties nationwide.
Other news from the conference included details of the company's financial position, which George Limbert, Red Roof president, said is strong. Company officials also discussed Red Roof's new dual brand development prototype, other partnerships and the latest charity efforts of the company's Purpose With Heart.
"Red Roof delivered record revenue which is a testament to our resilience and ability to anticipate market trends," Limbert said. "Our financial position is strong, travelers are back and our owners and operators are exceeding performance expectations."
Easy to use platform covers the bases
HotelKey's platform will "increase efficiency, optimize operations and enhance guest experience," Red Roof said. It will provide property management, central reservations, inventory management, loyalty integration and other products.
Franchisees will be able to manage their properties from most devices, such as desktops, tablets or mobile. It improves integration with third-party OTAs. The software also integrates hotel operations, including the front desk, accounts receivable, housekeeping and maintenance, point of sale, and inventory management.
"HotelKey's technology builds upon our legacy programs providing the most effective solutions to help franchisees streamline operations and ultimately benefit our guests," Limbert said.
Ted Hutchins, Red Roof chief information officer, said he hopes to begin piloting the new program this summer.
"A major benefit of HotelKey's platform is its user-friendly, self-guided training technology," Hutchins said. "This is a game changer for front desk managers and will simplify onboarding and ongoing training."
HotelKey was begun by Aditya Thyagarajan and Fareed Ahmad in 2015. It has established similar partnerships with G6 Hospitality and Extended Stay America. Thyagarajan said Ahmad focuses on the technology side of the company while he handles business growth and finding clients.
"We zoomed into the hospitality industry and we saw a gap in terms of what products exist in technology," Thyagarajan said. "Our whole goal was to build something which is meaningful, using the latest technologies, and make everything seamless, easier."
Ahmad said HotelKey's system allows enterprise clients to build and compose new proprietary guest experiences using the company's core platform APIs. In addition, he plans to work with the Red Roof team to build a hospitality-native loyalty system, which will become a standard offering for the company's current and future clients.
"One of the things we have done is that we always work backwards," Ahmad said. "We understand what the customer needs and design the software that can satisfy those needs in a flexible and configurable manner."
In other news
Red Roof reported the following highlights of its current financial position:
Revenue for 2021 was 16 percent higher than 2019, and the company said it was one of the first to show positive revenue growth over 2019.
Revenue from January through September increased 10 percent year over year, and RevPAR is up 9 percent for the same period.
Revenue from the website, mobile app, and central reservation system is growing faster than other channels.
Revenue from the website and mobile app is 22 percent higher than 2021.
Revenue from CRS is 19 percent higher than 2021.
RediRewards enrollment increased 48.2 percent during summer months of June to September.
The company over the past year also started several other partnerships along with the agreement with HotelKey. A new digital marketing partnership with Zeta Global will drive growth and demand, the company said. Red Roof also established a new customer call center with Ibex in Jamaica, and the company's RediResponse Program implements a brand-wide, in-house solution for reputation management.
Red Roof also touted a positive response among developers for its new dual branded prototype that combines a traditional Red Roof side and the company's extended-stay HomeTowne Studios. The new prototype features a shared lobby and common area with joint back-of-the-house operations so a hotel can operate with maximum staff efficiency.
Red Roof now has nearly 10 dual branded properties open across the country, in high profile markets, including Texas, Florida, and Georgia.
"Our dual branded hotels provide today's economy hotel guests with a diverse product offering that anticipates their every need, and our franchisees with a new, updated design that draws on innovative space improvements to enhance operations, keep development costs low, and profitability high," said Matthew Hostetler, Red Roof's chief development officer.
In April, Red Roof donated $10,000 to anti-child trafficking and exploitation organization ECPAT-USA.