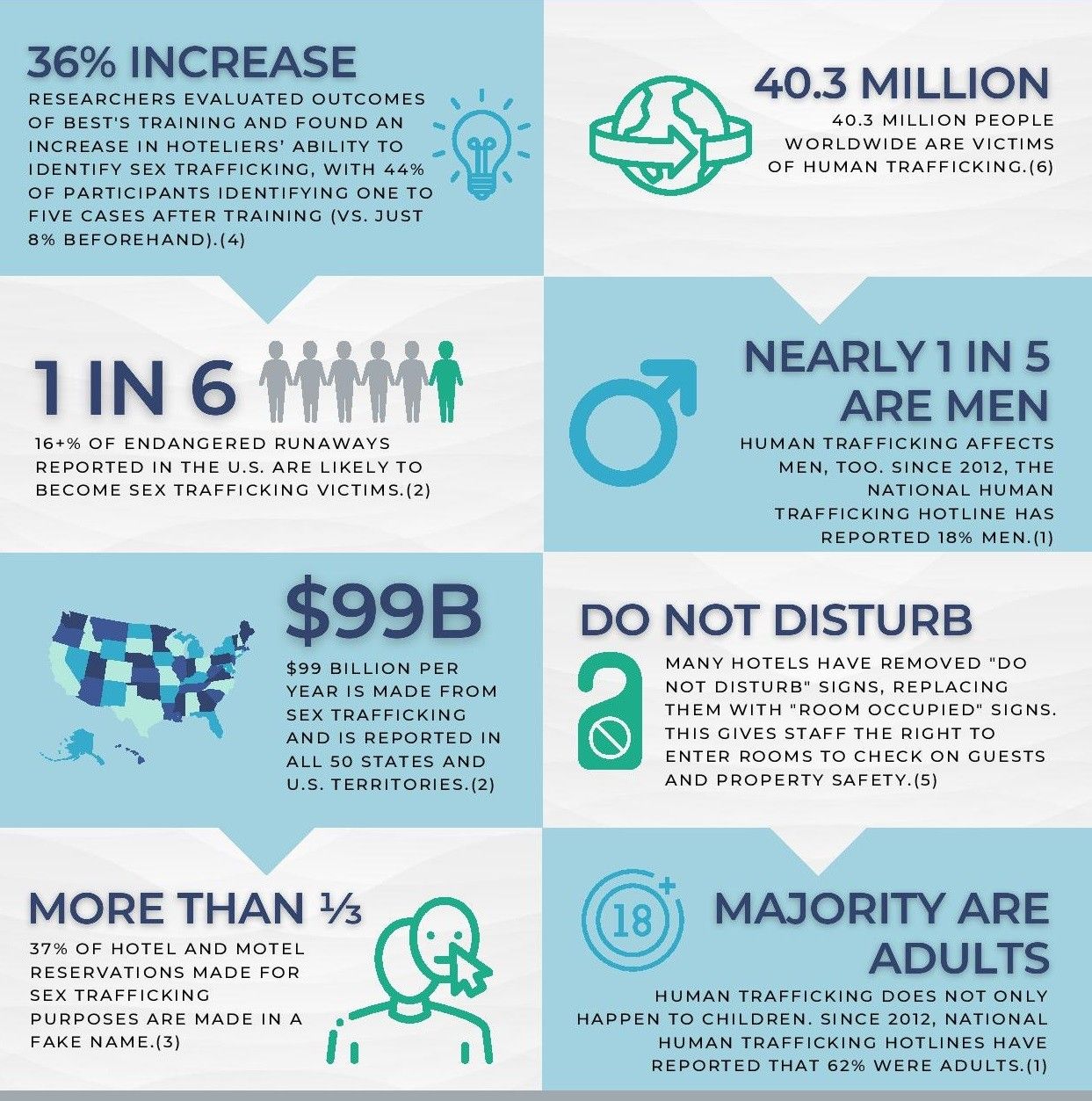 THE PROBLEM OF human trafficking in hotels has been ongoing for years, but the nature of the crime and how it is perpetrated has changed. To keep up, industry associations and companies must change their approach to the problem.
AAHOA recently updated its Businesses Ending Slavery and Trafficking (BEST) Inhospitable to Human Trafficking training program to better prepare its members. In July, Marriott International announced similar updates to its training program with the goal of training all of its on-property employees to recognize and respond to potential indicators of human trafficking at hotels by 2025.
Originally launched with the Washington Hospitality Association in 2012, AAHOA's BEST program in its current online version was launched in 2016 to provide insight on unconscious bias and behavior-based indicators of trafficking for hotel employees to recognize and prevent incidents in their hotels. Upgrades to the program take into account changes in the way hotels do business because of the COVID-19 pandemic, such as the reduced direct contact with guests. It also includes more visual representation of boys and men throughout the course videos, because they can also be victims of trafficking.
"Since its launch, the BEST Inhospitable to Human Trafficking Training Sponsored by AAHOA has provided vital awareness, consultation, and training to AAHOA members and their staffs," said Vinay Patel, AAHOA's chairman. "Because the environment around human trafficking is always changing and evolving, especially in light of the pandemic, it's important that hoteliers stay up to date on how best to spot the signs and prevent human trafficking."
Feedback from members and partners in the program went into the changes that have been made, said Dr. Mar Brettmann, BEST CEO and executive director.
"The new content highlights diverse narratives and real-life scenarios to help lodging employees learn how to identify potential trafficking cases," he said. "We are excited for AAHOA Members to take what they learn from the updated course back to their establishments and help end human trafficking."
A printable toolkit also is now available to supplement the online training course, which includes indicator lists by lodging function and resource cards for potential trafficking victims. Hotel managers can post the resource cards or have them available in areas that staff frequent, such as a break room.
"The effort to prevent and end human trafficking remains a huge initiative for AAHOA, and this latest program update goes a long way to ensure that the training is effective and up to date and reflects the current landscape of human trafficking prevention in hospitality," said Ken Greene, AAHOA Interim president and CEO. "We've done a great job being leaders in the industry with lawmakers, with other stakeholders, and with our members and owners to make sure we're doing our part to end human trafficking in the most effective and best way possible."
Marriott's upgrades to its training program also compensates for the surge in contactless check-in technology and other pandemic related changes. It includes scenario-based modules, a mobile-friendly design, and increased guidance on how to respond to potential situations of human trafficking, with input from survivors of human trafficking.
"As an industry that cares deeply about human rights and the horrible crime of human trafficking, we have a real responsibility to address this issue in a meaningful way," said Anthony Capuano, Marriott's CEO. "The updated training empowers a global workforce that stands ready to recognize and respond to human trafficking and allows our company to live up to our core values."
The company partnered with human trafficking prevention organizations ECPAT-USA and the Polaris Project on the program, as well as the American Hotel and Lodging Association Foundation to make it widely available in early 2022.
"Half a million hotel associates [from other companies] have already completed the existing e-learning program since we made it available in 2020, and the new information and innovative features of this updated training will facilitate an even greater impact," said Lori Cohen, CEO of ECPAT-USA. "Awareness of and training on these issues are essential for members of the hotel and hospitality industry, and we are so grateful to leaders in the private sector like Marriott for their long-term collaboration on this issue."
"We have already been able to train half a million hotel workers since the original training was launched for free in 2020, and these new trainings will continue to help us get closer to our goal of training every hotel employee," said Chip Rogers, AHLA's president & CEO.
For its updated training, Marriott included storyboards and scenarios drawn from calls to the National Human Trafficking Hotline in the U.S., operated by Polaris.
"This training goes beyond general awareness of signs to equip hotel workers with the tools to respond to trafficking situations in ways that are appropriate, nuanced, helpful, and most importantly, survivor-centered. By designing interactive scenario-based exercises and updating guidance for managerial staff around how to interact with potential victims and survivors of human trafficking, our hope is that this training enables hotel workers to become a valuable resource for trafficking victims around the world," said Catherine Chen, CEO of Polaris.
Human trafficking also was a subject of conversation at the 2021 AAHOA Convention & Trade Show.
"One of the overlooked tragedies of this pandemic is the uptick in incidences of human trafficking," said Biran Patel, now past chairman, during a general session. "I'm proud that AAHOA continues to step up to end the scourge on communities and save lives. Many of you completed the free training online through our website."