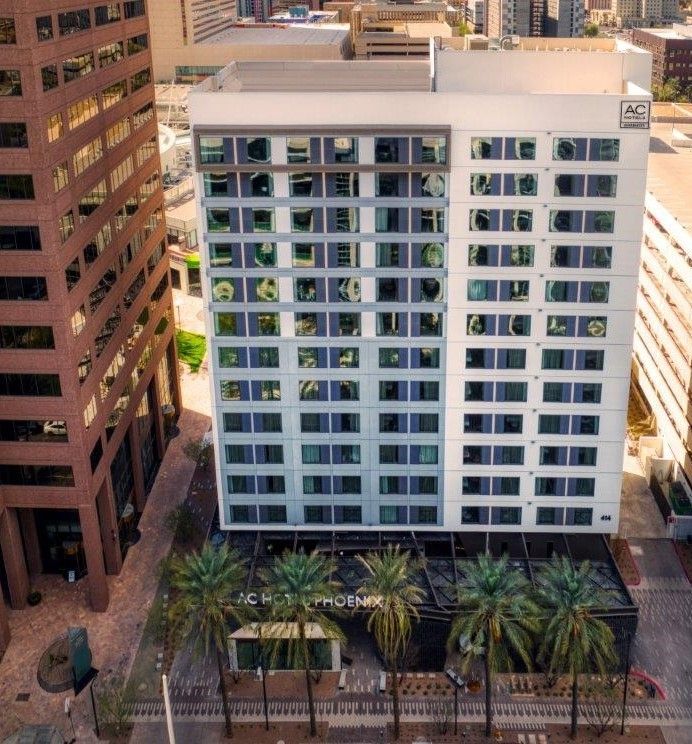 The AC Hotel by Marriott At Arizona Center is open in Phoenix, Arizona. It is a joint venture between Dallas-based NewcrestImage, led by Mehul Patel as chairman and CEO, and Las Vegas-based LaPour Partners.
The 199-room, 13-floor boutique hotel is the first joint venture between NewcrestImage and LaPour Partners. It is in Arizona Center, a million square-foot mixed use development. Nearby attractions include the Phoenix Convention Center, the state capital complex, Phoenix Suns Arena and Chase Field, Arizona State University Downtown and the University of Arizona College of Pharmacy.
Amenities include a penthouse fitness center, an outdoor patio with fireplaces and water features and almost 5,000 square feet of meeting space, including a ballroom, two media salons, and a board room.
"The word 'phoenix' symbolizes renewal, progress, and hope," Patel said.  "This new hotel in the heart of downtown Phoenix is a powerful symbol of our company's and our industry's renewal, progress, and hope – we're providing travelers with the comfort they want and the safety they deserve."
NewcrestImage built the first AC Hotel in the U.S., in New Orleans, in 2014 and the first AC Hotel in Texas in December 2017 in downtown Dallas. In 2019, the company also opened two AC Hotels, a 195-room, 10-floor property in downtown Houston and a 150-room, 8-floor property at Frisco Station in north Dallas that is part of a 600-room, four-brand hotel campus.
Last week, NewcrestImage sold its 132-suite, six-floor Hyatt House hotel in the Frisco Station complex one week after opening a new Hyatt House in Beaverton, Oregon.
"What we do as hoteliers has not changed – we keep guests productive, relaxed, and secure while they are away from home," added Patel.  "But how we do our job is changing a lot – now we focus unrelenting attention on hygiene and social-distanced service."