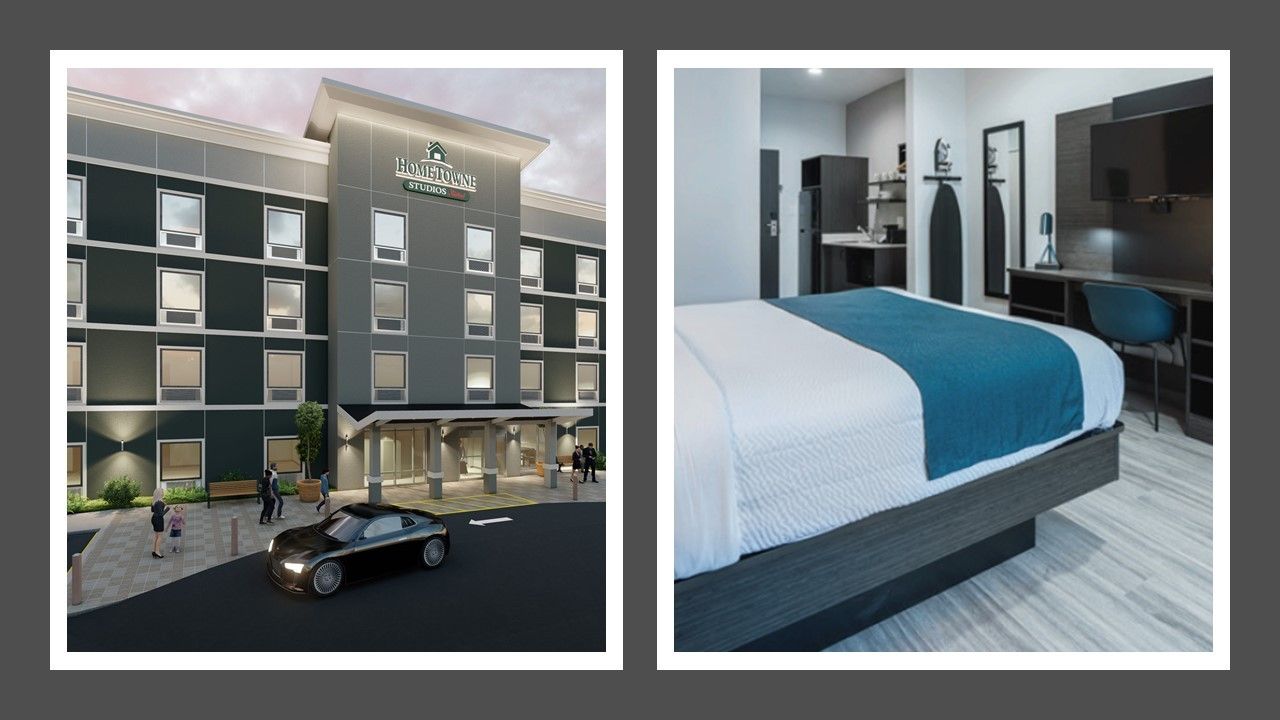 THREE LARGE HOTEL companies took advantage of last week's 2021 AAHOA Convention (Aahoacon) & Trade Show at the Kay Bailey Hutchison Convention Center in Dallas to announce new brand prototypes and refurbishments. They include two new extended-stay concepts and investments in existing midscale brands.
Red Roof Inn introduced its new HomeTowne Studios prototype that the company said features a cost-effective development footprint, and a layout that offers improved operational efficiency. Also, G6 Hospitality, parent company for Motel 6 and Studio 6, introduced its Studio 6 Suites to meet what it sees as increased demand of extended-stay brands.
Also, Wyndham Hotels & Resorts announced it would invest more than $40 million over the next three years in its Microtel and La Quinta by Wyndham brands. The company's Microtel Lift Incentive Program aims to encourage renovations that will bring existing properties parallel to the new build prototypes followed by the brands.
Riding the extended-stay wave
Hotel owners, longtime franchisees and guests all had input into the design of Red Roof's new HomeTowne Studios. It is aimed at providing an advantage in the extended-stay segment, which has outperformed other hotel types even during the pandemic.
"It is no secret that Red Roof puts guests and franchise owners first," said George Limbert, Red Roof's interim President. "The new HomeTowne Studios prototype is a testament to those commitments and the culmination of many hours spent listening to the needs of the franchise community and partnering with them to come up with new concepts to create unprecedented value. As we unveil the concept at AAHOACON 2021, we invite the industry to join us for a look at the future of hotel franchising – a new kind of economy extended-stay product for a new era in hospitality."
Along with aesthetic changes, such as new furniture and fixtures in guest rooms, the new design features more functional layout for public areas, with onsite offices and laundry rooms near guestrooms and that are securable after hours. Room floor plans make maximum use of space.
"HTS is already the leading brand in the economy extended stay segment, and the new prototype takes the franchise value proposition to a new level," said Matt Hostetler, Red Roof Chief Development Officer. "It is part of an long-term strategy of bringing industry-leading products to our partners and the industry. We've already received unprecedented interest from the development community – and look forward to sharing news about the further accelerated growth of the brand in the weeks ahead."
G6's new Studio 6 Suites also is designed to meet changing guest needs to increase the company's share of the extended-stay market on an upper-economy level.
"The new brand provides an all-suite experience within the economy segment and is ideal lodging for value conscious business and leisure travelers looking for three-to-seven-day stays," the company said in a statement. "The introduction of Studio 6 Suites also reinforces G6 Hospitality's core purpose. We believe that everyone has the right to travel and we aim to provide our guests with an affordable and welcoming place to rest, wherever their journey takes them."
Spending money to make money
Other new prototypes led to Wyndham's Microtel Lift Incentive Program. The program is based somewhat on the company's  LQUp renovation incentive program for La Quinta launched in 2020. It will offer forgivable note funding of up to $2,000 per room from Wyndham to supplement franchisees' investment in hotel renovations that bring the property in line with the brand's new Moda prototype, which also aims to optimize operational efficiencies, drive greater returns and adapt the design to best suit market and customer needs.
"We know renovation projects play a critical role, as proven by the success our owners have seen from other brand renovation programs over the last several years, including the highly successful LQUp and Super 8 Innov8te Programs," said Geoff Ballotti, president and CEO, Wyndham Hotels & Resorts. "This significant investment will help accelerate the adoption of new design standards for Microtel by Wyndham and bring important elements of Microtel's Moda design to more destinations, reaching more everyday travelers."
LQUp covers upgrades to participating properties' exterior, signage, public spaces, guestrooms, fitness center, breakfast offering and more. The changes should follow the template set by La Quinta's Del Sol prototype, the 120th of which opened in May in Selma, North Carolina, and is owned by Jay Sai Corp. More than 80 properties have participated in LQUp and, on average, seen increases in RevPAR, while more than 100 hotels are currently undergoing renovations under the program to upgrade to the level of the La Quinta and Microtel prototypes.
"We have a lot of franchise owners coming and we are investing side by side alongside with them to make these properties ready for future business," said Krishna Paliwal, Wyndham's president of La Quinta and head of architecture, design, and construction. "We want to make sure that all our existing hotels get supported to bring the experience close to the new prototype."