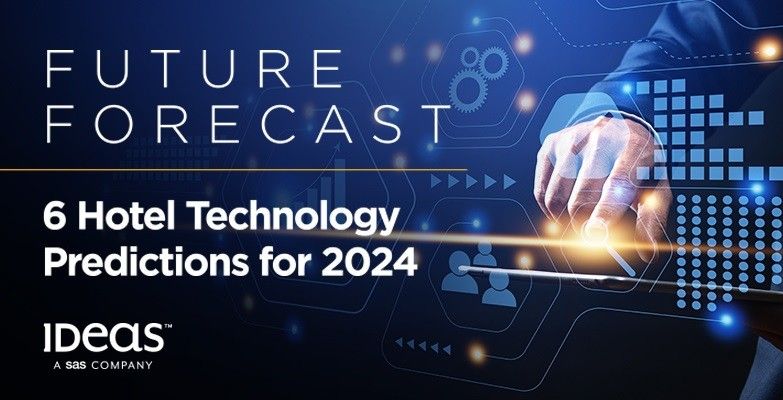 THE U.S. HOSPITALITY industry is set to harness AI to reshape the "typical" guest experience, according to hotel revenue management software and services provider IDeaS. The company expects a continued breakdown of hospitality data silos and an expansion of revenue management beyond its traditional hotel domain in the coming year, making it crucial for hoteliers to proactively anticipate and prepare for the unfolding trends ahead.
In its latest report, "Future Forecast: Six Hotel Technology Predictions for 2024," IDeaS, a SAS company, drew insights from industry leaders and released six hotel technology predictions believed to shape the upcoming year.
IDeaS's predictions include:
AI to redefine guest experience: After the world's introduction to generative AI in 2023 through tools like ChatGPT and DALL-E, IDeaS envisions 2024 as the year when the hospitality industry begins harnessing AI with far-reaching implications for the future of the "typical" guest experience.
Breaking down hospitality data silos: Despite collecting guest data, the hospitality industry often faces challenges due to disparate sources, lacking a comprehensive view of the entire guest experience. IDeaS anticipates a swift transformation in 2024 as hoteliers seek to maximize the value and power of their data.
Revenue management to go beyond hotel walls: The practice of revenue management is set to extend beyond traditional hotel boundaries. IDeaS anticipates a shift as campsites, "glamp-sites," cruise ships, and similar accommodation providers explore and adopt the advantages of revenue management practices.
"Our team engaged with some of the greatest minds in our industry in 2023 through informative webinars, a successful client summit, and our ongoing commitment to supporting innovation and industry events," said Mike Chuma, IDeaS vice president of global marketing. "It's clear to all of us that 2024 is shaping up to be a year of substantial and exciting change—and the best way for hoteliers to take advantage of that change is to start thinking now about what's likely to come in the year ahead."
In a recent survey, IDeaS highlighted that hotels can enhance profitability through increased reliance on revenue management technology tactics. The survey also delved into investors' perspectives on revenue technologies, the role of artificial intelligence in hospitality, and how technology is reshaping hospitality commercial organizations.