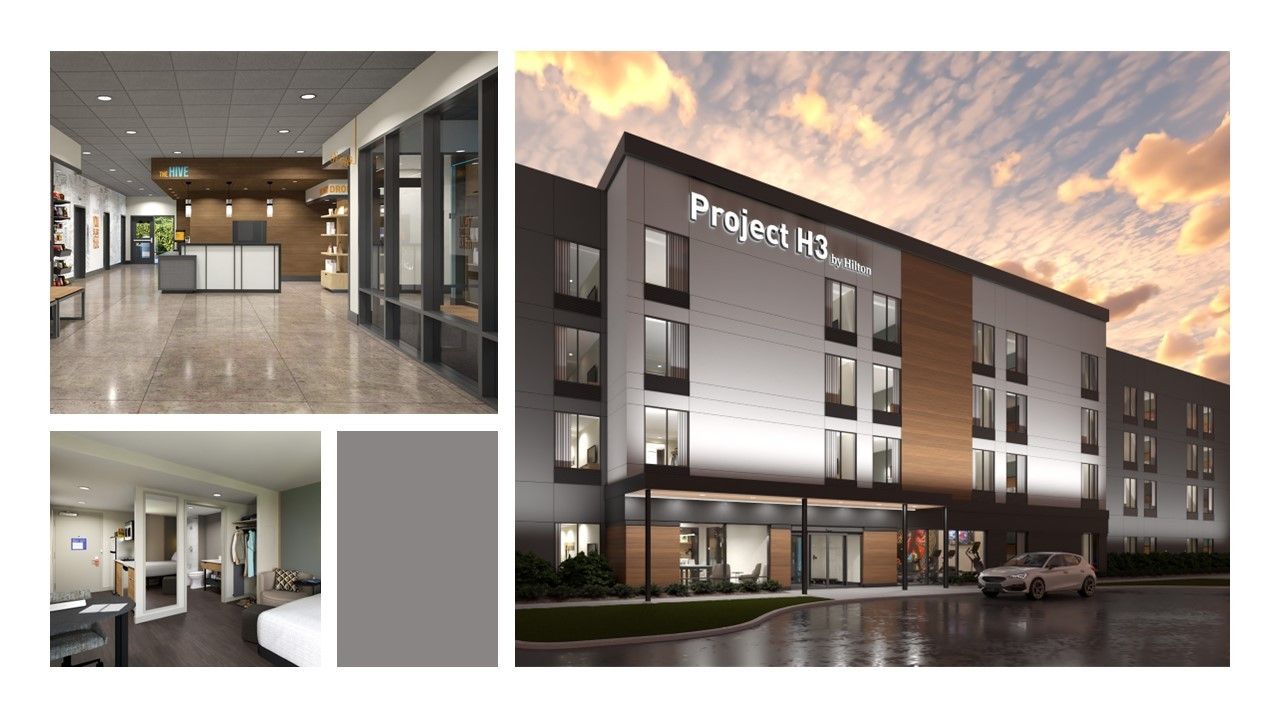 HILTON HAS LAUNCHED a new extended-stay brand, Project H3, designed to meet the needs of the rapidly expanding $300 billion workforce travel market, looking for apartment-style accommodations for 20 nights or more. Launching in the U.S. as Hilton navigates the final stages of the trademark process, this lower midscale, extended-stay brand is the newest addition to Hilton's portfolio, the company said in a statement.
Hilton is engaged in more than 100 active development conversations with many owners expressing interest in multiple locations. According to the statement, the product provides a foundation for the long stay, allowing guests to make the most out of every day, and delivers an exciting investment option for developers looking to diversify their portfolio under the Hilton name.
"Project H3 is perfectly positioned to serve the unique needs of the long-stay traveler, thanks to its innovative design, strong value proposition for our owners and of course, the hospitality our team members offer every day," said Chris Nassetta, Hilton president and CEO. "We aim to serve any guest, anywhere in the world, for any travel need they may have, and this new brand represents a greater opportunity for us to grow our portfolio while providing the reliable and friendly service our customers expect from Hilton."
Hilton's in-house research shows long-stay travelers, including traveling nurses, military personnel, and those experiencing workforce relocations, place quality time and comfort above all else. In addition, those looking for a long stay will book an average of 20 or more nights and desire a reliable home base that allows them to maintain their routines while delivering simplicity, consistency and convenience.
Focus on owner economics
Project H3 has been developed with input from owners, keeping the needs of the development community and long-stay travelers at the forefront of the design process. According to Hilton, the new brand prototype dedicates the majority of space to revenue-generating guest rooms, thus reducing overhead costs for prospective owners.
"Through Hilton's best-in-class commercial engine, owners will have access to above-property revenue management and sales support models that will streamline on-property staffing needs. Automated customer offerings such as digital check-in and Hilton's Digital Key will enhance the guest experience and create efficiencies for staff," the company added.
"Hotel owners have played an integral role in the development of Project H3 and they will continue to guide us as we build this brand from the ground up," said Kevin Jacobs, chief financial officer and president, global development, Hilton. "Project H3 has incredible growth potential, tapping into the rapidly expanding and underserved workforce travel market. The response from the hotel owner and developer community has been immediate and enthusiastic. We're engaged in more than 100 active development conversations, with many owners expressing interest in multiple locations."
Long-stay travelers on radar
This new extended-stay brand will appeal to the long-stay traveler through several elements. Outdoor patios are outfitted with grills, a communal fire pit and comfortable seating to make guests feel at home. The suites feature four distinct areas for guests to rest, work, cook and refresh, including a fully equipped kitchen with a full-sized refrigerator, dishwasher, microwave, two-burner stovetop.
"Many long-stay guests never stopped traveling during the pandemic, especially within the lower midscale extended-stay segment, and we designed a product in direct response to this growing need," said Matt Schuyler, chief brand officer, Hilton. "Project H3 will disrupt the category and allow Hilton to better provide reliable and friendly service for those who are in it for the long stay."
Sonesta International Hotels Corp launched Sonesta Essential, a new upper-midscale select-service brand earlier this year. The company offers 15 brands.