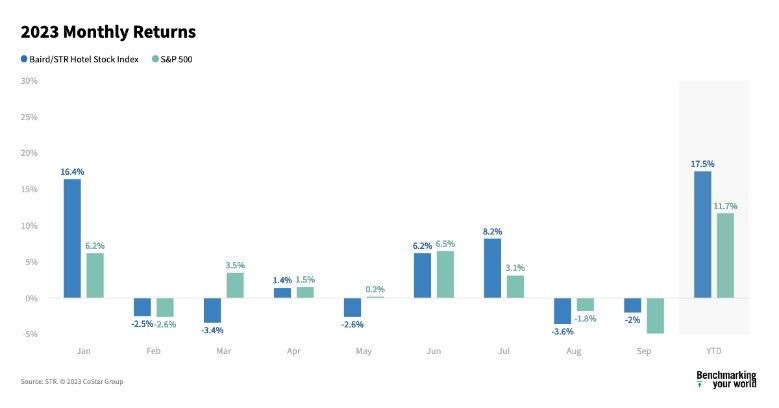 THE BAIRD/STR HOTEL Stock Index dropped 2 percent to 5,739 in September, influenced by higher interest rates impacting stock prices and investor sentiment, according to STR, although the hotel stocks outperformed their relative benchmark. That is the second month of decline in the index following a surge in July.
"Hotel stocks declined in September, yet they exceeded their relative benchmarks," said Michael Bellisario, senior hotel research analyst and director at Baird. "Both the S&P 500 and the RMZ recorded their poorest monthly performance this year due to elevated interest rates affecting stock prices and investor sentiment. Hotels likely gained from sustained, albeit gradual, RevPAR growth throughout the month. Year-to-date, the hotel brand sub-index stands at 23 percent, whereas the Hotel REIT sub-index lags at negative 1.5 percent."
In September, the Baird/STR Hotel Stock Index outperformed both the S&P 500, which dropped 4.9 percent, and the MSCI US REIT Index, down 7.5 percent. Reduced investor enthusiasm due to rising interest rates aside, other factors are affecting the index, said Amanda Hite, STR president.
"U.S. room demand declined year over year in five of the last six months, with September registering as the second highest for the month, second only to last year," Hite said. "Premium hotels experienced growth in demand, but it was insufficient to offset declines in the economy and independent segments, which continue to contribute to the overall decrease. Pricing trends varied across segments, yet overall ADR growth reached its highest point since May, resulting in a similar pattern for RevPAR."
Hite further said that business travel, particularly group travel, has unmistakably resurged in recent weeks.
"We anticipate this trend to persist into the holiday season," she said.
Meanwhile, the Hotel Brand sub-index fell 2.4 percent from August to 10,974, while the Hotel REIT sub-index dipped 0.4 percent to 1,023.
In July, the Baird/STR Hotel Stock Index surged 8.2 percent to 6,074, led by global hotel brands, while in August, it dropped 3.6 percent to 5,856.