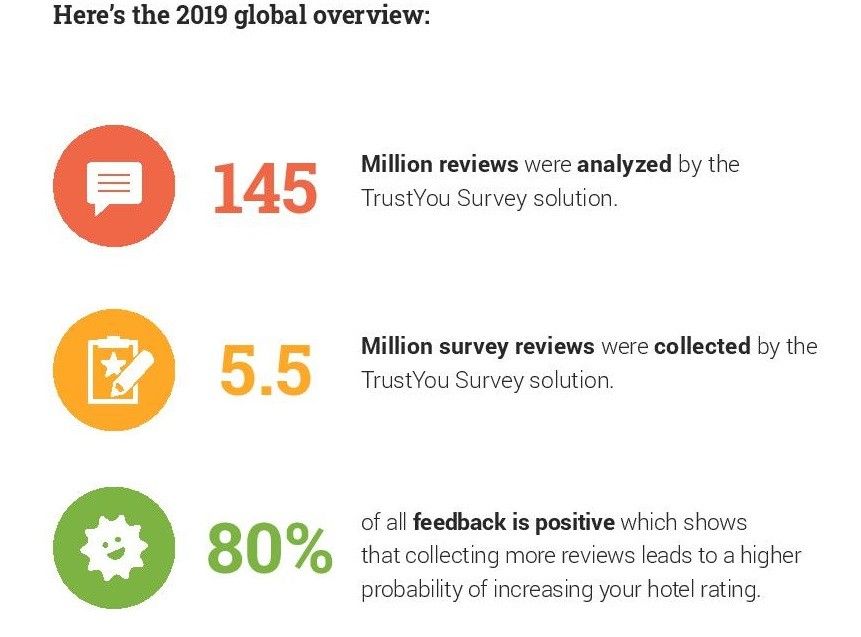 ONLINE REVIEWS ARE increasingly important to hotels in the modern age. A new report from guest feedback platform TrustYou offers insight into the state of the global lodging market based on online reviews.
TrustYou's global version of the Review Insights Report includes data on the top hotel impact scores and review sources of 2019. It features individual reports on different regions, including the U.S., Europe, the Middle East and Africa, Asia Pacific and DACH (Germany, Austria and Switzerland).
It analyzed 145 million reviews and found that 80 percent of online feedback is positive, indicating that collecting more reviews can increase a hotel's ratings.
The company's database includes 800,000 hotels worldwide. It analyzes feedback, guest reviews, trends, hotel performance, and traveler behavior.
Orlando-based hotelier Rupesh Patel, the founder of SmartGuests.com, a website dedicated to helping other hotels market themselves for good reviews, said hotels should continue to push for positive reviews even if they are closed because of the COVID-19 pandemic.