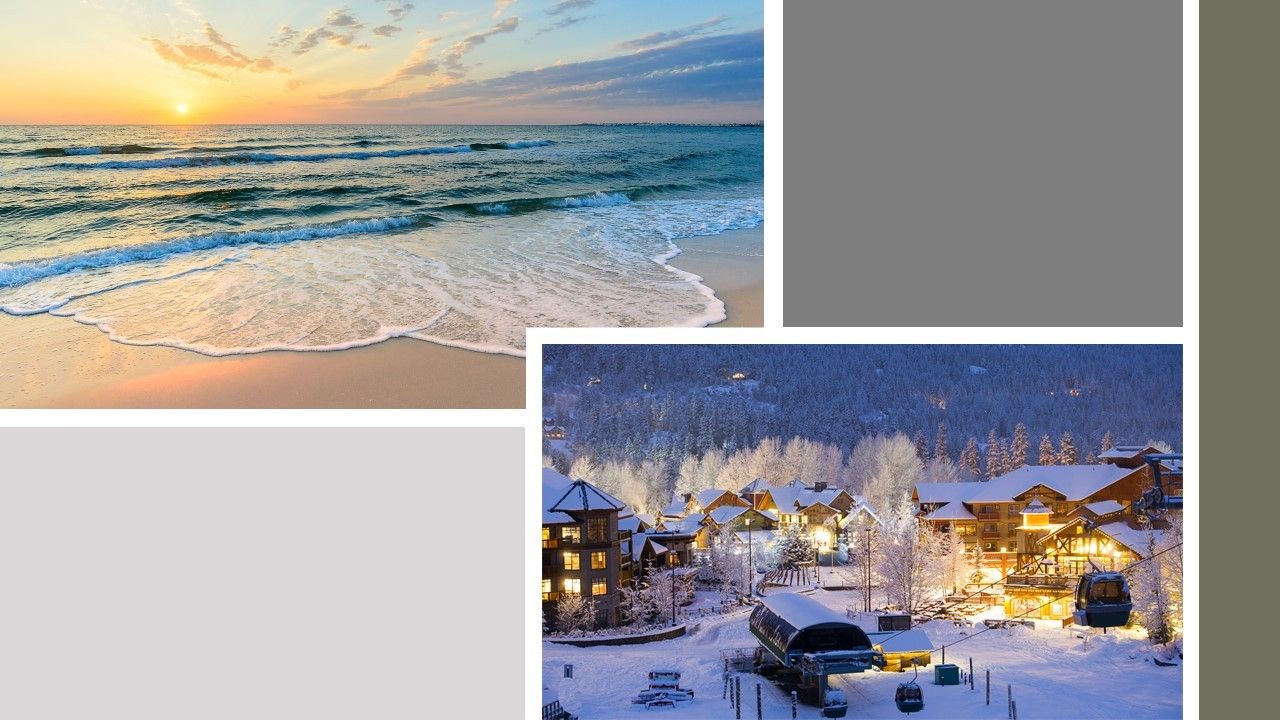 AS HOLIDAY TRAVEL planning is underway for Thanksgiving and Christmas, sunny beachside destinations across Mexico, the southern U.S. and the Caribbean, have emerged as top choices, according to a survey from Expedia. Mountaintop getaways to Utah and Colorado also top the list of destinations.
"It's no secret that average daily lodging rates have gone up since travel began to recover earlier in the year, and the trend is likely to continue into the busy holiday season. Current demand data shows prices are generally lower during the Thanksgiving holiday compared to the week of Christmas," Expedia said in a post on its website.
"City destinations like New York, San Francisco and Boston continue to offer up some the best deals around in terms of hotel prices, with savings for the holidays ranging from 10-35 percent compared to 2019. But if a beach escape is preferred, the winter months are a great time to go, with many warm-weather destinations like Miami, Orange County and Myrtle Beach offering better rates compared to the summer months."
According to Expedia, top U.S. destinations for Thanksgiving week are Nashville, Tennessee Oahu, Hawaii, Charleston, South Carolina, Myrtle Beach, South Carolina, Salt Lake City, and Indianapolis. The popular choice for Christmas holidays are Orlando, Florida, Oahu, Hawaii, Kansas City, Missouri, Salt Lake City, Palm Beach area, Florida, Rapid City – Mount Rushmore and Sarasota area, Florida.
Top trending destinations for Thanksgiving week are St. Croix, U.S. Virgin Islands; Salt Lake City; Estes Park, Colorado; Park City, Utah; Chattanooga, Tennessee; Boulder, Colorado; and Fresno, California.
The emerging new holiday spots for Christmas are Gainsville, Florida; Allentown, Pennsylvania; Estes Park, Colorado; Knoxville, Tennessee; Chattanooga; Salt Lake City, Cherokee, North Carolina; Oregon Coast and Ocean City, Maryland.
"Whether you're hoping to spend your holidays on the sand or on a ski slope, the best way to find a great value just requires a bit of flexibility in terms of your travel dates and taking advantage of the savings that are out there," said Christie Hudson, senior public relations manager for brand at Expedia.
According to Expedia, flexibility is key for holiday and winter travel. Hence, it suggests to avoid restrictive or non-refundable airfare. Paying a bit more for flexibility can bring peace of mind, which is especially valuable during the holidays.
"Take direct flights and avoid taking the last flight of the day whenever possible during the winter months to reduce the chances of missed connections or delays due to cancelled flights or winter storms. Stay up to date on COVID-19 restrictions and requirements for airlines, hotels and destinations. Some hotels require proof of vaccination while others might require a negative test result from an approved list of providers," said the online travel brand.
A recent survey, conducted by the Family Travel Association and the NYU School of Professional Studies Jonathan M. Tisch Center of Hospitality, has also revealed that 88 percent of U.S. parents are likely to travel with their children in the next 12 months.