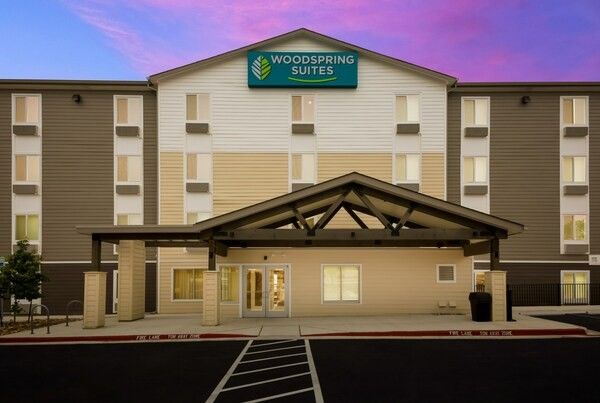 CHOICE HOTELS INTERNATIONAL has announced the opening of six WoodSpring Suites hotels, a company record, in May. The recent openings account for 732 new economy extended stay rooms from coast to coast and 1,414 total new rooms for the brand since the start of 2023, with nearly 38,000 rooms in the domestic pipeline, Choice said in a statement.
The new WoodSpring Suites locations are: WoodSpring Suites Rochester Greece in New York, opened May 4; WoodSpring Suites Austin Central in Texas, opened May 8; WoodSpring Suites Roanoke in Virginia, opened May 19; WoodSpring Suites Libertyville in Illinois, opened May 23; WoodSpring Suites West Palm Beach in Florida, opened on May 24; and WoodSpring Suites Bellflower – Los Angeles in California opened May 25.
Ron Burgett, Choice's senior vice president of extended stay development, said the company has a successful track record in the extended stay segment.
"Our dedicated team of more than 60 extended stay experts has established a proven model, performance, and brand recognition for WoodSpring," Burgett said. "Since acquiring WoodSpring Suites in 2018, we have developed an efficient development model that expedites project launches and reduces operational costs."
"With demand for this segment exceeding supply by almost two to one and continued interest from institutional investors, we are committed to expanding the WoodSpring Suites brand nationwide," he added.
According to the statement, Choice Hotels' extended stay brands domestic pipeline reached nearly 500 units by the end of the first quarter of 2023, reflecting an impressive 28 percent year-over-year increase.
Beside WoodSpring, Choice portfolio also includes other extended stay options such as the Suburban Studios brand in the economy segment, as well as the midscale brands MainStay Suites and Everhome Suites. Everhome, launched in September 2022 with its first location in Corona, California, marked the first new midscale extended stay brand in almost a decade, according to Choice.
Meanwhile, in an exclusive leadership series interview with Asian Hospitality, Pat Pacious, president and CEO of Choice Hotels International, shared insights regarding his organization's pause in its partnership with AAHOA, his opposition to the proposed fair franchising legislation in New Jersey and the pivotal role of Asian hoteliers within the company.