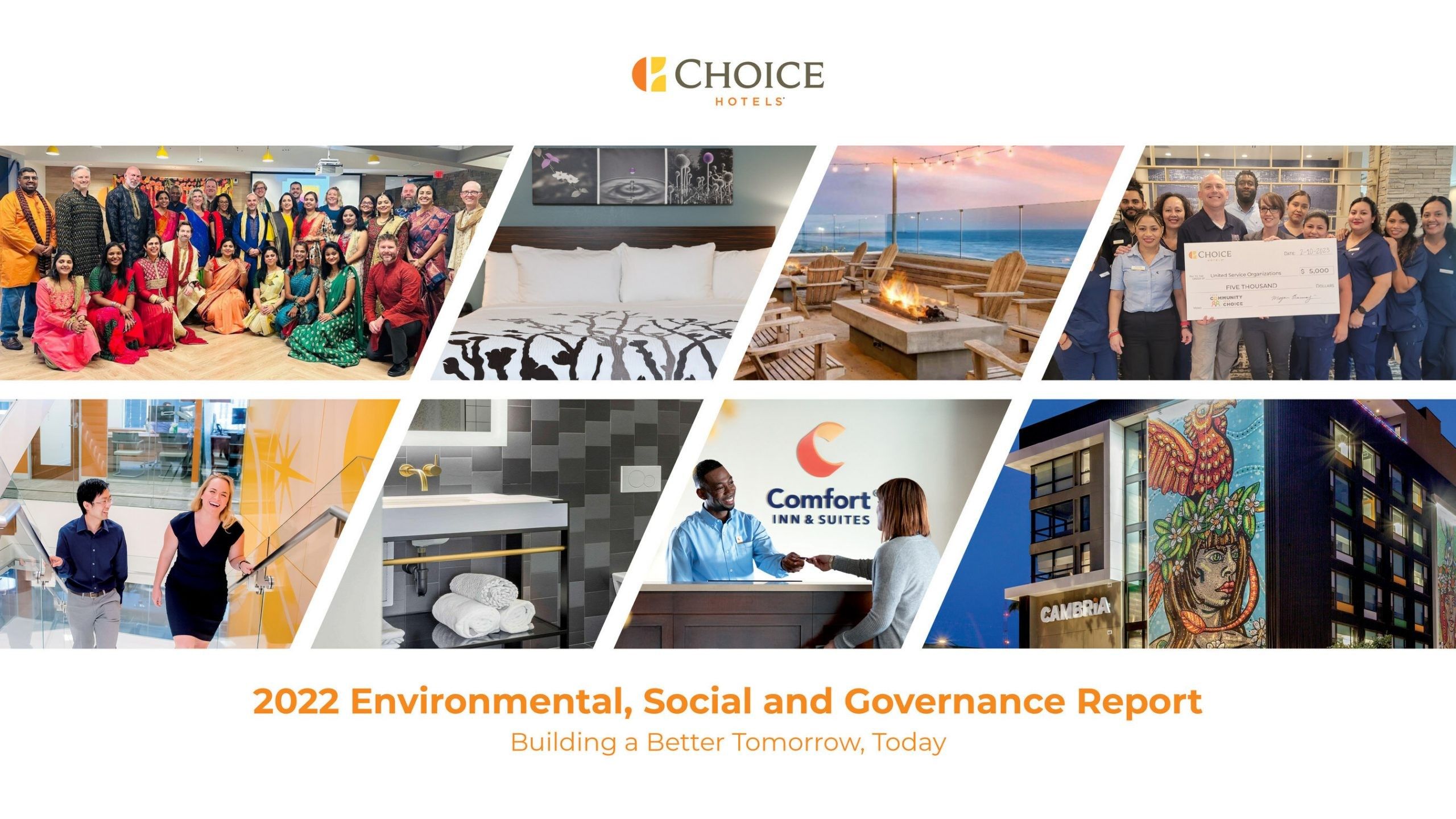 A NEW ENVIRONMENTAL, social and governance report released by Choice Hotels International highlights steps that would allow the company to reduce utility costs, save time for franchisees, and increase Choice's ESG commitments. Those steps include new energy- and water-saving technology, diversity goals for hotel ownership and more.
The report entitled "Building a Better Tomorrow, Today" lays out the company's plan to being a good corporate citizen, according to a release.
"Choice Hotels shares a uniting belief that tomorrow will be even better than today, and we are committed to building that better tomorrow," said Patrick Pacious, Choice's CEO, in the report. "As one of the largest lodging franchisors in the world, we are building on more than 80 years of success in developing a portfolio of diversified brands and creating a lasting, sustainable legacy for the future – one hotel, one family, one community at a time."
Key findings
The report further details measures being undertaken by Choice to integrate ESG standards and principles into its long-term decision-making and operations, including:
Reporting Scope 1 and Scope 2 greenhouse gas emissions for the first time and aligning ESG disclosures with the Sustainability Accounting Standards Board standards and the United Nations Sustainable Development Goals.
Appointing an executive with knowledge of the business as vice president, sustainability and creating two new ESG governance forums to strengthen Choice's ESG strategy and execution.
Joining the Sustainable Hospitality Alliance, a global network that champions responsible hospitality, and becoming one of its largest members.
Relaunching HERtels by Choice, driving a 53 percent year-over-year increase in the company's hotel franchise deals with woman owners.
Committing $25 million in incentives for contracts with underrepresented minority and woman owners by 2025.
Setting a goal to increase the representation of women in senior leadership roles to 50 percent.
Going green
In its bid to strengthen sustainability efforts at both the corporate and hotel levels, Choice Hotels appointed Megan Brumagim to the newly created role of vice president of ESG in April 2022.
Choice also is working to meet its goal of phasing out single-use polystyrene products across its domestic brands by the end of 2023. Almost 70 percent of its midscale hotels have already eliminated the use of polystyrene products.
"The sustainability practices we are implementing aren't just good for our people, our communities, and our planet, they're good for business. That's why we're strengthening our commitments and continuing to engage our franchisees on the journey," Brumagim said. "Whether through Commitment to Green or the recent installation of CarbinX carbon-capture technology at the Radisson Blu Mall of America, we're focused on practical ways to make a positive impact and deliver financial returns for our owners. Innovative efforts to drive energy efficiency and save water also save our hardworking hotel owners time and money, without sacrificing guest experience."
According to the statement, the Radisson Blu Mall of America in Bloomington, Minnesota, recently began using of CarbinX, a small-scale carbon-capture device. Developed by CleanO2, CarbinX connects to the natural gas hot water heaters in the hotel, captures the CO2 they produce, and converts it into an ingredient that can be used in locally produced soap and detergent.
"While we are proud of our work to date, we recognize we are still at the beginning in some aspects of our ESG journey," Pacious said. "Because our belief in an even better tomorrow extends to all those we serve, one thing that won't change as we continue to grow and evolve as a company is our people-centered culture. We are committed to our franchisees and their success, to our associates and their wellbeing and career development, and to providing our guests with a welcoming stay wherever their travels take them."
A transformative year
Meanwhile, Choice Hotels also completed its acquisition of Radisson Hotels Americas for $675 million in 2022. The transaction included Radisson's franchise business, operations and intellectual property.
This past year has been transformative, said Pacious in the ESG report.
"We have taken the company to an even higher level of performance and emerged in a stronger competitive position," he said. "Our acquisition of Radisson Hotel Group Americas represents a significant leap forward in the evolution of Choice's business — one that complements our distinct growth strategy and accelerates our long-term vision."