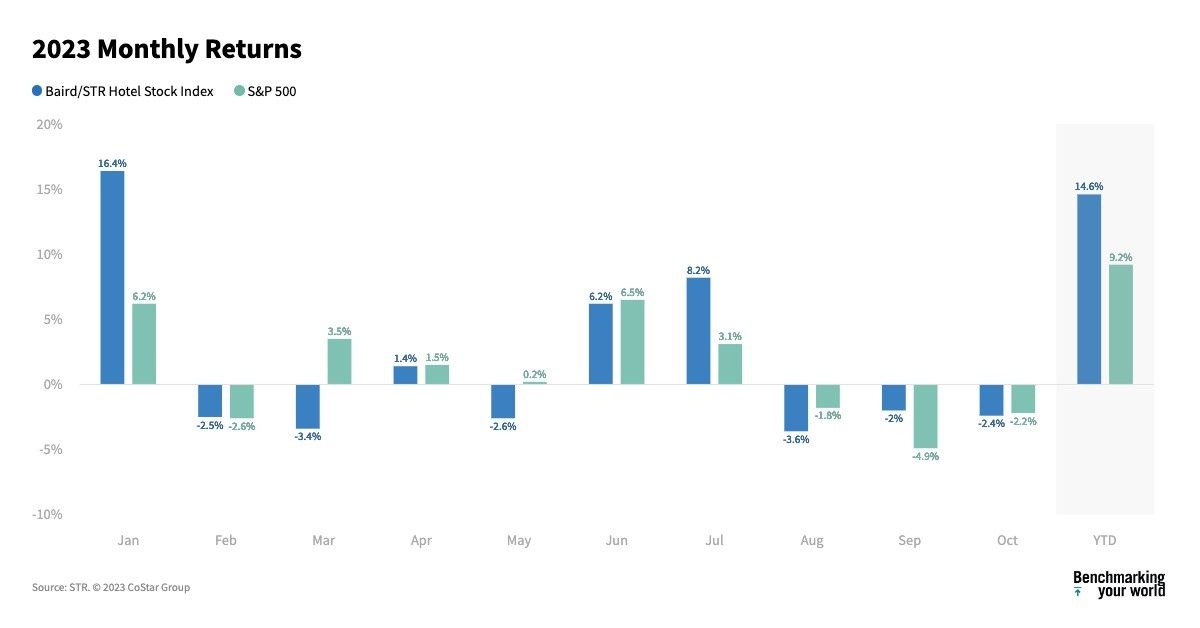 THE BAIRD/STR HOTEL Stock Index dropped 2.4 percent to 5,600, influenced by increasing interest rates affecting both real estate stocks and investor sentiment, according to STR. Moreover, U.S. hotel demand saw a 1.3 percent decrease in October, linked in part to a calendar shift.
This marks the third consecutive month of stock decline after a surge in July.
"Hotel stocks declined for the third straight month in October, aligning with broader market trends," said Michael Bellisario, senior hotel research analyst and director at Baird. "Elevated interest rates continued to drive performance, with real estate stocks bearing the brunt. Hotel REITs stood out as relative outperformers. The global hotel brands experienced a roughly 2 percent decrease, closely mirroring the S&P 500's retreat in October."
In October, the Baird/STR Index fell behind the S&P 500, down 2.2 percent, but surpassed the MSCI US REIT Index, down 4.5 percent.
"U.S. hotel demand dipped by 1.3 percent in October, attributed in part to a shift in calendar composition," said Amanda Hite, president of STR. "The impact, influenced by one less Saturday and one extra Tuesday – coinciding with Halloween – was expected. As anticipated, occupancy declined on the 31st, mirroring patterns observed in 2017 when the holiday fell on a Tuesday, thereby impacting the overall monthly performance."
Meanwhile, the hotel brand sub-index fell 2.4 percent from September to 10,710, while the hotel REIT sub-index dipped 2.5 percent to 997.
In September, the Baird/STR Index dropped 2 percent to 5,739, influenced by higher interest rates. Nevertheless, hotel stocks outperformed their benchmark.