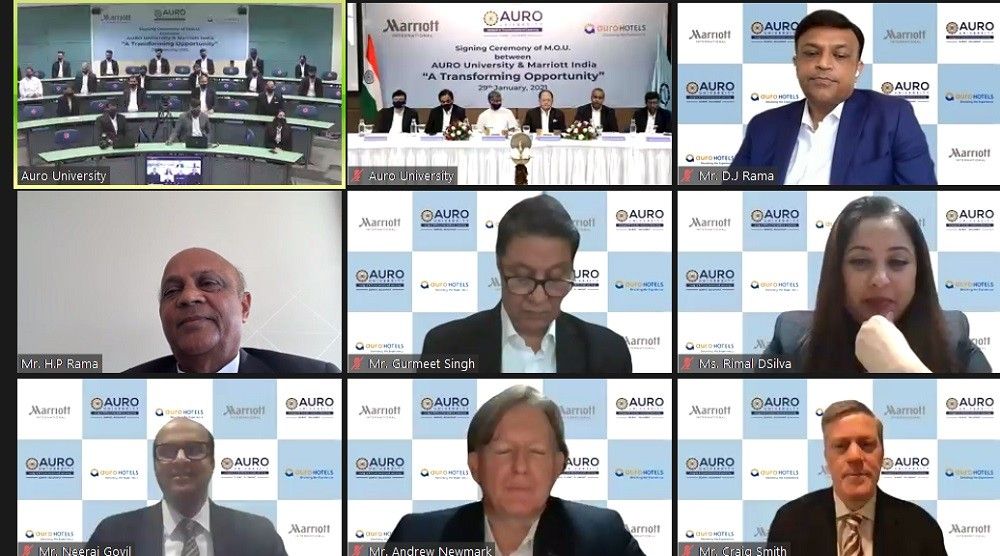 AURO UNIVERSITY IN Surat, India, has partnered with Marriott International to provide training, internship and employment opportunities on 'first preference' basis for the students of the School of Hospitality Management of Auro University. Under the agreement, the university will prepare students for better placement with companies such as Marriott.
Dharmendra D.J. Rama, president and CEO of AURO Hotels in Greenville, South Carolina, is vice chancellor of AURO University and his uncle Hasmukh H.P. Rama is its founder, president and chancellor.
"This agreement with Marriott (India) and AURO University represents culmination of true partnership between two organizations with purpose of providing a learning platform for a real-life experience through education and internship," said H.P. Rama. "Our students will be ready before they graduate for a rewarding career in the hospitality industry."
Marriott's international division includes more than 2,300 hotels in 130 countries and territories.
"Marriott International prides itself on its depth and diversity of talent, believes in the importance of training and value of upskilling and is honored to help the next generation of hospitality leaders hone their skills and achieve their full potential," said Craig Smith, group president and managing director for Marriott. "This collaborative initiative is a step forward in strategically building the industry's talent pool by empowering deserving young people with the range of skills and experience needed to realize bright careers and take hospitality to new heights."
DJ Rama said the company's relationship with Marriott began in 1996.
"We both share the same family values. Today is a symbolic day for us to instill these values to our next generation business leaders through AURO University," he said.
During the signing ceremony for the agreement, Prof. Rajan Welukar presented information about various programs and initiatives offered by the university's School of Hospitality Management.
"With the world going through difficult times, it is imperative to expand the pool of local talent and we are confident that by working with Marriott as our industry partners, we will be able to achieve the goals of our academic delivery," he said.
Auro Hotels was founded in 2017 when JHM Hotels of Greenville, South Carolina, split into four companies. The other three are Sima Hotels LLC of Orlando, Florida; Sarona Holdings of Orlando; and Siddhi Hotel Group of Greenville.