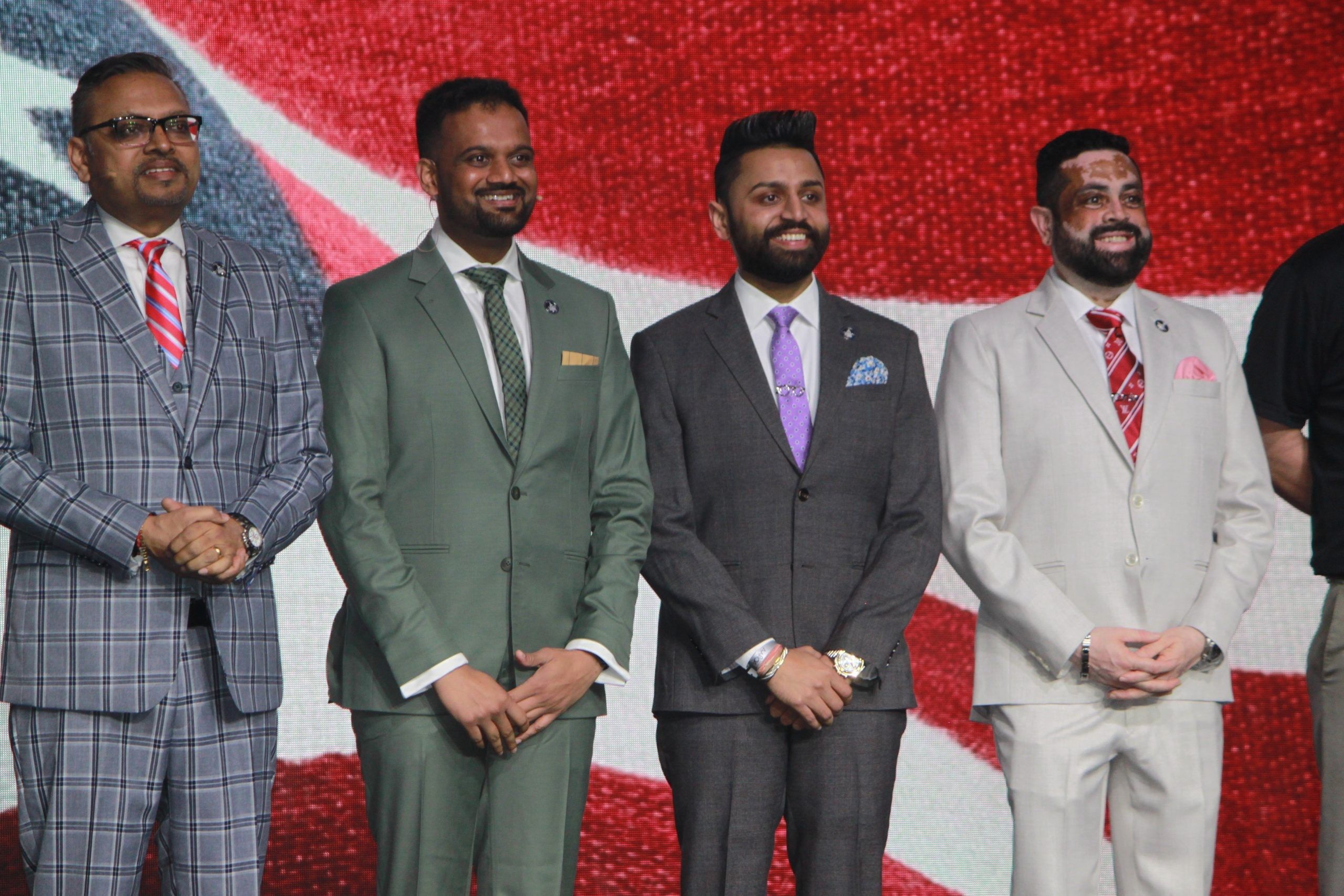 "BE ONE BODY" and roar like a pride of lions, Pujya Brahmviraharidas Swami, one of India's leading saints, told attendees of the 2023 AAHOA Conference and Trade Show in Los Angeles last week in his keynote speech. However, his call for unity came at a time when several large hotel companies boycotted AAHOACON23 over AAHOA's support for franchising reform.
The association's new chairman, Bharat Patel, will have to lead the effort to follow Pujya Brahmviraharidas Swami's guidance and unite the membership in light of the split with Marriott Hotels International, Choice Hotels International and others. The leadership required will take courage, said Pujya Brahmviraharidas Swami, who spearheads the global outreach of BAPS in the U.S. to spread harmony and collaboration and who the Indian government and heads of state have called upon for guidance.
"This is not just a story of celebrating the past or creating the future, but also of recalibrating the present. This is not a story of a motel and a mouse," Brahmaviharidas said. "This is a story of an empire of hospitality and a pride of lions. Roar in the right direction, in the right way, and the world will listen."
Also during AAHOACON23, which set a record level of booth sales for the trade show, members elected new board members. The association also announced a new charity organization dedicated to helping victims of natural disasters, and software company Virdee took the top prize in the inaugural AAHOA Tech Pitch Competition.
Change of command
New Chairman Bharat Patel officially moved into the top spot on the board on the last day of the conference at the Los Angeles Convention Center. He replaced Nishant "Neal" Patel and will be followed next year by Miraj Patel, who is now vice chairman.
"Like the theme from AAHOACON23, I look forward to honoring the past and creating a bolder future by working with AAHOA's nearly 20,000 members to ensure we reestablish strong partnerships with our state associations, grow the AAHOA PAC to new record levels, and make advocacy front and center to AAHOA's mission and vision," Bharat said in his acceptance statement.
Bharat's family, including parents Matan and Kalavati and sisters, came from the village of Rola in India to the U.S., by way of England, in June 1980 when he was 9 years old. They first arrived in Boston, where Kalavati had family, but eventually made their way to Florida where he currently lives in Sarasota.
Previously, Bharat said advocacy and education would be the focus of his administration.
"We really want to try to help tackle this labor market and also advocate for higher limits on [Small Business Administration] loans," he said. "Those are the two things we're really pushing for. And on the state level, there's a lot of short-term rental laws trying to be passed. On short term rentals, that's Airbnb, VRBO, being vacation homes that are rented monthly, now they're turning into daily or day-to-day rentals."
Kamalesh "KP" Patel moves from secretary to treasurer now, and Rahul Patel, owner of the Wisdom Group in Bradenton, Florida, is the new AAHOA secretary. Elections also were held for several regional director positions, director at Large Western Division, Young Professional Director Eastern Division and Women Hoteliers Director Eastern Division.
AAHOA's 'fair franchising' stance leads to absences
While AAHOA said booths at its trade show were sold out, there were several notable absences. In January, Marriott International announced it would withdraw its support for AAHOA and the conference in response to the association's 12 Points of Fair Franchising and its support for New Jersey Assembly Bill 1958, which would make changes to the state's Franchise Practices Act that could benefit franchisees.
Choice Hotels International followed suit in February. Along with those two companies, however, several others that ordinarily attend AAHOACONs did not have booths at the show, including IHG Hotels & Resorts and Hilton. Other companies, including G6 Hospitality, BWH Hotel Group and Red Roof, have publicly endorsed the 12 Points.
Wyndham Hotels & Resorts also attended. However, Wyndham President and CEO Geoff Ballotti said his company does not support the New Jersey franchise law but AAHOA members make up a substantial percentage of their franchisees. He said the way the bill is currently written would "handcuff" franchisers and prevent them from providing what their owners want.
"We support AAHOA, we support being here," he said. "It is something that it would be great to see us all together on legislative issues like that. Hopefully we'll find our way through this so we are on the same side of the issue."
Rahul Patel was asked about the importance of supporting the New Jersey bill during the candidates' debate.
"The owners came up with this beautiful bill. It is protecting hotel owners' interest, bottom line," he answered. "No, they cannot sell points for profit. They cannot make money on vendor programs. This cannot go away from the contract they themselves signed. They cannot take away my idea of protection. Those are the important things AAHOA said is to protect the owners. And that's why we have to continue that support. Because this is the only Association who cares about all of the bottom line and more states where such goods should be introduced to protect."
Marriott and Choice declined to comment on the conflict previously. Former AAHOA Chairman Hitesh "HP" Patel, now chief operating officer for Houston-based Curve Hospitality, said he remains optimistic for a solution.
"I think there's going to be a resolution at the end day," HP said. "AAHOA relies on vendor partners and vendors rely on AAHOA. The issues that are happening right now, I'm pretty confident that was going to get resolved pretty soon. And it's just a conversation that needs to be had, we have to work with our vendor partners at the end day."
In other news
On the first day of the show, AAHOA announced the creation of the AAHOA Charitable Foundation, a non-profit aimed at providing disaster relief, educational scholarships and grants, charitable initiatives for worthy causes, and humanitarian aid.
"I can think of no better way to conclude my chairmanship of AAHOA than by launching the AAHOA Charitable Foundation," said Neal Patel. "AAHOA members are hardworking, creative, and entrepreneurial. They are also generous and community-minded. The AAHOA Charitable Foundation gives all of our members a new outlet to continue supporting our communities."
To mark the launch of the new foundation, AAHOACON23 attendees made donations with the goal of raising $50,000 in the first week.
"Through charitable golf tournaments, hurricane relief efforts and other charitable activities, AAHOA members believe in giving back to our local communities," Bharat Patel said. "The AAHOA Charitable Foundation builds on these efforts and provides a new venue for AAHOA members to support their communities."
Also, a panel of five judges with expertise in technology and hospitality chose Virdee's Virtual Reception Software from a field of eight finalists in the Tech Pitch Competition.  Rajiv Trivedi, former brand president for Wyndham Hotels & Resorts Inc.'s La Quinta Inn and chairman of TST Capital, is a founding investor in the company.
The competition is designed to help identify and elevate companies with ideas and products that will help the hospitality industry face challenges, like labor shortages, from the pandemic.
"It's super exciting when you start a company, and you start selling the product, and the first thing you want to do is get product market fit and start building your client base. And then any sort of recognition like this is a huge honor for us. So really, it's a cool experience and a great feeling," said Branigan Mulcahy, co-founder of Virdee, "There's a lot of great things we learned from the other companies that presented. There are things that help housekeeping be more efficient, and hiring and in tipping, and all of these other technologies that come into the flow."
Funnyman gets serious
Comedian Hasan Minhaj was the first keynote speaker for the 2023 AAHOA Conference and Trade Show in Los Angeles April 11 to 14.  Minhaj's Netflix show "Patriot Act with Hasan Minhaj" won two Peabody Awards, and he has appeared in minor television roles, such as a recurring role on "The Morning Show with Jennifer Aniston and Reese Witherspoon."
During his appearance, Minhaj talked about his family's settling in California in the 1980s. His personal experience was similar to many in the audience, he said.
"Like many of you kids here, I was pre-med, and that didn't work out," Minhaj said. "I was pre-law and that didn't work out, so here I am the keynote speaker, everything worked out fine."
In an interview with outgoing AAHOA Chairman Nishant "Neal" Patel, Minhaj recalled the effect the release of the 2004 movie "Harold and Kumar go to White Castle" on his own career. The movie stars Indian American actor Kal Penn.
"That was a seminal moment, I think, for Indian Americans in the pop culture for cinema. And it was this 'A-ha' moment for me where I was like, maybe we have a place in this industry," Minhaj said. "I was thinking about this last night when I was flying over here. I was thinking about, why is AAHOA inviting me to be a part of this. My career is so different than the story of the hotel motel business. But if you think about it, what Asian Americans are doing Hollywood right now breaking into an industry that normally wasn't typically accommodating, and it's no different than what all of you have done in the ownership business of hotels in America."
Unity and enrichment
Keynote speakers at the 2023 AAHOA Conference and Trade Show in Los Angeles included visionary and mystic Sadhguru and Pujya Brahmviraharidas Swami from BAPS. Both men delivered spiritual advice to attendees.
Pujya Brahmviraharidas Swami spearheads the global outreach of BAPS to spread harmony and collaboration of all generations and backgrounds, according to AAHOA. He has played a role in some of the most recent global events at the call of the Indian government and heads of state.
Pujya Brahmviraharidas Swami urged AAHOA leaders to preserve the culture and the values they represent.
"I want you to transform the industry, or more importantly, to be you. You are different not just because we're the biggest, the largest, the wealthiest, you are different because you are the most united," he said. "You should become a single body. What do I mean by a single body? In a body, every organ has a different role to play. The job of the eyes is what? To see the job of the ear is what? To hear. The job of the eyes is to see. Every organ in our body has a separate job. Suppose you're walking on the road. It is the job of the eye to see a stone. If the eyes are distracted and not doing their job, … if you fall on the ground you hit the head. But you still get up and say what? Thank God my eye is safe. It was the fault of the eye and still you protect the eye. Protect your people, now and forever and ever more."
Sadhguru is known as a yogi, humanitarian and spiritual leader. He gave an interview during the show that appeared on YouTube.
"You say a machine is well engineered we mean to say it's functioning with the least amount of friction," Sadhguru said in the video. "If you function with the least amount of friction everything that you do will be of a beautiful nature and you've created a different world around yourself. Let's make an effort."
California hotelier and longtime AAHOA member Sunil "Sunny" Tolani said Sadhguru said every human is born with an individual style of mind. People can enrich their minds through yoga, prayers or meditation to control negative thought processes and put themselves in a position to understand others and respect other people's feelings and beliefs.
"I respect Sadhguru for his clarity of vision about life and how it can be lived happily and beautifully," Tolani said. "Thanks to him for bringing this awareness to the present generation and AAHOANS. Every single word needs special attention to understand it's meaning."