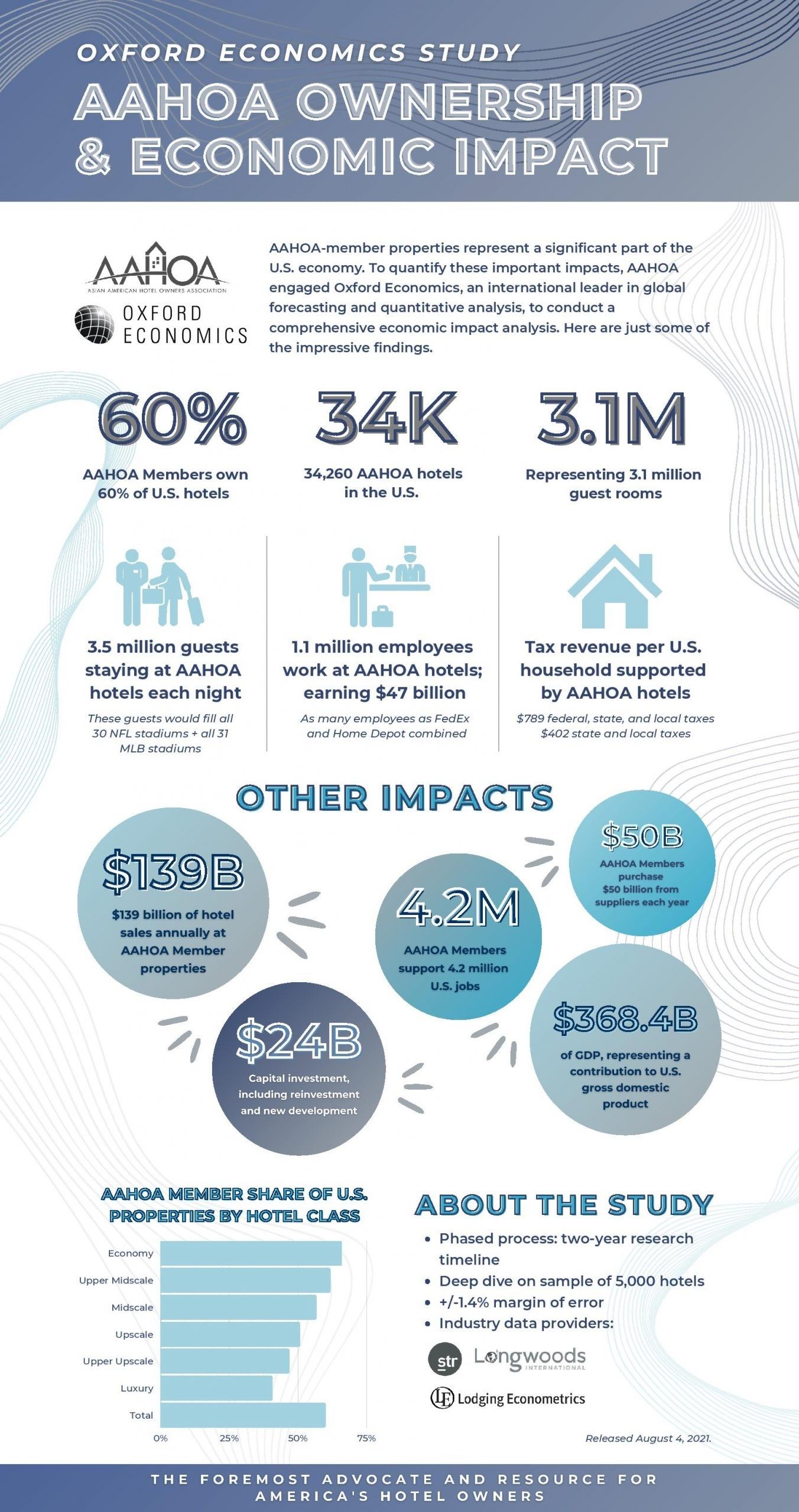 AAHOA HAS ALWAYS advocated for its members based on the perceived large share of the hospitality market they make up. A new study commissioned by the association now quantifies that perception, laying out specifically the economic impact made by Asian American owned hotels on a local, state and federal level.
AAHOA announced the study results during the general session on the first day of the 2021 AAHOA Convention & Trade Show at the Kay Bailey Hutchison Convention Center Dallas. The study, conducted by Oxford Economics, analyzed the share of U.S. hotels and rooms owned by AAHOA's nearly 20,000 members, hotel operations, hotel guest ancillary spending, capital investment, and indirect and induced impacts supported by AAHOA hotels in other parts of the U.S. economy.
It found that the 34,260 AAHOA member-owned hotels account for 60 percent of all hotels in the U.S. and provide 3.1 million guestrooms and 2.2 million direct impact jobs.
"The findings laid out in this new study are a testament to the strength and influence of AAHOA members and serve as yet another reminder of hotel owners' vital economic contributions to communities across the nation," said Ken Greene, AAHOA's interim president and CEO. "Guests at AAHOA hotels spend billions of dollars in local economies. AAHOA members employ as many workers as FedEx and Home Depot – combined, and the 1.1 million employees who work at AAHOA member hotels earn $47 billion annually. AAHOA members are the heart and soul of the hospitality industry and will continue to play an essential role in our nation's economic recovery."
The study also found that AAHOA member owned hotels produced $680.6 billion in business sales, including revenue as well as sales and lodging taxes. They support 4.2 million jobs with $214.6 billion of wages, salaries and other compensation, and they contribute $368.4 billion yearly to the U.S. GDP as well as $96.8 billion of federal, state and local taxes.
Greene said the findings of the analysis surprised him particularly in some cases. For example, the fact that more than 89 percent of the hotels inn Texas are owned by AAHOAA members.
"When you get down to the actual district, each district and what that means, it gives real, solid numbers, data that we can go to state and local politicians and say, these are your constituents, these are the folks who are driving jobs in your areas," he said. "We have a voice and it's just not a nebulous 'Hey, we own a lot of hotels, and we got a lot of numbers.' It's a very specific number. And so I think this is really a game changer for us."
The study paints a clear picture, said AAHOA Chairman Biran Patel.
"It is remarkable how far AAHOA members have come since the association's founding in 1989 when a small group of hoteliers banded together to fight discrimination," he said. "That commitment to helping hoteliers grow their businesses and realize the American Dream is reflected in the impressive numbers revealed today."
Having the study in hand lends more credibility to the association's advocacy efforts with government as well as with brands and other stakeholders, said Vinay Patel, AAHOA's vice chairman who at the end of the conference will transition to the chairmanship.
"Now with this, I feel like we've got data, the tools behind us to make smart decisions on behalf of our members and the industry as a whole," Vinay said.