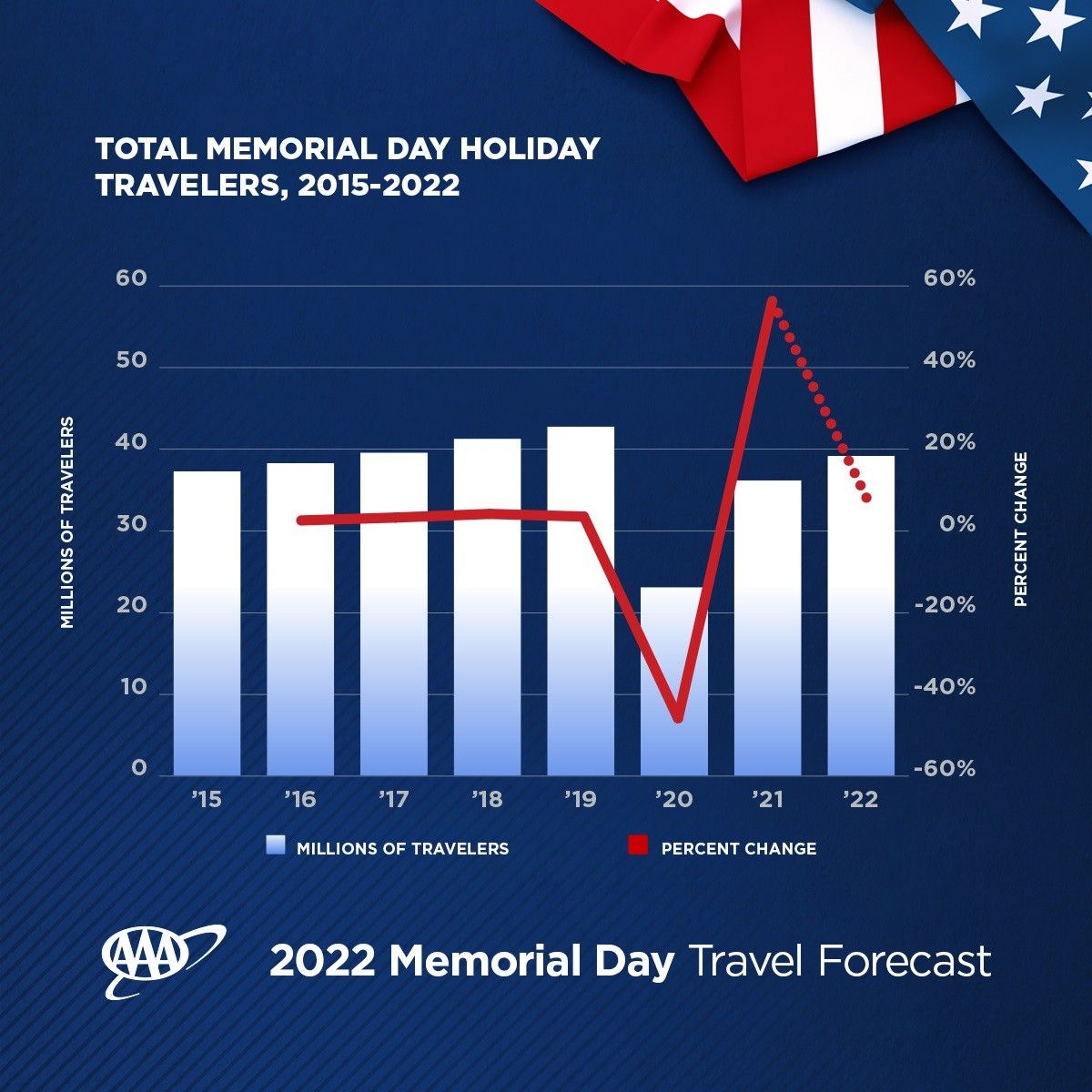 MEMORIAL DAY WEEKEND is back and almost as strong as pre-pandemic levels, with 39.2 million people forecast to travel 50 miles or more from home during the holiday period, according to AAA Travel. Despite record high gas prices, a majority of travelers, 34.9 million, are expected to drive, but air travel also is seeing resurgence.
The total forecasted number of travelers is 8.3 percent higher than 2021's 36.2 million and comes closer to 2017 levels. Last year, U.S. hotels saw occupancy hit nearly 62 percent over that Memorial Day weekend, according to STR.
"Memorial Day is always a good predictor of what's to come for summer travel," said Paula Twidale, senior vice president, AAA Travel. "Based on our projections, summer travel isn't just heating up, it will be on fire. People are overdue for a vacation and they are looking to catch up on some much-needed R&R in the coming months."
Air travel remained in second place with 3.01 million passengers expected to fly. That's up 25 percent over last year, the second-largest increase since 2010, and represents 7.7 percent of travelers compared to 7.5 percent in 2019. Around 1.33 million are expected to travel by other means, including bus, train or cruise.
"Air travel has faced several challenges since the beginning of the year," Twidale said. "With the type of volume we anticipate, we continue to recommend the safety net of a travel agent and travel insurance. Both are a lifesaver if something unexpectedly derails your travel plans."
Mid-range hotel rates have increased about 42 percent, with the average lowest nightly rates ranging between approximately $199 to $257 a night for AAA Approved Hotels. Big cities and beaches are top destinations this Memorial Day, with the top U.S. destinations being:
Orlando
Seattle
Miami
Las Vegas
Anaheim, California
New York
Denver
Anchorage
Boston
Honolulu