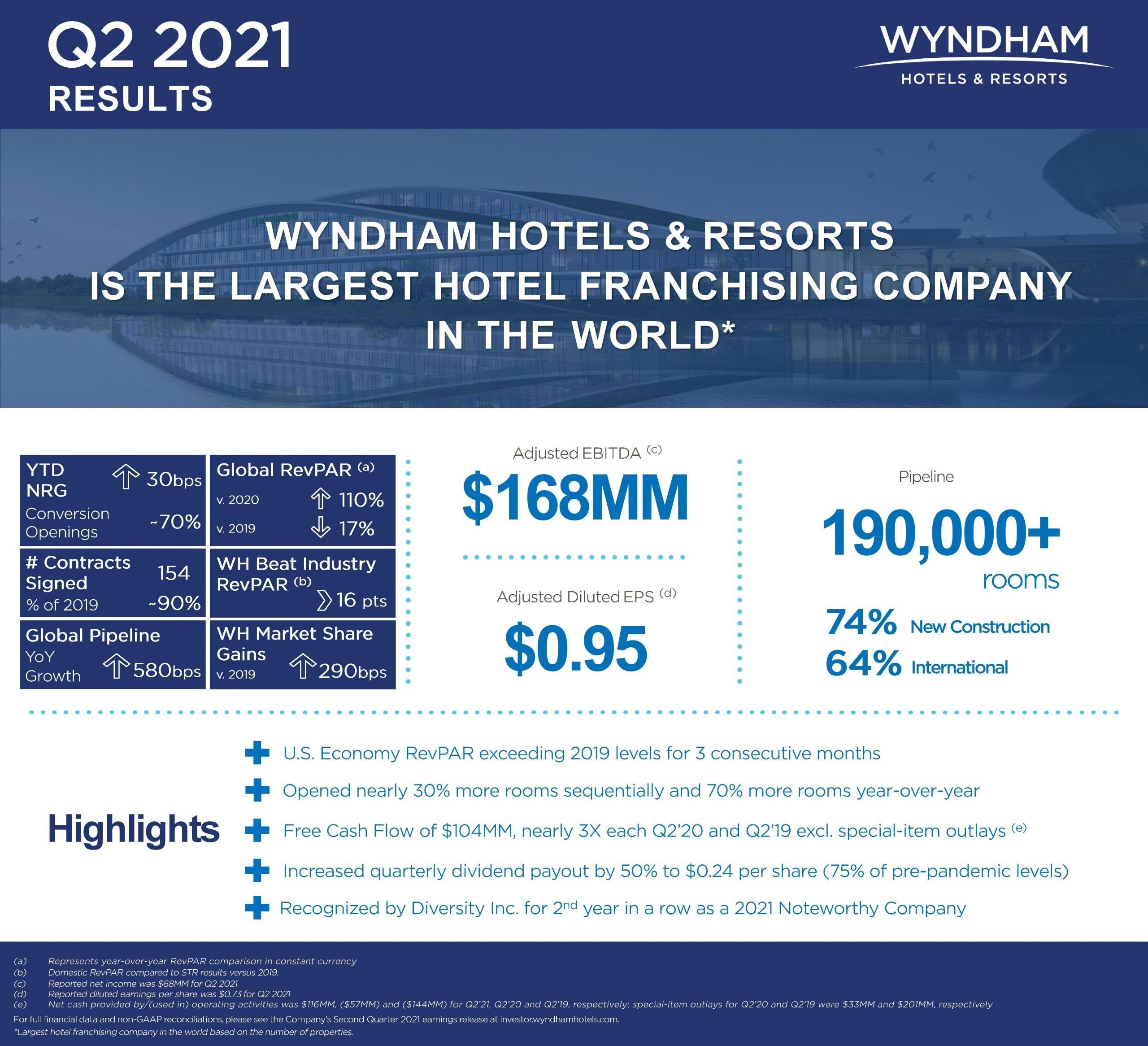 TWO OF THE nation's biggest hotel companies, Wyndham Hotels & Resorts and Hilton Worldwide Holdings Inc., continued to see improvements in the second quarter.
Wyndham's net income was $68 million in the second quarter compared to a net loss of $174 million in second quarter 2020. The company's second quarter adjusted net income was $89 million compared to $9 million in the same quarter of 2020. Its global RevPAR increased 110 percent compared to second quarter 2020 but declined 17 percent compared to second quarter 2019 in constant currency.
Also in the second quarter, Hilton's net income was $128 million and its RevPAR increased 233.8 percent on a currency neutral basis for the second quarter from the same period in 2020. The company's EBITDA was $400 million.
Wyndham on the rise
Wyndham's fee-related and other revenues increased 67 percent to $321 million during the quarter, compared to $192 million in the second quarter of 2020. Rising demand for travel raised its global RevPAR to 83 percent of 2019 levels, including domestic RevPAR at 95 percent of 2019 levels.
"With continued increasing demand from our leisure and everyday business travelers, our select-service franchise business model generated another strong quarter of adjusted EBITDA and cash flow, allowing us to increase our dividend by 50 percent," said Geoffrey Ballotti, president and CEO. "Our brands continue to capture market share gains above pre-pandemic levels, while our economy brands here in the U.S. actually exceeded 2019 RevPAR for the quarter. We opened over 70 percent more rooms than we did last year while growing our development pipeline by 6 percent vs. prior year, and by 2 percent sequentially, to over 190,000 rooms."
The company awarded 154 new contracts this quarter compared to 116 in the second quarter of last year and 173 in the second quarter of 2019. This follows a first quarter of continued growth as well.
Wyndham's global development pipeline contained more than 1,400 hotels with more than 190,000 rooms as of June 30. Approximately 64 percent of the company's development pipeline is international and 74 percent is new construction, of which approximately 34 percent has broken ground. Year-to-date, deletions ran 27 percent below 2019 levels putting the company on track with its goal of achieving a 95 percent retention rate for the full year 2021.
Hilton hits the high notes
For the six months leading up to June 30, operations at about 300 hotels, primarily located in the U.S. and Europe, were suspended for some period of time. That compares to approximately 1,205 hotels that closed during the six months prior to June 30, 2020, according to the company's earnings statement, and as of June 30 all but approximately 100 of Hilton's system-wide hotels were open.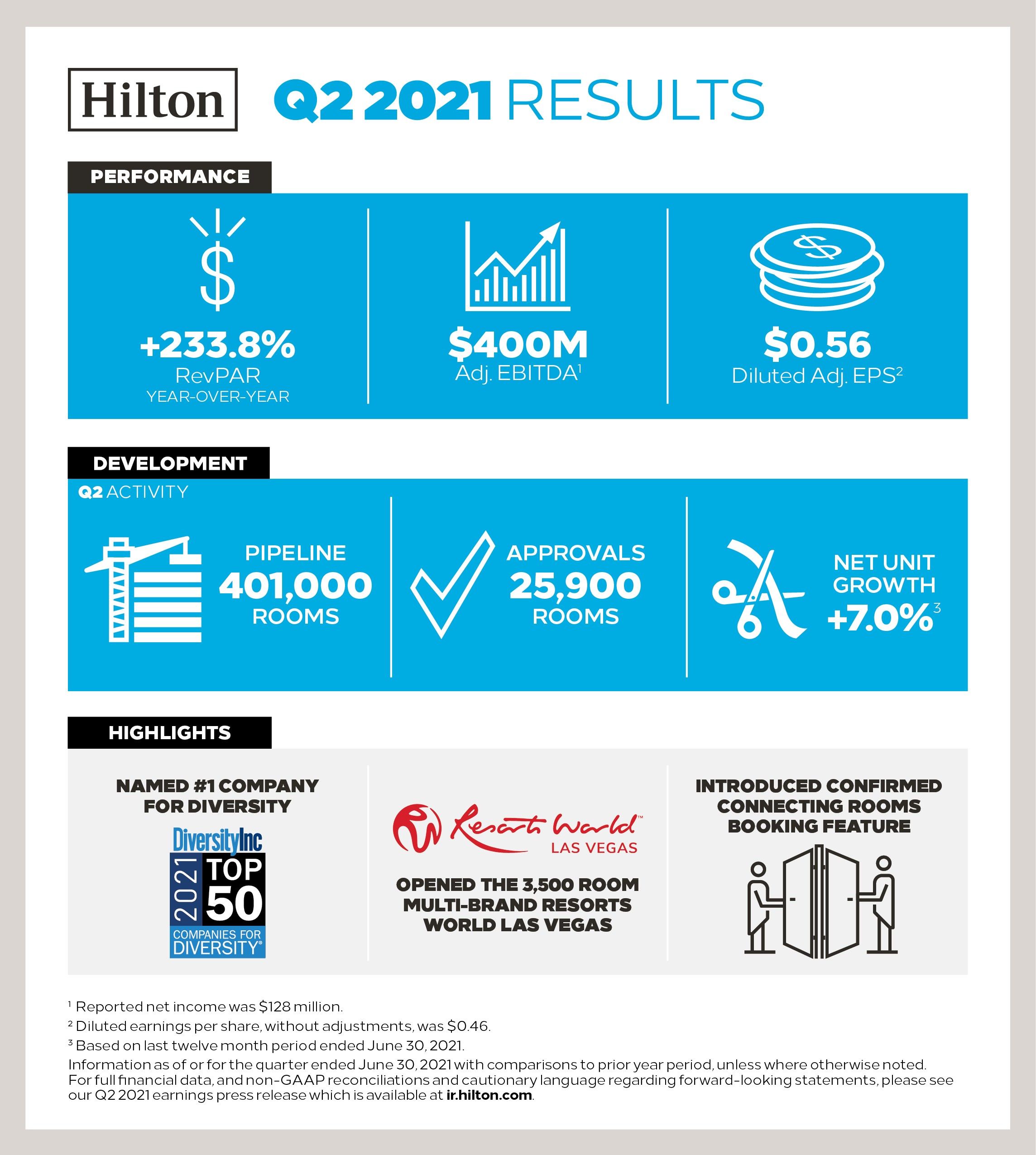 System-wide comparable RevPAR increased 23.2 percent during the six months before June 30 as a result of a rise in occupancy. Fee revenues increased 28 percent during the same time as a sign of the ongoing recovery.
"We are excited about our strong second quarter performance, which reflects our ongoing recovery from the negative effects of the COVID-19 pandemic. The broader distribution of vaccinations and the easing of travel and other restrictions have allowed for renewed interest in travel and tourism, with families embarking on long-delayed trips, and businesses scheduling in-person meetings again," Christopher Nassetta, Hilton's president and CEO. "While the pace of recovery varies by region, particularly with the uncertainty surrounding coronavirus variants, we expect continued strength in leisure demand and further upticks in business travel to drive continued resurgence in the back half of the year. We are also increasingly optimistic on our development, with net unit growth for the full year expected to be between 5 percent and 5.5 percent."
The company approved development of 25,900 new rooms during the time period, bringing Hilton's development pipeline to 401,000 rooms as of June 30. It fully repaid the $1.19 million outstanding debt balance on the Revolving Credit Facility during the second quarter.