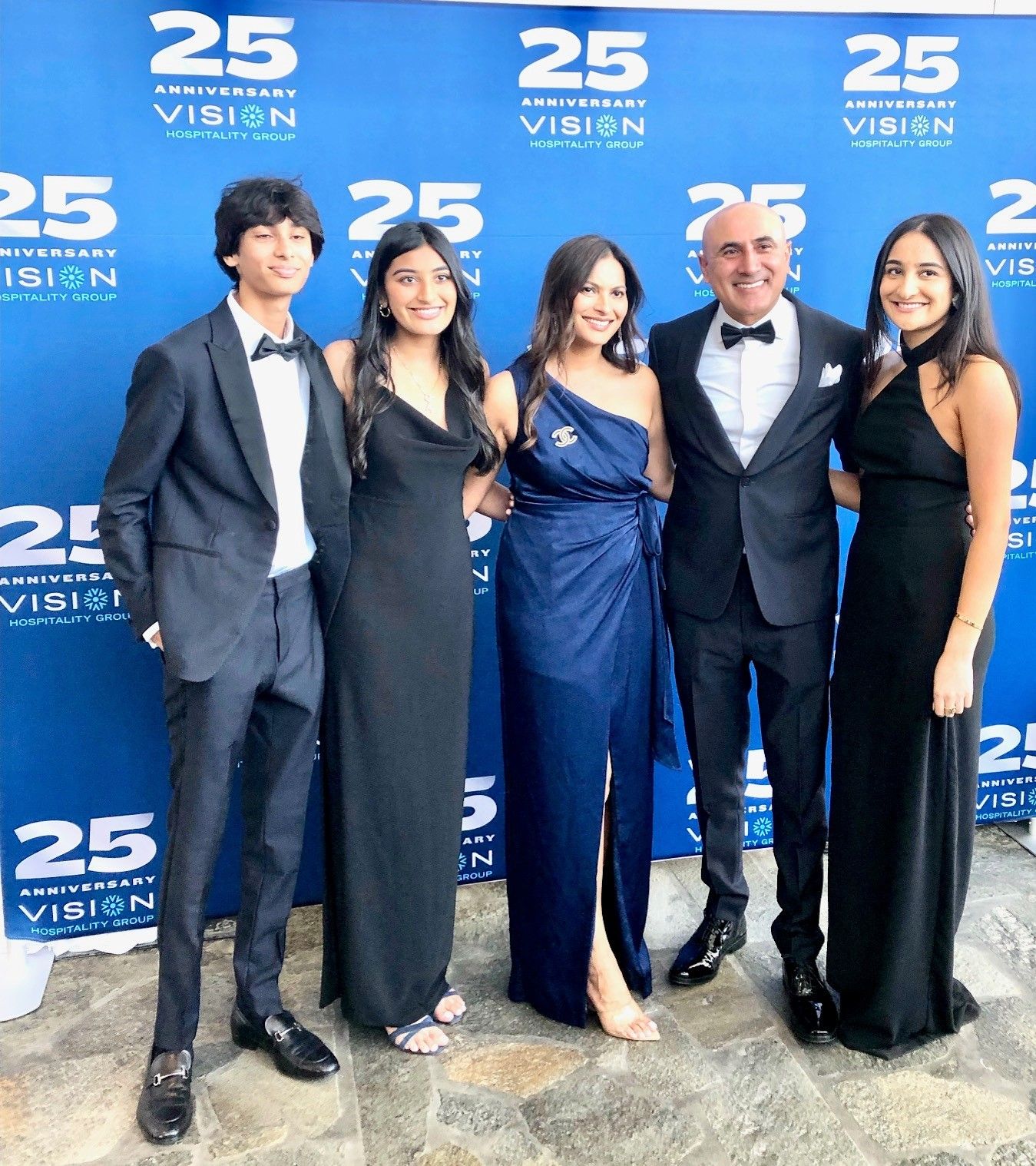 WITH THE TENNESSEE River winding through downtown Chattanooga, Tennessee, as a backdrop, Mitch Patel, president and CEO of Vision Hospitality Group, welcomed nearly 300 guests to a formal gala recognizing his company's 25th anniversary on Thursday. Among the guests were local officials, brand leaders, some of Patel's fellow hoteliers and the VHG employees who he said made it all possible.
"I know many of you are tired and have early flights tomorrow, so I'll do my best to keep this short but I have a lot of people to thank, I'm sorry," Patel said in his speech near the end of the gala, following many presentations and a full dinner on the terrace at the Hunter Museum of American Art.
The museum is next door to The Edwin Hotel, one of VHG's several boutique hotels in Chattanooga alone. Some guests for the gala also enjoyed complimentary  housing at The Edwin for the special anniversary event, which was announced in March.
Founded in 1997, Vision Hospitality began with a Homewood Suites by Hilton, Chattanooga/Hamilton Place Patel developed in Chattanooga, where the company is still headquartered. Then, as the U.S. economy struggled to overcome the 9/11 attacks of 2001, Patel went on to develop 10 more hotels.
"Our story started 25 years ago, this week," Patel said. "One small hotel, but one very big dream. It's been an incredible journey. From these humble beginnings to where we are today, this journey would not be possible without these amazing men and women in this room this evening. So please bear with me, I have a lot of people to thank."
Presentations for the evening began with a proclamation from Tim Kelly, mayor of the Chattanooga, and Jim Coppinger, mayor of surrounding Hamilton County, declaring April 21 as Vision Hospitality Group Day.
"From small bakeries to logistics to paving machines, we've always kind of figured things out in Chattanooga, and Mitch is a perfect example," Kelly said.  "He started Vision Hospitality when he was just 27 with his first hotel here, and it has grown that to about 16 hotels just in the Chattanooga area, $350 million of investment here and tens of millions of dollars in tax revenue."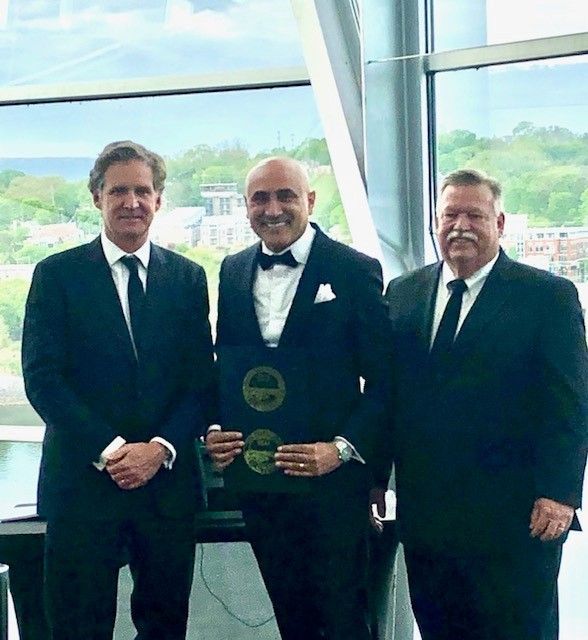 Coppinger said Patel and VHG did much to help the county make it through the COVID-19 pandemic.
"Mitch served on the task force that we put together and was an integral part," Coppinger said. "They called in every week, we did all this virtually, but Mitch played a big part in that, sharing what the vision was for the community, not only is as an entrepreneur of hotels but also for the tourism industry. It was really important to have his insight."
Other VIPs at the gala included Liam Brown, group president of the Americas for Marriott International; Danny Hughes, president of the Americas for Hilton Hotels; and Chip Rogers, president and CEO at the American Hotel and Lodging Association. Other hoteliers present included Al Patel, president and CEO of Baywood Hotels in Columbia, Maryland; D.J. Rama, president and CEO of Auro Hotels in Greenville, South Carolina; and former AAHOA Chairwoman Jagruti Panwala who also is president and CEO of Wealth Protection Services in New Hope, Pennsylvania.
Mitch Patel's family, wife Parul and children Aleyna, Arjun and Ishani, also attended the gala.
"There is no more important role, no more important role in my life than those of a son, husband and a father," Patel told his family. "I hope I can be the same role model for you as my parents have been for me."
As VHG's market cap approaches $1 billion, Patel plans to expand the company's footprint through strategic investments, acquisitions, and repositioning opportunities. He also aims to continue working with current partners as well as building new relationships in targeted markets.
"This milestone is a great opportunity to pause to reflect on the past gratitude, and also look out into the future. Together we've accomplished a lot these past 25 years," Patel said in conclusion. "But our journey is not over. Even though our industry just went through an unprecedented crisis, I've learned that you can never bet against the American spirit. There's an African proverb says smooth seas have never made a skilled sailor. We're stronger, smarter, more efficient, more resilient than ever. This is a sustainable industry with tremendous opportunities."