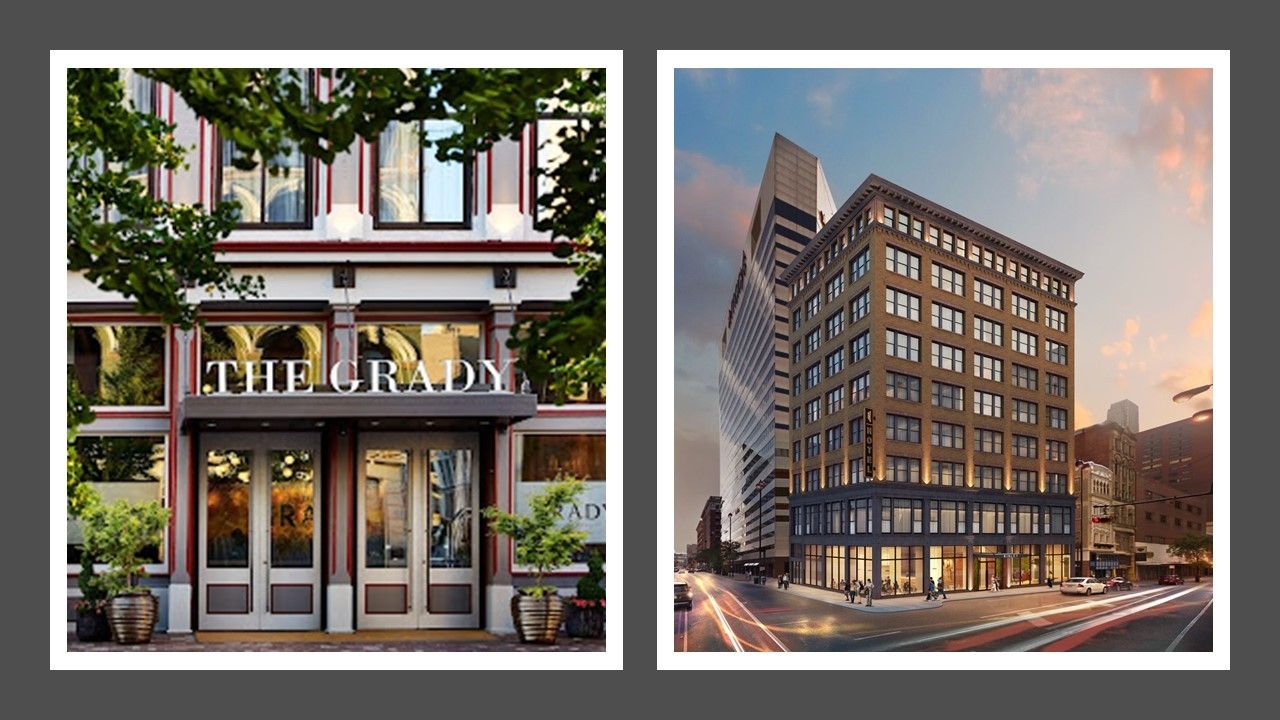 TWO BOUTIQUE HOTELS owned by Vision Hospitality Group, The Grady Louisville Downtown in Louisville, Kentucky, and the Kinley Cincinnati Downtown in Cincinnati, have won different categories of this year's StayBoutique Awards by the Boutique Lifestyle Leaders Association. Mitch Patel, the Chattanooga, Tennessee-based company's president and CEO, was a runner up for BLLA's Iconic Boutique Hotelier.
The Grady, which opened in June 2021 and recently reopened after a renovation, took first place for two categories in the BLLA awards, Boutique Hotel Design Project and Boutique Hotel Under 100 Rooms. The Kinley, opened in October 2020, took second place for Boutique Hotel Design Project
"We are honored to be recognized in this year's awards program, and we couldn't have done it without our interior design partners," Patel said. "For each of these hotels, we take pride in the historic renovations and thoughtful design work that has gone into making them what they are today."
Restored to grandeur
The 51-room luxury lifestyle Grady was designed by Atlanta-based Sims Patrick Studio. Work began on The Grady's restoration in March 2020. The hotel's renaissance revival-style façade clad with ornamental detailing was restored, and each guest room features original reclaimed wood ceilings, tufted headboards, and locally inspired art.
Inside, scattered around the common areas are symbolic artifacts, such as a horseshoe representing Louisville's horse racing history and shamrocks representing native son Muhammad Ali. In the lobby are a library area, art gallery, a central fireplace and the Wild Swann cocktail bar.
The Grady is near the Muhammed Ali Center, Frazier History Museum and the Louisville Slugger Museum. The building originally housed a medicinal bourbon apothecary built in the late 1800s by pharmacist J.B Wilder.
The hotel is a member of Small Luxury Hotels of the World, a community of 520 luxury hotels with various owners around the world.
First of a kind
Designed by global architecture firm Streetsense, The Kinley Cincinnati Downtown was the first in Vision's lifestyle The Tribute Portfolio. The portfolio now also includes The Grady and the 64-room Kinley Chattanooga Southside in downtown Chattanooga.
Kinley Cincinnati Downtown décor features artwork showing local history local art pieces curated in partnership with the Cincinnati Art Underground. It includes the restored mural "Allegro" painted by artist Barron Krody for the 1971 series entitled Urban Walls: Cincinnati.
Other features include the contactless "uncheck-in" desk, a ground floor lobby bar called The Exchange and a restaurant, Khora, featuring a locally sourced pasta-driven menu. Khora is overseen by Cincinnati native Chef Kevin Ashworth and James Beard Foundation Award winner Chef Edward Lee.
"The Humanist team is thrilled to receive honors for two hotels within our boutique portfolio," said David Martin, COO of Humanist Hospitality, Vision's management subsidiary. "Not only are we excited to receive awards for these locations alongside our design partners, but we are also grateful for the opportunity to have our leader recognized as well."
The StayBoutique by BLLA awards program recognizes boutique hotels and businesses for their achievements over the preceding year. The annual program consists of eight total categories, and projects are judged not only by their appearance, but also by the ethos behind each project.