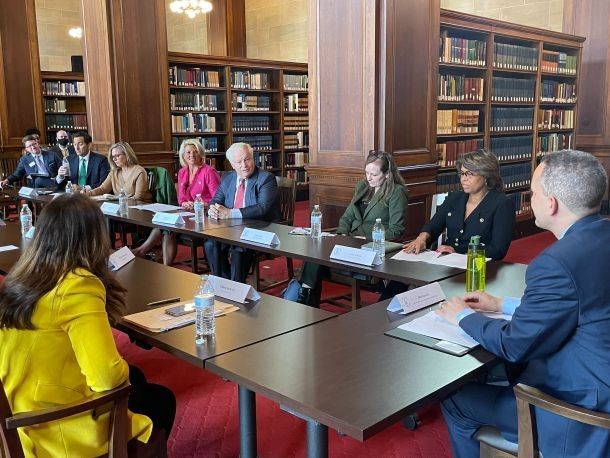 THE U.S. TRAVEL Association led a delegation of 11 travel industry leaders to U.S. Deputy Secretary of Commerce Don Graves on March 8 to discuss promoting safe business and professional travel to help recovery post COVID-19. Travel leaders also demanded additional H-2B, J-1 and other temporary work visas available to meet seasonal workforce
During the roundtable, Graves voiced his support for the travel industry, saying the Commerce Department will bring "all tools to the table" to help overcome obstacles that remain to the normal resumption of business travel, a statement said.
They discussed the reentry of urban office workers and its correlation to the restart of business travel as well as opportunities to attract global meetings, conventions and exhibitions to the country.
"We appreciate the focus of our federal partners on rebuilding business and professional travel and their commitment to restoring this sector of the U.S. economy and workforce. The travel industry is seizing every opportunity extended to recover quickly—particularly as business travel, conferences and conventions, and trade events nationwide continue to lag," said Roger Dow, USTA president and CEO. "Special thanks go to Deputy Secretary Graves for meeting with our industry today and offering the agency's support, as well as to Secretary Gina Raimondo for her leadership on rebuilding America's travel economy."
He also encouraged administration and government officials to send consistent and clear messages to the American public and the world that it is safe to travel again, particularly for vaccinated individuals.
Data shows that total business travel remained at just 47 percent of 2019 levels last year—and group meetings and events were at a meager 36 percent of 2019 levels. According to USTA, business travel recovery is not expected until 2024.
The other topics discussed during the meeting include, creation of temporary tax incentives, creation of a partnership with U.S. destinations and venues to help secure high-value international meetings, incentives, conferences and exhibitions,
repeal of the pre-departure testing requirement for all fully vaccinated inbound international arrivals and restoring visa services and taking steps to modernize the visa process.
Biden admin urged to raise cap on H-2B visas
U.S. Travel Association executive vice president of Public Affairs and Policy Tori Emerson Barnes said that a workforce shortage is threatening to hold back industries across the economy, especially in Leisure & Hospitality as the H-2B visa cap is already met and millions of jobs still open
"The cap on H-2B visas must be raised to ensure travel businesses are adequately staffed—particularly ahead of the busy summer travel season when so many businesses rely on temporary workers to perform vital operations like housekeeping, lifeguarding and food service," Barnes said. "Raising the cap on H-2B visas has strong bipartisan support in Congress, as the action would have a clear and immediate benefit to businesses that are struggling to rebound from historic workforce shortages. With more than 1.7 million job openings in the Leisure & Hospitality sector alone, we respectfully urge the administration to exercise the authority given by Congress to release additional H-2B visas above the cap, which is necessary for an even recovery across all sectors of travel."
In December, a group of lawmakers sent a letter to the Department of State urging the agency to bring visa processing back to pre-COVID levels.