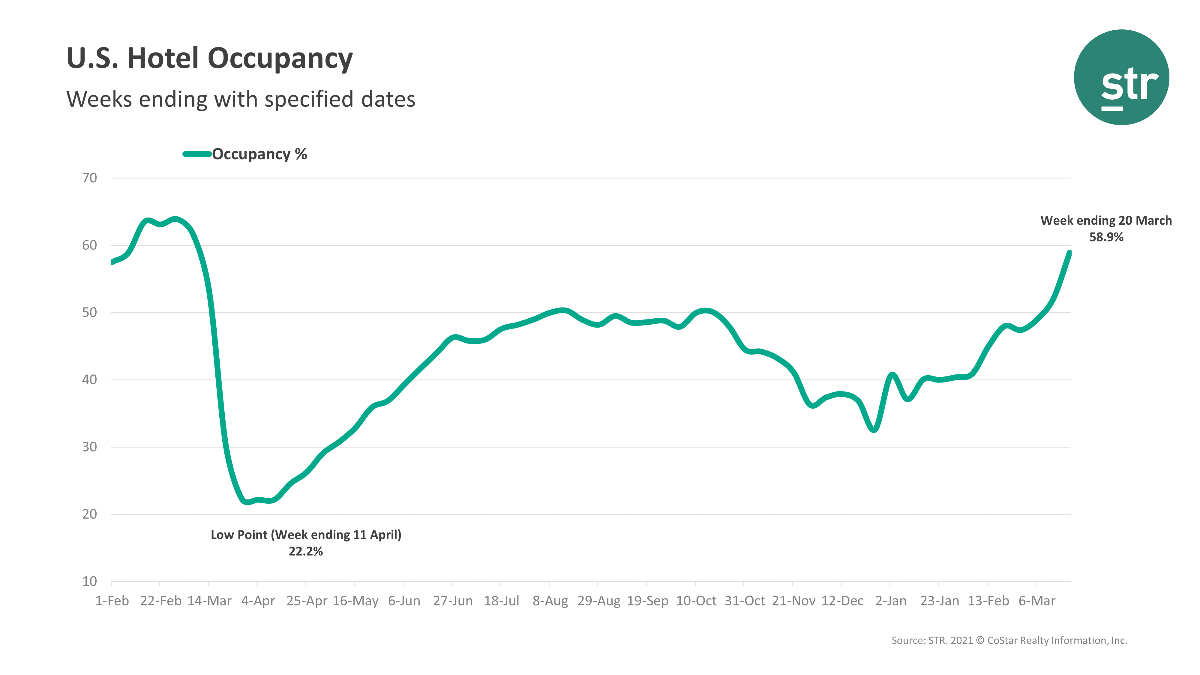 U.S. HOTELS CONTINUED to see improved performance in the second to last week of March, according to STR. The improvement came across the board, with a nearly seven point increase in occupancy driving rises in ADR and RevPAR.
Occupancy was 58.9 percent for the week ending March 20, up from 52.1 percent the week before. ADR was $108.07, up from $102.62, and RevPAR was $63.62, an increase from $53.45 week over week. STR did not provide year-over-year comparisons.
"The 58.9 percent absolute occupancy was a 93.9 percent increase from the comparable, pandemic-affected week last year, but more importantly, represented almost 85 percent of occupancy regained from the 2019 benchmark. There was also more improvement in ADR, which reached 81 percent of the comparable 2019 level," STR said. "Every top 25 market experienced week-to-week improvement in occupancy. Outside of the major markets, destinations in Florida and Texas continued to advance with those like the Florida Keys, Sarasota, McAllen/Brownsville and San Antonio even surpassing 2019 levels."
Tampa and Miami led the top 25 markets in occupancy with 85.3 percent and 80.7 percent respectively. The lowest occupancy levels among those markets occurred in Boston with 37 percent and Minneapolis with 39 percent. The top 25 markets together averaged 56.5 percent occupancy, slightly lower than the national average, and slightly higher ADR with $114.55
"The major markets continue to show the most sizeable gaps in current occupancy vs. comparable weeks from 2019," STR said.