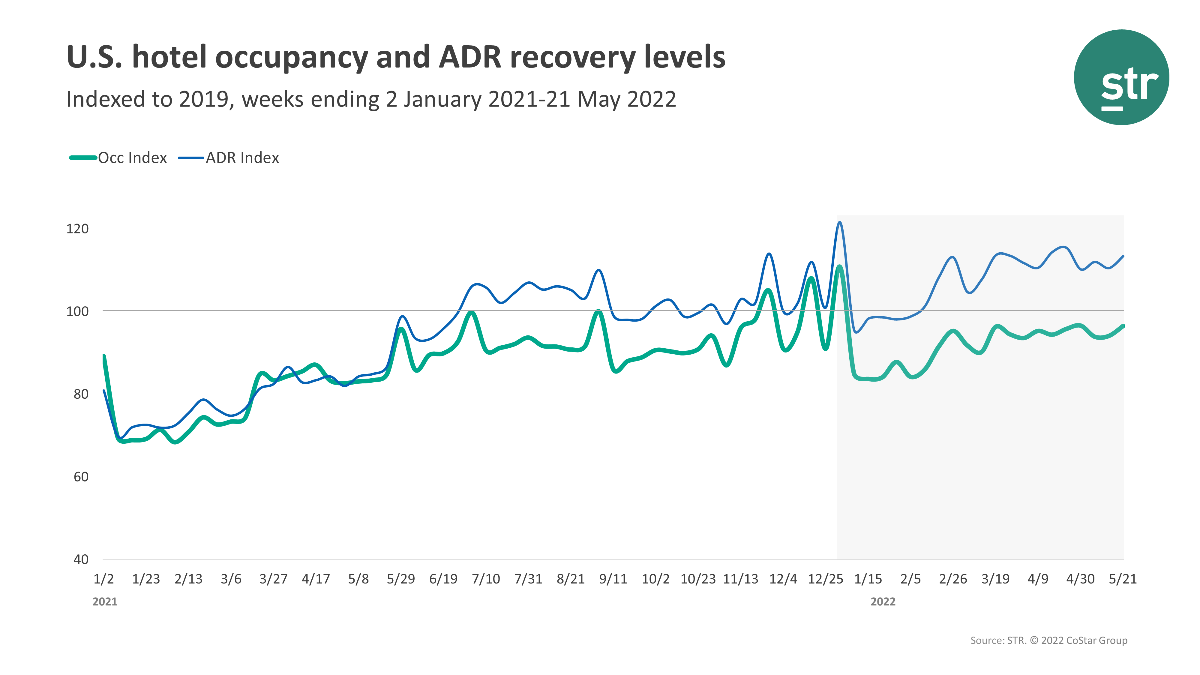 THE RevPAR OF U.S. hotels in the third week of May was the highest it has been since mid-July 2019, according to STR. Also, all metrics in April as a month improved compared to March, and hotels reported all-time high room rates during the period.
Occupancy was 68.6 percent for the week ending May 21, up from 66.5 percent the week before and down 3.5 percent from 2019. ADR was $151.75 for the week, increased from $148.31 the week before and up 13.4 percent from three years ago. RevPAR reached $104.06 percent during the week, up from $98.59 the week before and rose 9.5 percent from 2019.
STR's top 25 markets saw their highest weekly occupancy, ADR and RevPAR levels of the pandemic-era during the week.
According to STR, New York City saw the highest occupancy for the week at 89.4 percent, mainly due to the New York University and Columbia University commencement ceremonies.
Miami saw the highest occupancy increase, up 4.7 percent to 77.5 percent, and ADR, rose 42.4 percent to $250.75, over 2019. Philadelphia experienced the largest occupancy decrease, down 13.2 percent to 69.8 percent, from 2019.
The steepest RevPAR deficits were in San Francisco, decreased 16.2 percent to $185.38, followed by Philadelphia, dipped 12.6 percent to $113.97.
Occupancy and RevPAR for April were the highest since July 2021, and ADR was the highest for any month on record. When adjusted for inflation, the April ADR level was 0.7 percent above the 2019 comparable, the report said.
Occupancy was 65.5 percent for April, up from 64 percent in March and down 3.3 percent in April 2019. ADR was $149.90, up from $146.61 the month before and increased 14 percent from three years ago. RevPAR was $98.20 for April, rose from $93.82 in March and up 10.2 percent when compared to April 2019.
Among STR's top 25 markets, Miami experienced the highest occupancy level at 80.9 percent. All markets showed higher occupancy and ADR in April than all other markets mainly due to  improvement in business and group travel.
The lowest occupancy was in Minneapolis at 52.5 percent, down 22.4 percent from 2019, followed by Detroit at 58.4 percent.