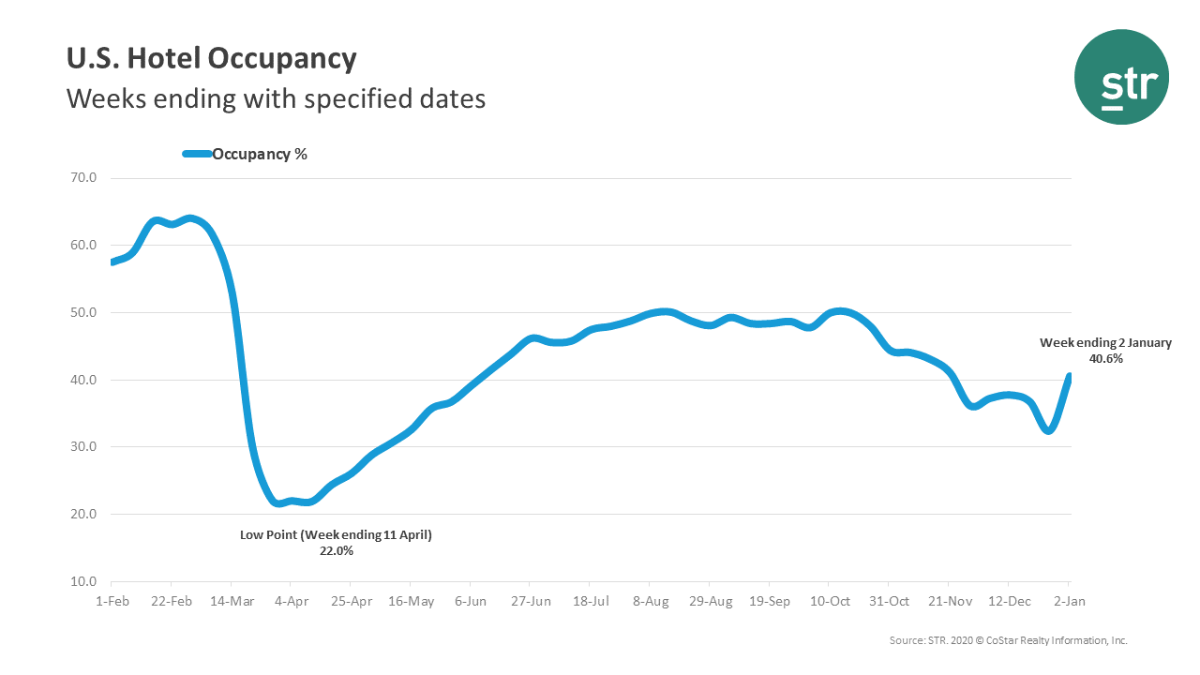 THE NEW YEAR'S holiday weekend boosted occupancy for U.S. hotels in the week ending Jan. 2, according to STR. Unfortunately, the boost is expected to be short-lived.
Occupancy for the week was 40.6 percent, up from 32.5 percent the week before and 36.8 percent the week ending Dec. 19. It is still down 17.2 percent from the previous year. ADR was $107.93, down 21.5 percent year over year but up $92.08 the week ending Dec. 26 and $85.50 the prior week. RevPAR was $43.81, up from $29.94 the week before that, $31.45 the week before but down 35.1 percent year over year.
"Hotel demand jumped in week-over-comparisons while [Transportation Safety Administration airport] checkpoint counts showed five days with more than 1 million passengers," STR said. Substantial hotel demand growth is not expected to continue as leisure travel once again dissipates after the holidays."
For STR's top 25 markets, the total occupancy was 40.6 percent, the same as the national average, and ADR was higher than the average at $112.83. Miami/Hialeah, Florida, saw the highest occupancy level at 69.2 percent while Minneapolis/St. Paul, Minnesota-Wisconsin, and Boston had the lowest occupancy rates at 24.2 percent and 28.2 percent respectively.