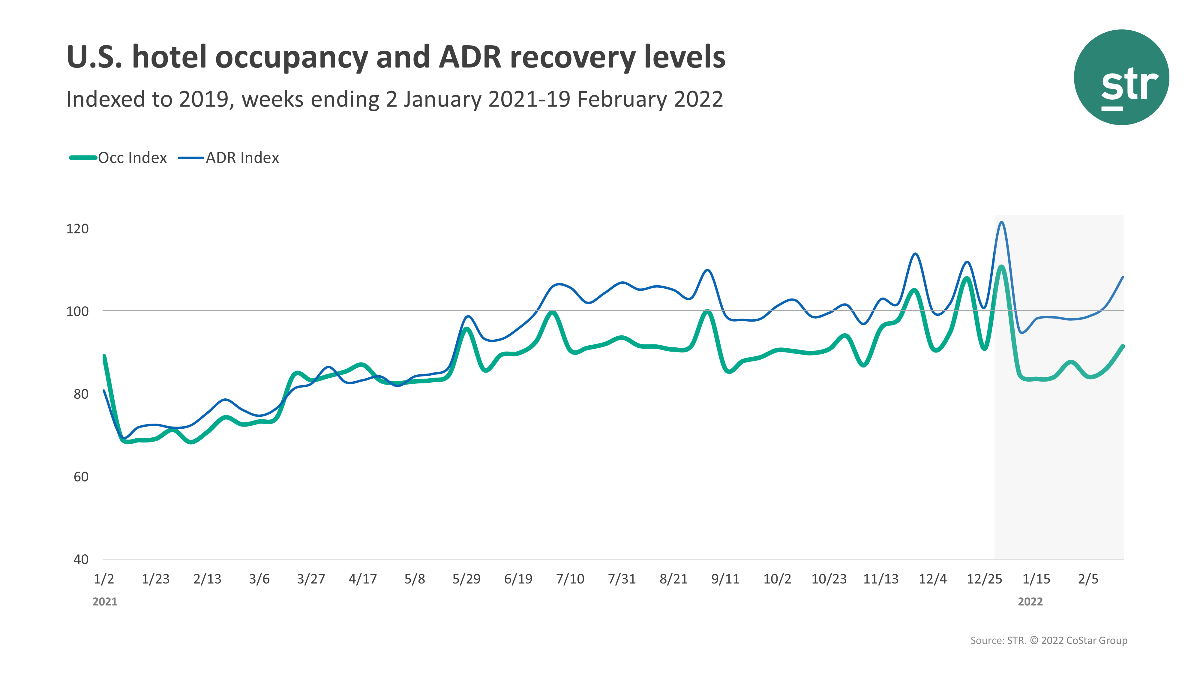 U.S. HOTEL PERFORMANCE increased in the third week of February mainly due to Presidents' Day weekend, according to STR. The data research firm also reported improvement for the week compared to 2019.
Occupancy was 59.1 percent for the week ending Feb. 19, up from 54.6 percent the week before and down 8.4 percent for the same period in 2019. ADR was $140.11 for the week, increased from $133.72 the week before and up 8.4 percent from two years ago.
RevPAR was $82.87 for the week, up from $73 the week before and down just 0.8 percent from the same period two years ago.
Norfolk/Virginia Beach recorded the only occupancy increase among STR's top 25 markets in the third week of February, up 5.7 percent to 55 percent, over 2019.
According to the report, Miami posted the highest ADR increase during the period, increased 28 percent to $347.48, followed by Super Bowl LVI host, Los Angeles, which was up 26.4 percent to $225.07.
San Francisco/San Mateo experienced the largest occupancy decrease, down 29.9 percent to 54.3 percent, from 2019.
The steepest RevPAR deficits were in San Francisco/San Mateo, dropped 42.6 percent to $95.16, followed by Houston, dipped 31.1 percent to $53.14.