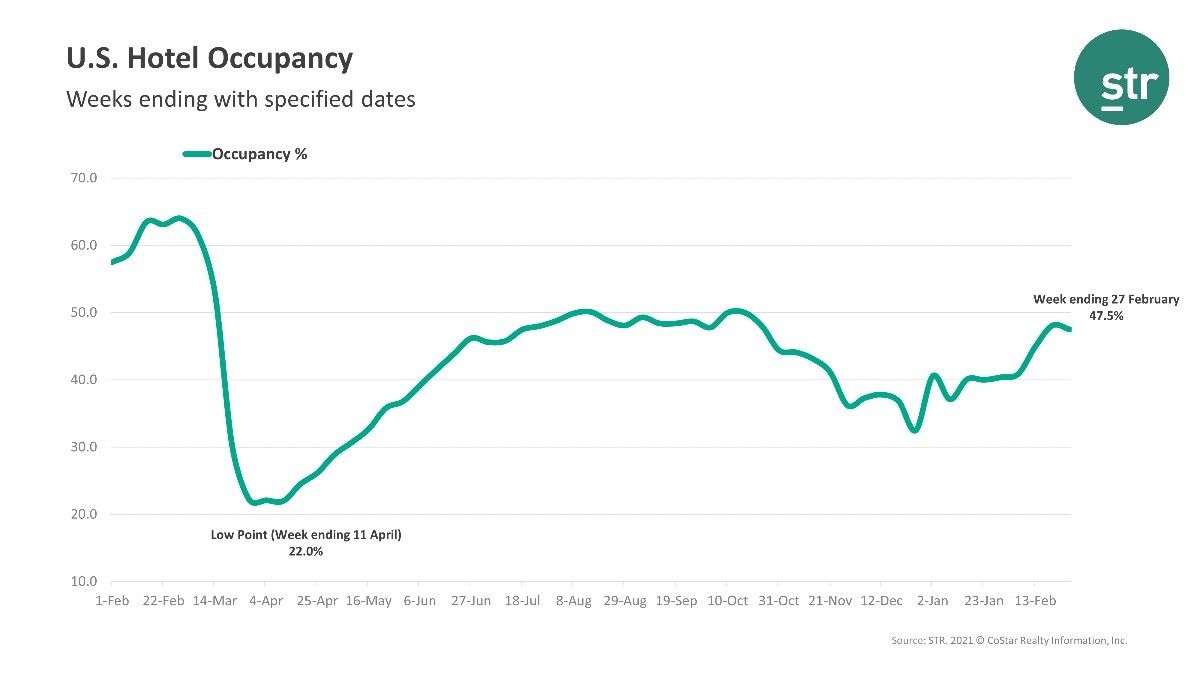 IN THE LAST week of February, U.S. hotels lost the boosts they had seen from a holiday weekend, dampening performance, according to STR. The side effects of the winter storm in Texas, however, lingered.
Occupancy for the week ending Feb. 27 was 47.5 percent, down from 48.1 percent the week before and down 25.8 percent year-over-year. ADR for the week was $96.72, another weekly dip compared to $101.57 and down 25.2 percent from last year. RevPAR finished at $45.90, down from $48.82 week over week and down 44.5 percent yearly.
"The week-over-week decrease was the country's first since late January. Florida, California, and New York reported the largest drops in demand," STR said. "Texas, on the other hand, led the nation in room nights sold as hotels continued to house residents displaced by winter storm damage. The state's occupancy reached a pandemic high of 57.3 percent, up a full point from the week prior."
At 45 percent, the total occupancy for all top 25 markets was lower than the national average while ADR for the markets was higher than the average at $102.49. Miami saw the highest occupancy of the top 25 with 68.5 percent while Oahu Island, Hawaii, and Minneapolis saw the lowest with 30.2 percent and 30.8 percent respectively.