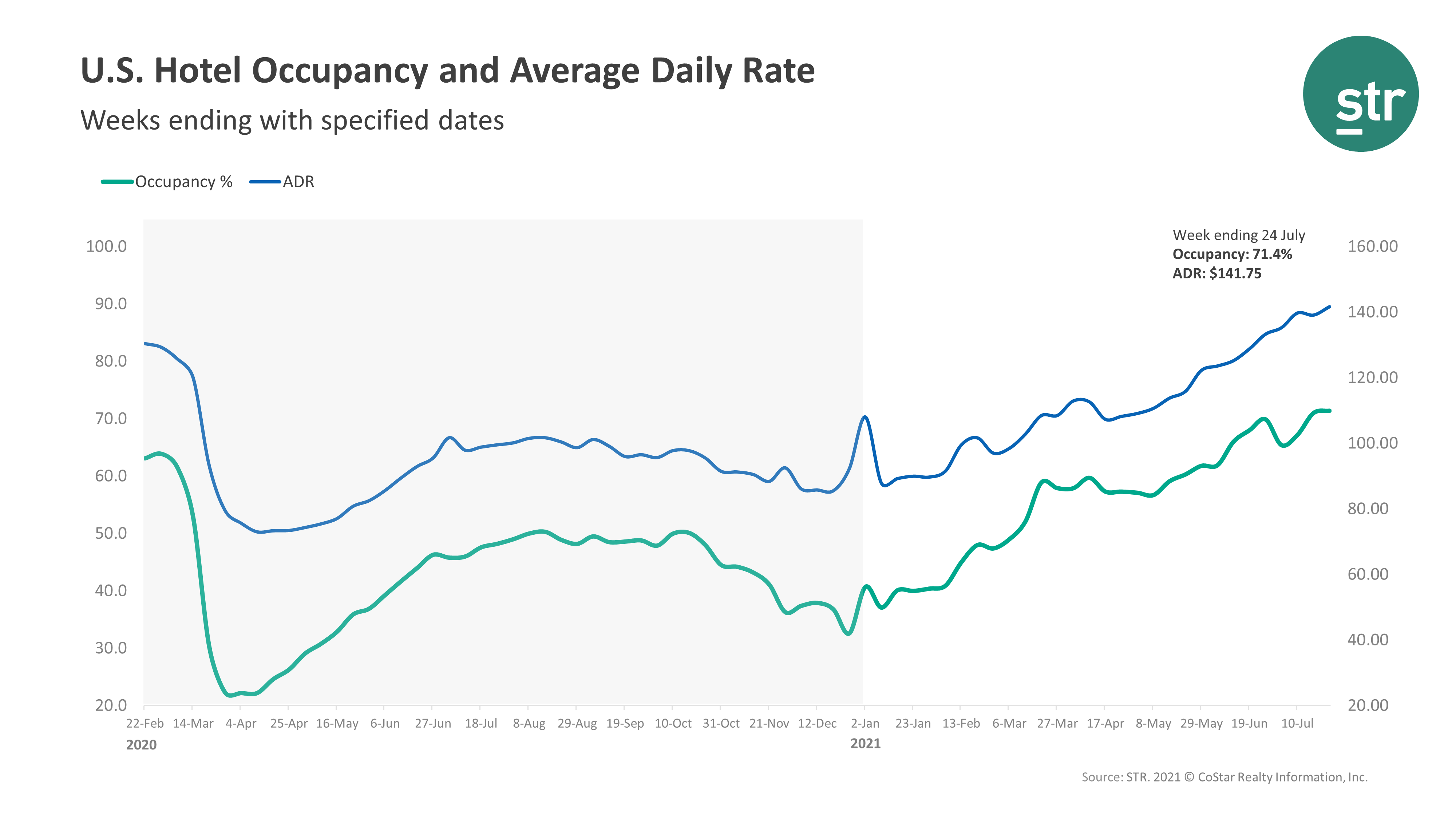 ANOTHER WEEK, ANOTHER high in performance for U.S. hotels as occupancy levels continued to increase in the third week of July, according to STR. It being a time period when occupancy is typically at its highest may be contributing to the results.
Occupancy averaged 71.4 percent for the week ending July 24, up a little from 71 percent the week before and down 7.8 percent from the comparable time period in 2019. ADR was $141.75 compared to $139.19 the week before and up 4 percent from two years ago. RevPAR reached $101.24, up from $98.87 week-over-week and down 4.2 percent from 2019 levels.
"Historically, the middle weeks of July are the country's highest occupancy weeks each year, and 2021 has been no different even as demand slows week to week," STR said. "ADR, while an all-time high on a nominal basis, comes in at a real value of $136 when adjusted for inflation. That would be shy of the record from 2019. Both occupancy and ADR played a role in RevPAR reaching its highest level since July 2019 on a nominal basis."
Tampa, Florida, was the only top 25 market to see occupancy rise over 2019 levels, up 2.9 percent to 78.5 percent. San Francisco/San Mateo, California, experienced the steepest decline in occupancy from 2019, dropping 35.2 percent to 58.3 percent.
Miami reported the largest ADR increase, a rise of 52 percent to $237.49, and RevPAR, up 49.3 percent to $183.66. The largest RevPAR drops were in San Francisco/San Mateo, down 54.4 percent to $97.93, and Washington, D.C., down 43.4 percent to $69.86.