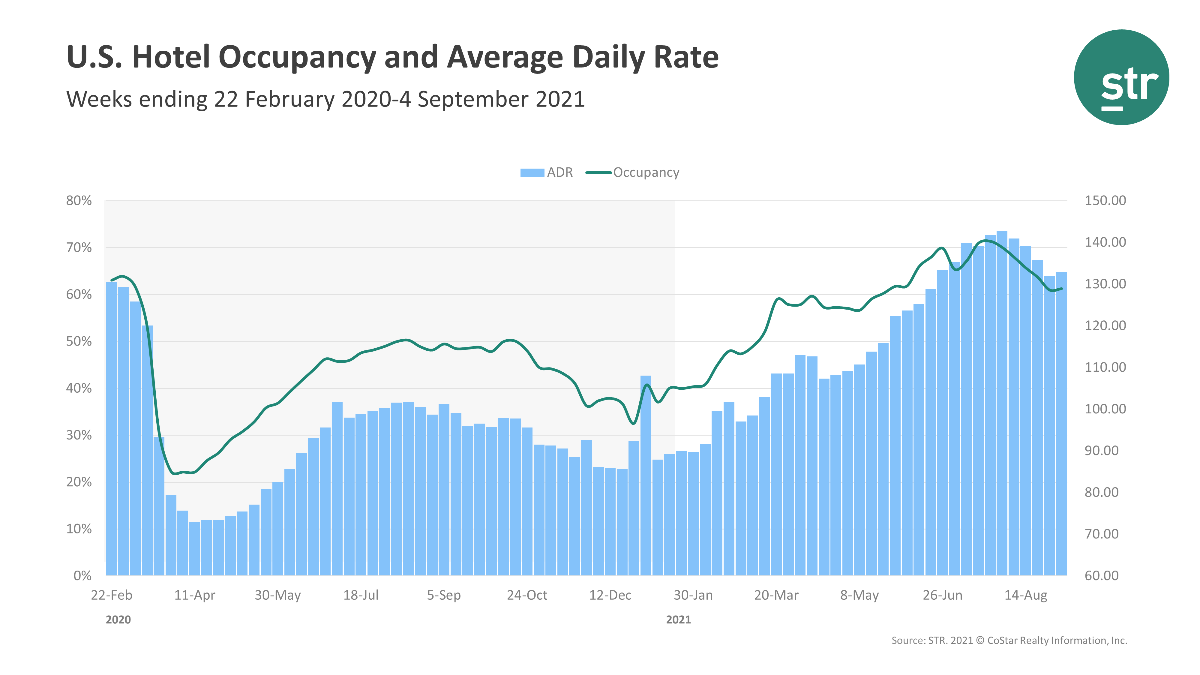 LABOR DAY WEEKEND, as well as other factors including evacuations from Hurricane Ida, provided a boost to U.S. hotels' performance in the opening week of September, according to STR. At the same time that she gave to hoteliers, Ida took away as well, closing at least 155 New Orleans hotels.
Occupancy was 61.3 percent for the week ending Sept. 4, up slightly from 61 percent the week before and up 0.7 percent from the same time period in 2019. ADR for the week came in at $132.94, rising from $131.91 the week before and up 9.4 percent from 2019. RevPAR was $81.54, one penny higher than the previous week and up 10.1 percent from two years ago.
Comparisons with 2019 were higher due to a lower performing Labor Day week that year.
Along with Labor Day and the hurricane, the return of college football also contributed to the performance enhancement, STR said.
"In terms of Hurricane Ida-related demand, the largest jumps were seen in markets in Mississippi, Alabama, and Northern Louisiana," STR said.

However, power outages, staffing issues and loss of third-party services such as linen providers led to the hotel closures in and around New Orleans, STR said in a separate report. The closures affected 75 percent of the 208 hotels STR researched for the data, including 28,756 rooms, or 80 percent of the 35,835 rooms among the NOLA data benchmarking participants.
"Because most closures are due to temporary conditions around the city and not property damage, the expectation is there will not be widespread permanent closures," STR said. "Most hotels are showing short-term reopening dates as of now, but there will be shifts in dates in the coming weeks and months as properties make determinations based on power restoration, supplier availability, staffing and demand."
Of the estimated 155 properties currently closed, 41 are not reporting a projected opening date. Most of the closed hotels, 60.4 percent, are expected to reopen by October.
Houston was the top 25 market with the highest occupancy increase, up 50.5 percent to 76.6 percent, as well as RevPAR increase, up 77.1 percent to $77.82 over 2019.  Oahu Island, Hawaii, experienced the steepest decline in occupancy when compared with 2019, dropping 36.0 percent to 53.4 percent.
Miami reported the largest ADR increase over 2019, rising 42.4 percent to $179.36). The largest RevPAR deficits were in San Francisco/San Mateo, down 51.9 percent to $86.93, and Oahu Island, which dropped 38.3 percent to $117.88.