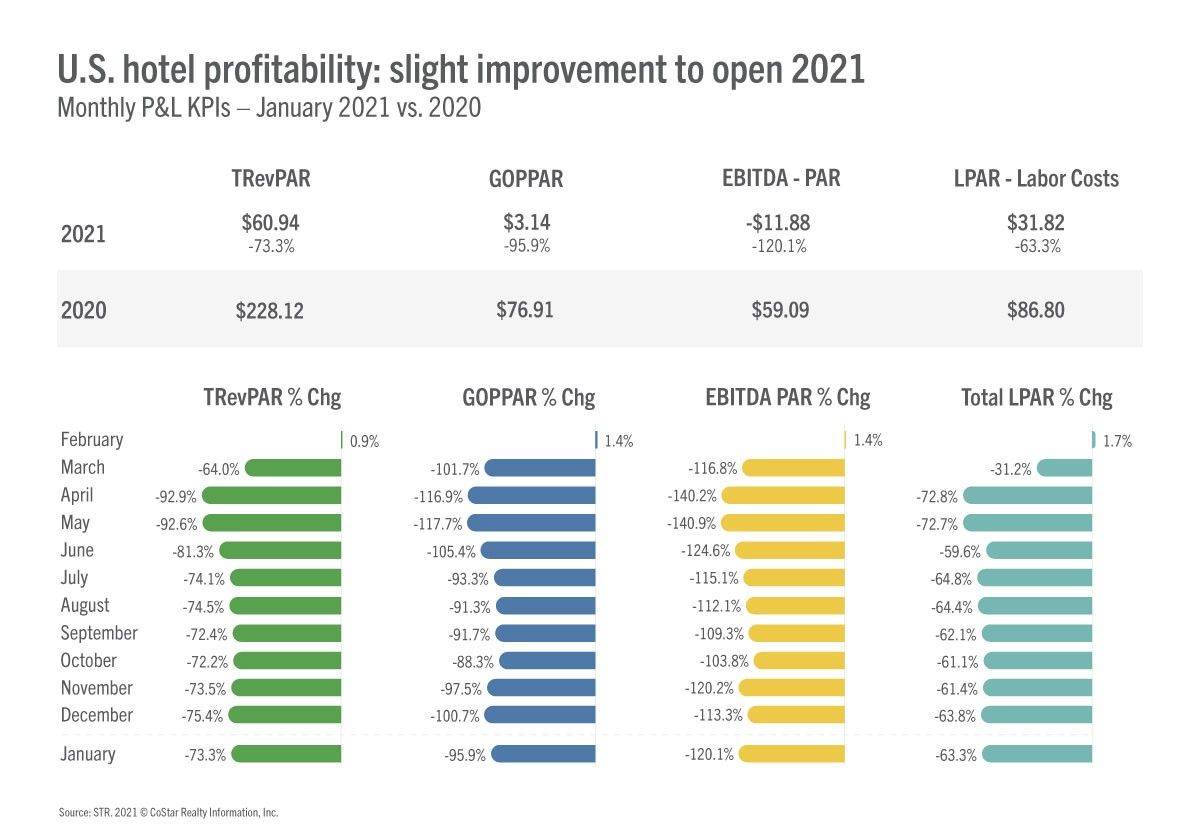 THERE WERE SOME improvements for U.S. hotels during the first two months of the year, according to STR. In January, profitability rose, albeit slightly, over previous months, and in February The Baird/STR Hotel Stock Index rose significantly.
GOPPAR better but still single-digits
GOPPAR for January was $3.14, the highest it's been since October but still down 95.9 percent from the same time last year. TRevPAR was $60.94, a 73.3 percent year-over-year decline, and EBITDA PAR fell 120.1 percent from last year to $11.88. Labor costs also dropped, 63.3 percent to $31.82.
"As we approach the one-year mark of the first major restrictions in the U.S., profitability is at least sitting on the positive side of the spectrum," said Raquel Ortiz, STR's assistant director of financial performance. "Year-over-year percentages are soon going to look a lot nicer thanks to comparisons with the low months of last year, but hoteliers are not going to feel a sense of security until profitability rises to meaningful absolute levels. There have been some improvements in the top-line metrics in recent weeks, and there is optimism that will continue so long as the pandemic metrics improve, and vaccine distribution expands. In the meantime, hoteliers are adapting and displaying profit efficiencies like 'grab and go' F&B and less frequent room cleaning. We expect those types of efficiencies to carry over when recovery kicks into a higher gear, adding to substantial improvement in profit margins."
Ortiz said group travel is still low and not expected to show improvements until after the second quarter.
"Once it does come back online, it will likely be limited, thus resulting in the continuation of lower performance in F&B departments through 2021," she said. "Among the top 25 markets, the lowest performing markets in TRevPAR and GOPPAR continue to be those that rely most heavily on group business, including Chicago, Los Angeles, San Diego and New Orleans."
Last week, HotStat's global P&L report set a lower GOPPAR number, negative $1.81, for U.S. hotels in January. That research firm also reported that as the highest GOPPAR since October.
Market pushes hotel stock index higher
In February, the Baird/STR Hotel Stock Index rose 22.4 percent and was up 12.4 percent for the first two months of 2021. It outperformed both the S&P 500, which rose 2.6 percent, and the MSCI US REIT Index, up 3.8 percent.
The index was buoyed by several market forces, said Michael Bellisario, senior hotel research analyst and director at Baird.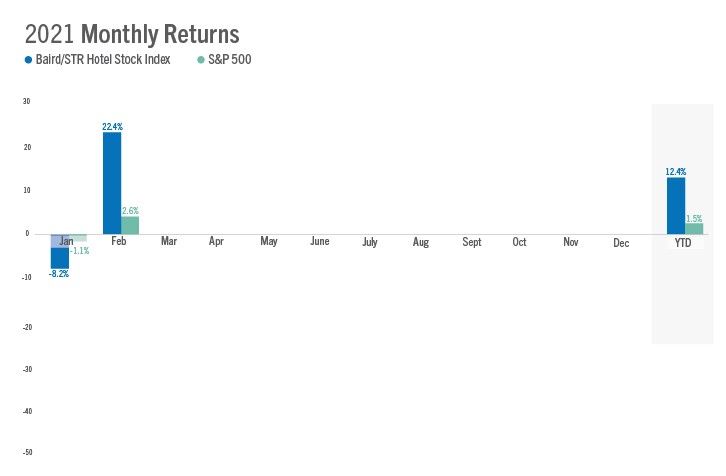 "Hotel stocks posted huge gains in February as the reopening and reflation trade momentum caused many hotel brands and hotel REITs to reach new post-pandemic highs," said Bellisario. "Investors appear willing to pay up today for several years of expected growth and improving vaccine distribution and declining case counts have caused investors to become even more optimistic about the prospects for significant improvements in demand during the second half of the year and in 2022."
The rise was driven mostly by optimism, said Amanda Hite, STR president.
"Investor sentiment clearly reflects the focus on future developments as our current data still shows RevPAR declines around 50 percent," Hite said. "We do expect that additional vaccine production will give rise to an increase in traveler confidence but not beyond what has already been forecasted. Green shoots are emerging, and some markets in Florida are already seeing healthy demand numbers, but the U.S. overall will not see a sustained recovery until the summer."
The hotel brand sub-index increased 22 percent from January to 8,833, while the hotel REIT sub-index rose 23.6 percent to 1,305.