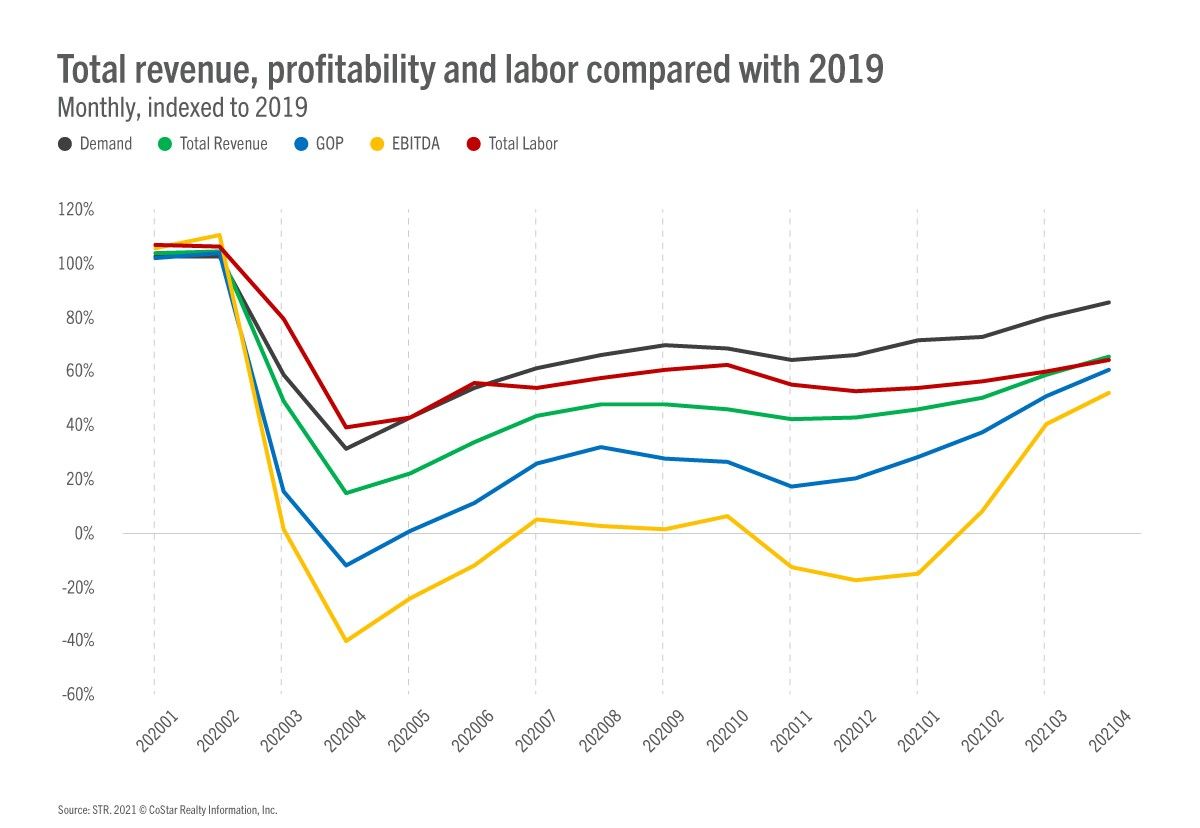 PROFITS FOR U.S. hotels took a step closer to returning to 2019 levels in April, according to STR. Similar optimism was found in HotStats report for the month.
At $28.67, April's GOPPAR reached 60 percent of the comparable 2019 level, according to STR's P&L report for the month. That compares to a 50 percent return to 2019 levels in March. TRevPAR was $87.34 and EBITDA PAR was $14.12. Labor costs were $26.76, 64 percent of comparable 2019 levels.
"April was an encouraging month as more of the top-line improvement we've been reporting on flowed through to the bottom line," said Raquel Ortiz, STR's assistant director of financial performance. "On a GOP basis, 92 percent of our sample hotels were profitable, which is similar to pre-pandemic levels. Also of note, F&B venue revenue, the restaurants and bars, is recovering right in line with room revenue. Overall F&B of course continues to be bogged down by a lack of group demand and the subsequent spending on catering."
An expected summer surge in demand could accelerate profitability, Ortiz said.
"Labor is the hot topic and we'll continue to monitor that as demand increases and there is even greater competition for workers to service properties," she said.
HotStats set U.S. GOPPAR for the month at $35.45, up 235 percent over the same time last year and its highest level since February 2020. April's TRevPAR was $116.04, a 752 percent year-over-year increase, and $15 higher than March, while the profit margin for the month remained flat at 30.6 percent.
"U.S. hotel profit has moved in the right direction since the beginning of the year, around the time when it first started to break even. As the country's phased reopening continues, expectations are that the hotel industry will benefit," David Eisen, HotStats' director of hotel intelligence for the Americas, wrote in a blog on the company's website. "The uptick in profit came on the back of growing rooms revenue and total revenue, as demand strengthened. After occupancy was in single digits back in April 2020, it has climbed considerably since, underpinned in particular by the leisure traveler as group and corporate business continue to flag. Leisure travel was almost 50 percent of total traveler mix in April, a 22.9 percentage point uptick over the same time a year ago."
Eisen also said labor costs per room, which HotStats reported were $41.76 in April, are the biggest issue for hotels. The April figure was the highest mark for labor costs since the pandemic, though as a percentage of total revenue labor costs have come down slightly as revenues rebound.
"More than 200,000 jobs were reportedly lost in the franchise lodging sector, representing a 33 percent drop in employment," he wrote. "A new bill introduced in Congress, The Save Hotel Jobs Act, looks to provide assistance to the hotel industry, both for workers and hotel owners."