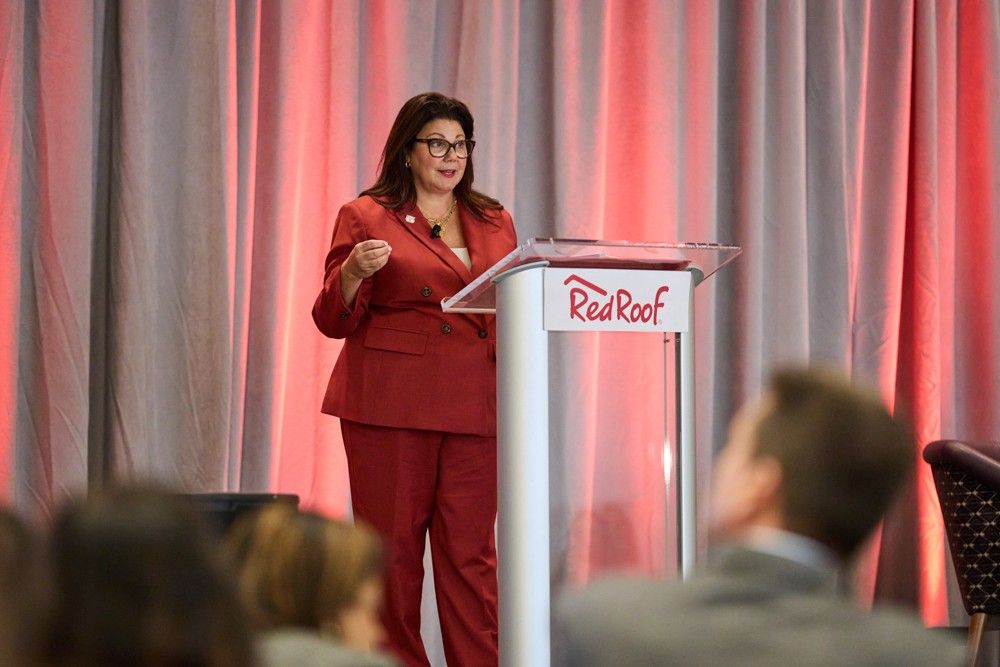 MORE THAN 200 women professionals gathered at Red Roof's 2023 SHE Leads Forum at Fairmont Dallas on Sept. 28-29. This year's forum was inspired by Red Roof's SHE initiative, which aims to supporting, helping and elevating women in the hospitality industry.
The event, attended by hotel owners, general managers, developers, and investors, featured a diverse range of speakers, workshops, and valuable networking sessions. It concluded on a positive note with a focus on bridging the gender gap in hospitality.
Event speakers included Red Roof executives Marina MacDonald, chief marketing officer; Lina Patel, director for strategic franchise initiatives; and Matthew Hostetler, chief development officer. Other speakers were Heather Carnes, AAHOA's executive vice president for communications and chief strategy officer, Ellis Hospitality President and CEO Jyoti Sarolia and author Lalia Rach.
"In recent decades, there has been an evolution, a growing emphasis on women's professional development as part of broader efforts to close gender gaps in the workforce," said MacDonald in her opening remarks. "And while hospitality is still a male-dominated industry, even that is evolving."
MacDonald also is the program leader and founder of SHE Leads Forum.
Meanwhile, Red Roof is approaching its corporate goal of 40 percent women owners as the company marks its 50th anniversary this year. Currently, 35 percent of Red Roof properties are owned or partly owned by women, up from 31 percent in 2022. Moreover, 48 percent of women hold corporate leadership positions at Red Roof.
Carnes said she saw "collective fearlessness" in the room.
"When I look at the strength, intelligence and the daring nature of the women in attendance, I know that the future of the hospitality industry is in great hands," said Carnes. "The can-do attitude and entrepreneurial spirit in the room was palpable and contagious. I left feeling like, in conjunction with this amazing group, I could change the world."
Rach, founder and partner at Rach Enterprises, and author of "Managing the Book on You! Rewriting Your Leadership Story," served as the moderator for the two-day forum.
"Red Roof's 'SHE Leads Forum' is in a class all its own! It is jam-packed with interesting speakers, iconic women leaders sharing information, and a passionate leader, [Red Roof's] MacDonald," said Rach. "The biggest difference is the engagement of the attendees, all successful professionals, who want to learn, be inspired, meet new people and connect with those they know. The energy, the desire to be more, is so inspiring."
Sarolia spoke about how attendees can fine tune their lending skills and be ready to finance their next project.
SHE offers thought leadership, resource access and a platform for sharing content and best practices through a dedicated website: she-leads.com. The event awarded seven students 'SHE Leads Forum Student Scholarships,' sponsored by DISH Business.
In September, The AHLA Foundation re-launched its ForWard program, dedicated to promoting women in hotel industry leadership and ownership. The foundation intends to integrate the program with the Castell Project, a non-profit focused on empowering women in hospitality leadership, which it acquired last year.