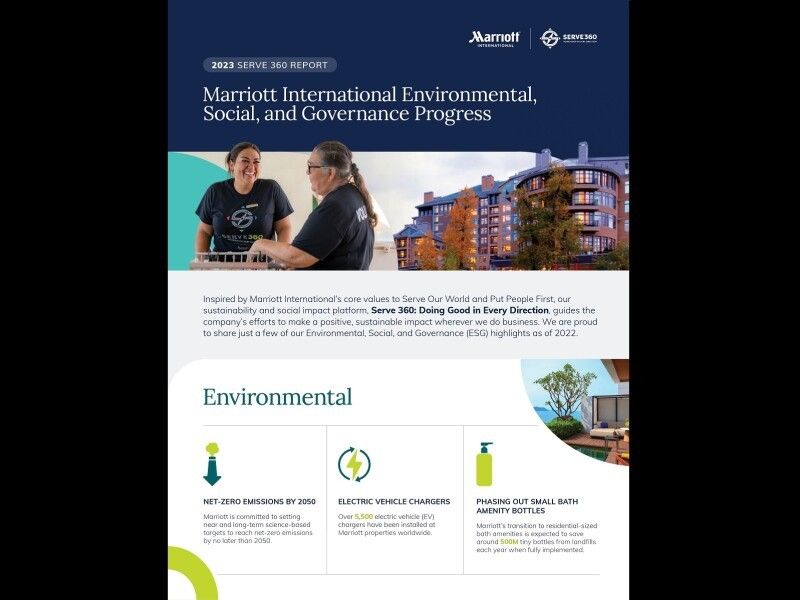 MARRIOTT INTERNATIONAL RECENTLY released its 2023 Serve 360 Report on the company's implementation of environmental, social and governance initiatives with data up to the end of 2022. Marriott's "Serve 360: Doing Good in Every Direction" platform guides its efforts towards the 2025 Sustainability and Social Impact Goals, the company said.
The company's Serve 360 platform, launched in 2017 to support the United Nations' Sustainable Development Goals, is included in the 2023 report, highlighting the company's global progress and achievements, including:
Environmental stewardship
Set science-based emissions reduction targets, aiming for net-zero emissions by 2050.
Implemented a program to facilitate the installation and adoption of electric vehicle charging stations at their hotels globally. More than 5,500 EV chargers have been installed across Marriott properties so far.
Adopted residential-sized bath amenities to reduce waste. This change is projected to prevent around 500 million small bath amenity bottles from going to landfills each year.
Supported environmental initiatives, including mangrove restoration in Mexico and the UAE, reforestation efforts in the U.S. and fisheries renewal in Thailand and South America. These actions contribute to the protection of biodiversity and promotion of ecosystem resilience.
Social impact
Allocated $50 million to Marriott's "Bridging the Gap" development program in the U.S. and Canada, aimed at increasing hotel ownership among historically underrepresented groups.
Trained more than one million managed and franchised associates since 2016 to identify and respond to signs of human trafficking.
Invested nearly $660 million in diverse suppliers across the Marriott portfolio in 2022.
Made contributions to support those affected by the war in Ukraine, totaling over $5 million in partnership with The J. Willard and Alice S. Marriott Foundation. Additionally, $2 million was contributed to assist those impacted by earthquakes in Turkey and Syria this year through the Marriott Disaster Relief Fund, Marriott Bonvoy points donations, and in-kind giving by hotels.
Dedicated more than 6 million volunteer hours to local communities worldwide in 2022.
Diversity in leadership
As of May 12, eight out of 13 members on Marriott's board of directors are women and/or people of color.
Women accounted for 47 percent of Marriott's global executives at the vice president level and above by the end of 2022, with a target of achieving gender parity among executives by year-end.
People of color currently hold 22 percent of U.S. executive positions, and Marriott aims to increase diverse representation to 25 percent by the end of 2025.
"Since its founding in 1927, Marriott has prioritized serving communities and making a positive impact," said Anthony Capuano, Marriott president and CEO. "With our global scale, we recognize our role in driving meaningful change, adding value for our business and customers. We integrate sustainability across hotel operations, design, and the supply chain, provide humanitarian aid, foster opportunities for underserved communities, and embrace diversity. Our unwavering focus is on creating a sustainable and equitable future."
Marriott International recently made a commitment by pledging to hire more than 1,500 refugees in Europe by 2026. This initiative serves as an extension of their existing promise to employ an equal number of refugees in the U.S. by 2025.