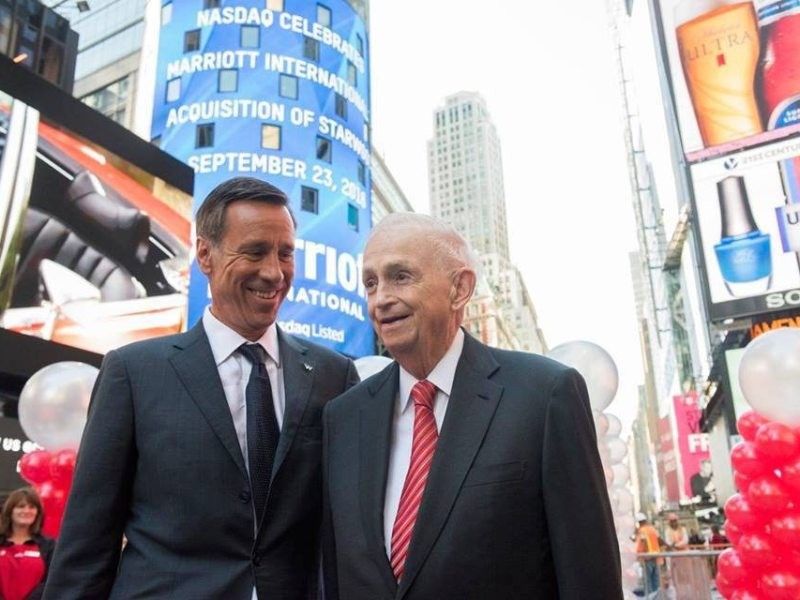 AFTER A YEAR and a half struggle with pancreatic cancer, Arne Sorenson, president and CEO of Marriott International, died Monday. Sorenson was memorialized by many in the hospitality industry for his professional and personal accomplishments.
Sorenson reduced his schedule to allow for a more demanding treatment of his cancer a week before his death, according to Marriott. He had maintained a relatively full schedule shortly after his diagnosis in 2019.
Stephanie Linnartz, Marriott's' group president for consumer operations and technology and emerging businesses, and Tony Capuano, group president for global development, design and operations services, were appointed to oversee the day-to-day operations of the company's business units and corporate functions and will continue in this capacity until the Marriott Board appoints a new CEO, which is expected to be within the next two weeks.
"Arne was an exceptional executive – but more than that – he was an exceptional human being," said J.W. Marriott, Jr., executive chairman and chairman of the company's board. "Arne loved every aspect of this business and relished time spent touring our hotels and meeting associates around the world. He had an uncanny ability to anticipate where the hospitality industry was headed and position Marriott for growth. But the roles he relished the most were as husband, father, brother and friend. On behalf of the Board and Marriott's hundreds of thousands of associates around the world, we extend our heartfelt condolences to Arne's wife and four children. We share your heartbreak, and we will miss Arne deeply."
In 2012, Sorenson became the third CEO in Marriott's history and the first who was not part of the Marriott family. He oversaw the $13-billion acquisition of Starwood Hotels & Resorts and the subsequent massive data breach that occurred in 2019. He led the company to take action on diversity, equity and inclusion, environmental sustainability and human trafficking awareness.
Many individual hoteliers and industry associations mourned Sorenson.
California hotelier Sunil "Sunny" Tolani said Sorenson had inspired him to become an organ doner and called him his "guiding light."
"His friendship was a priceless gift. My life has been filled with a series of remarkable experiences that have truly and positively impacted me, first and foremost knowing him," Tolani said. "Wherever we are on our respective paths, we all know life is a journey, a blessing and along the way we are blessed with meeting and encountering those who leave a positive and profound impact on us. I will continue to work hard, doing my best every single day. I would probably not have done and spread goodness if not for being in America, in hospitality and for you Arne."
Sorenson was visionary, said Cecil Staton, AAHOA president and CEO, in a statement on Sorenson's death, and that "the hospitality industry lost an invaluable leader."
"As one of the first CEOs with whom I met after joining AAHOA, he was an approachable leader – always ready to listen, to learn, and to share his views and advice," Staton said. "He had a profound impact on Marriott and the broader hospitality industry and was a champion for equality and opportunity. AAHOA Members knew Arne as a huge supporter and advocate of the association, and he was a considerable presence at AAHOA's conventions, conferences, and young professional events. Arne embodied the spirit of hospitality, and owners valued his accessibility, engagement, and passion for his work. As thousands of hoteliers and millions of workers struggled with the economic fallout of the pandemic, Arne could be counted on as a beacon of optimism despite the health challenges he faced."
Roger Dow, president and CEO of the U.S. Travel Association, said it was hard to find words to express the depths of his sadness.
"This is a huge loss, first and foremost for Ruth and Arne's wonderful family, but also for his many associates at Marriott International and those of us across the travel industry who had the pleasure of interacting with him. We frequently sought his wise counsel and collaborated to improve the travel experience. Arne always offered a vision that extended well beyond the lodging sector he so expertly represented," Dow said. "To me, Arne was more than a professional colleague with whom I shared a special Marriott bond, he was an ally, a trusted friend and a partner. He also lent his considerable talents to USTA, particularly as chair of our CEO roundtable, but also in countless other ways. I will miss him terribly."