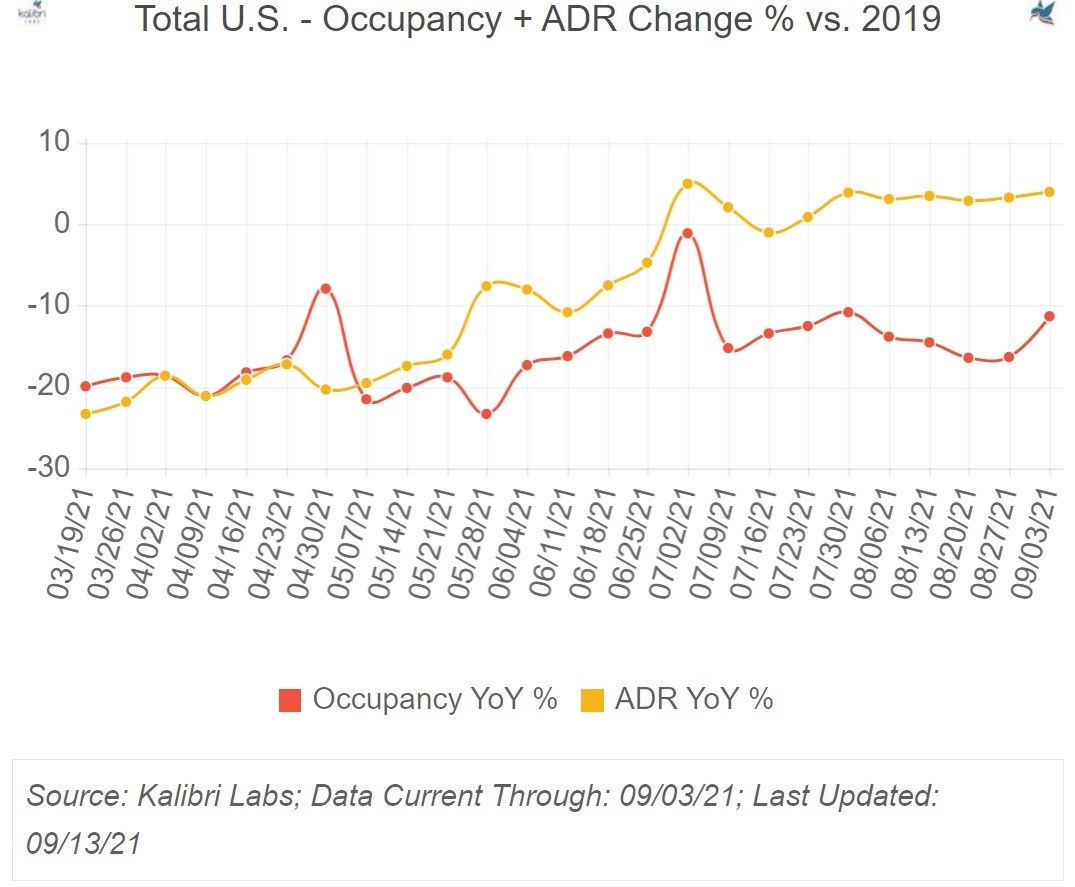 THERE HAS BEEN a slight increase in ADR in U.S. hotels in the week ending Sept. 3, compared to same period two years ago, according to a report by Kalibri Labs. However, occupancy remains low when compared to 2019, and more than 1,300 hotels remained closed.
Occupancy rose 5 percent from the last week of August.
ADR in the first week of this month was up 4 percent compared to two years ago, which showed an increase from August last week's figure of 3.3 percent. Occupancy was down 11.3 percent in the first week of September in comparison to the same period in 2019. It was down 16.3 percent a week ago.
According to the report, the recent record hike of ADR when compared to two years ago happened in the first week of July when it was up by 5 percent. Occupancy was also just 1.1 percent down then when compared to 2019.
"Demand has and will continue to be impacted differently in each market and in each hotel. Population densities and regional geography are impacting the speed and nature of the recovery," Kalibri Labs report said.
The guest paid RevPAR Index is largest for rural area/interstate at 82.14, followed by small city/town at 73.41. The index for resort/destination property is 72.85 and that for mid-sized city is 69.06. The lowest is for large metropolitan area at 48.62, the report added.
According to the report, not every market was impacted equally by the pandemic. For example, guest paid RevPAR index for the Chicago area was 37.95, whereas it is 39.81 for Minneapolis. It is 55.40 for Dallas and 59.43 for Atlanta. For Los Angeles it is 51.45 in the same category, whereas it is 20.87 for San Francisco, the report added.
The Guest Paid Revenue Index for September was over 100 for OTA and Promotion/LMR categories. Rack/BAR rates were 87.30 and for the corporate segment it was 54.95 and for the group it was 38.74.
Kalibri Labs has predicted improvements in corporate and group segments in the coming three months of this year. However, other categories will remain more or less the same, according to the report.
The report further said that as many as 1,307 hotels closed in the U.S. since March 20, 2020 till the first week of September, which represents 2.8 percent of total rooms. The total number of closed was 1,174 in the last week of August.
In September, economy hotels had the most closings with 379, followed by independent properties with 346. Upper midscale with 205 hotels were the next in line to down shutters, then upscale with 117. In terms of percentage of rooms, the luxury segment stood first at 4.3 percent, followed by economy with 4 percent and upscale with 3.2 percent segments.
The hotel labor recovery index for economy segment was 91 as of Sept. 12, followed by the midscale category at 77. The recovery index was 71 and 61 for upper midscale and upscale segments, respectively. Labor recovery was the lowest for upper upscale properties, the report further said.
In a recent report, STR stated that U.S. hotels' performance improved in the opening week of September due factors such as Labor Day Weekend and evacuations from Hurricane Ida.