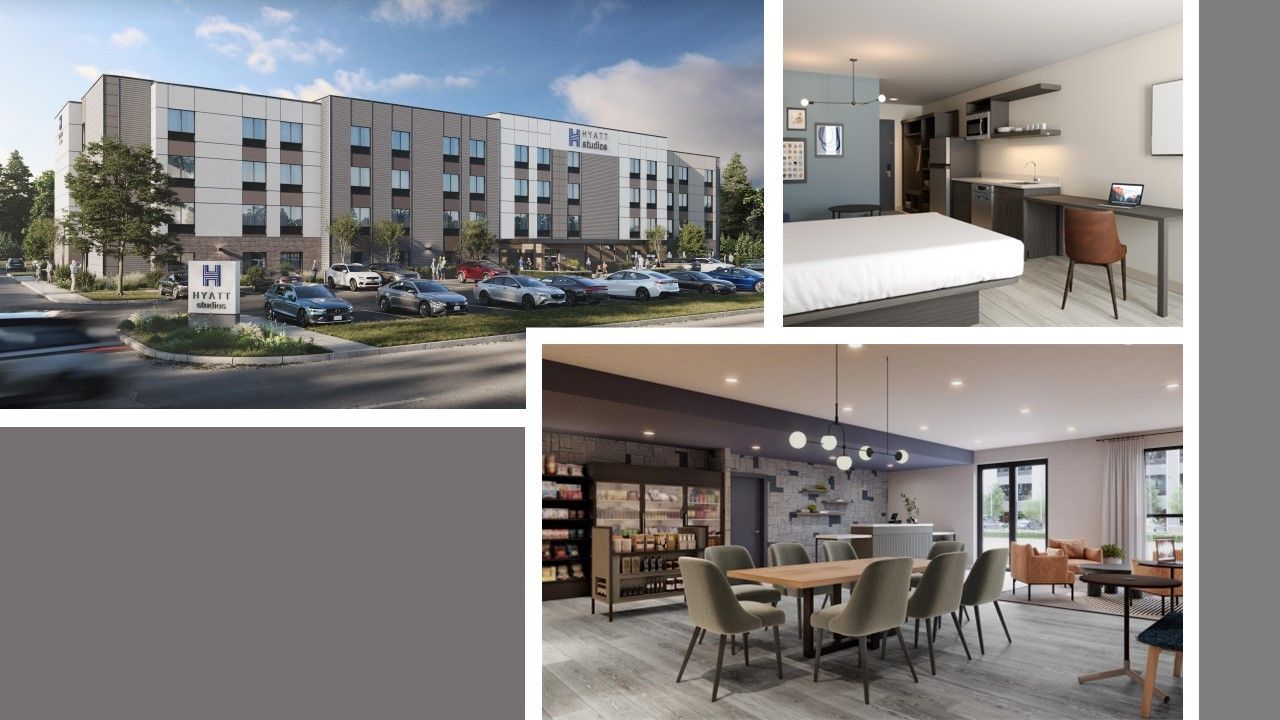 HYATT HOTELS CORPORATION has signed franchise agreements with 3H Group and Presidio Hotel Development to open Hyatt Studios in two states. Led by founder Hiren Desai, 3H Group will introduce the studios in Mobile, Alabama, while Guneet Bajwa heads the effort for Presidio Hotel Development in Marysville, California, and both are expected to open by late 2024 to 2025.
Following its April launch, Hyatt has garnered letters of interest for more than 100 Hyatt Studios, marking its inaugural upper-midscale extended-stay brand in the Americas, the company said in a statement.
"Hyatt's expansion into these new markets through Hyatt Studios hotels underscores our dedication to developers, guests, and World of Hyatt members," said Dan Hansen, global head of Hyatt Studios. "We've learned that when Hyatt guests stay with a competing brand, they appear to do so for one of two reasons: the absence of a Hyatt hotel within five miles or the choice to stay at a lower chain scale. By offering Hyatt options in these fresh markets, we foster brand loyalty without internal competition and present developers with untapped opportunities."
3H Group will construct the first Hyatt Studios hotel in Tillman's Corner, near Mobile. This marks Hyatt's first branded hotel in the area and is close to Mobile Bay's Gulf Coast. The city's manufacturing, aerospace, and retail sectors boost its midscale appeal. The property is set to open by late 2024.
"We are honored to be a part of this significant milestone with Hyatt," Desai said. "Hyatt's steadfast dedication to providing exceptional service to owners, operators, and guests positions them as the perfect hospitality partner to expand our extended-stay presence in this growing community."
Presidio Hotel Development plans a 113-room Hyatt Studios hotel in downtown Marysville. Opening in 2025, the property will include tailored meeting spaces to accommodate business travelers and local event attendees.
"Collaborating with Hyatt is incomparable," Bajwa said. "Their genuine commitment to attentive listening and innovative extended-stay concept, forged through collaboration with the development community, are remarkable. This, coupled with the flexibility to customize the product to match the demands of my market, solidify our decision to invest in developing a Hyatt Studios hotel."
In February, David Wani-led Twenty Four Seven Hotels, a third-party hospitality management company, launched the 128-room Hyatt House Sacramento/Midtown. The adaptive reuse project, owned and developed by Hume Development, Inc., transformed the former Eastern Star Hall, a part of Sacramento's vibrant art, music, and cultural scene.