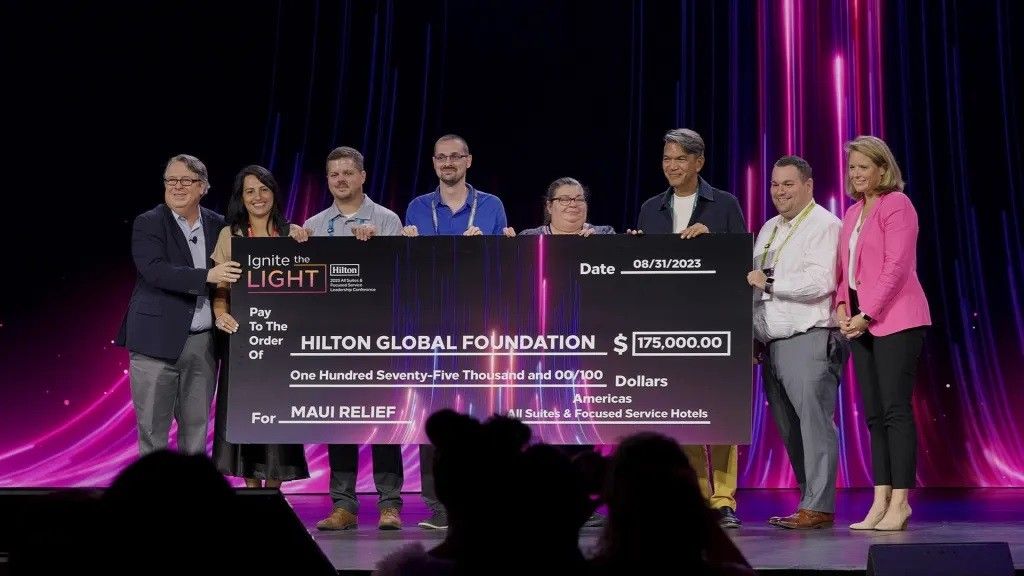 HILTON RECENTLY DONATED nearly $500,000 to support local relief efforts in response to the wildfires that consumed more than 2,500 acres of land and took the lives of over 100 residents in Maui, Hawaii. The new donation supplements the $325,000 previously pledged by Hilton, the Hilton Global Foundation and members of the broader Hilton community since early August, the company said in a statement.
At a recent gathering in Las Vegas, more than 9,000 Hilton hotel sales and operational leaders from Focused Service and All Suites brands across the Americas raised nearly $175,000 for Maui relief efforts, Hilton said. The donations will benefit the Hawaii Community Foundation's Maui Strong Fund and United Way Maui.
The company has been operational in Hawaii for more than 60 years, the statement added.
"Hilton stands in solidarity with the people of Maui and the Hawaiian community," said Katherine Lugar, executive vice president of corporate affairs at Hilton. "Lahaina holds a special place in our hearts, and we're dedicated to aiding our team members and relief efforts in every possible manner. The collective efforts of our team members, hotel owners, community partners, and guests have been truly inspiring. Our thoughts remain with those in Maui."
In addition to financial support, Hilton-branded hotels like Grand Wailea Maui, a Waldorf Astoria Resort, and Hilton Hawaiian Village, the largest Hilton property in Hawaii located in Honolulu, along with Hilton Grand Vacations Maui Bay Villas Hawaii, have organized various events and fundraisers to show their commitment to their local community.
"Since the opening of our inaugural hotel in Hawaii, it has held a special place within the Hilton family," said Danny Hughes, president of Hilton Americas. "The wildfires' impact in Maui has been profound, and it's precisely in these moments that our hospitality shines brightest. Our Hawaii team has mobilized, providing meals, fundraising, and supplying essential items like bedding and shelter. We eagerly anticipate further collaboration with local organizations in the days, weeks, and months to come, ensuring Maui emerges even stronger."
The Hilton Global Foundation and Hilton Supply Management have partnered with Clean the World to facilitate the shipment of hygiene kits to Maui, offering vital assistance to team members and local residents in need.
During the last week of Aug, U.S. hotel performance continued its downward trend influenced by seasonal patterns compared to the previous week. Despite this, year-on-year comparisons showed improvement, and Maui Island, Hawaii, still in recovery from deadly wildfires, exhibited signs of progress.