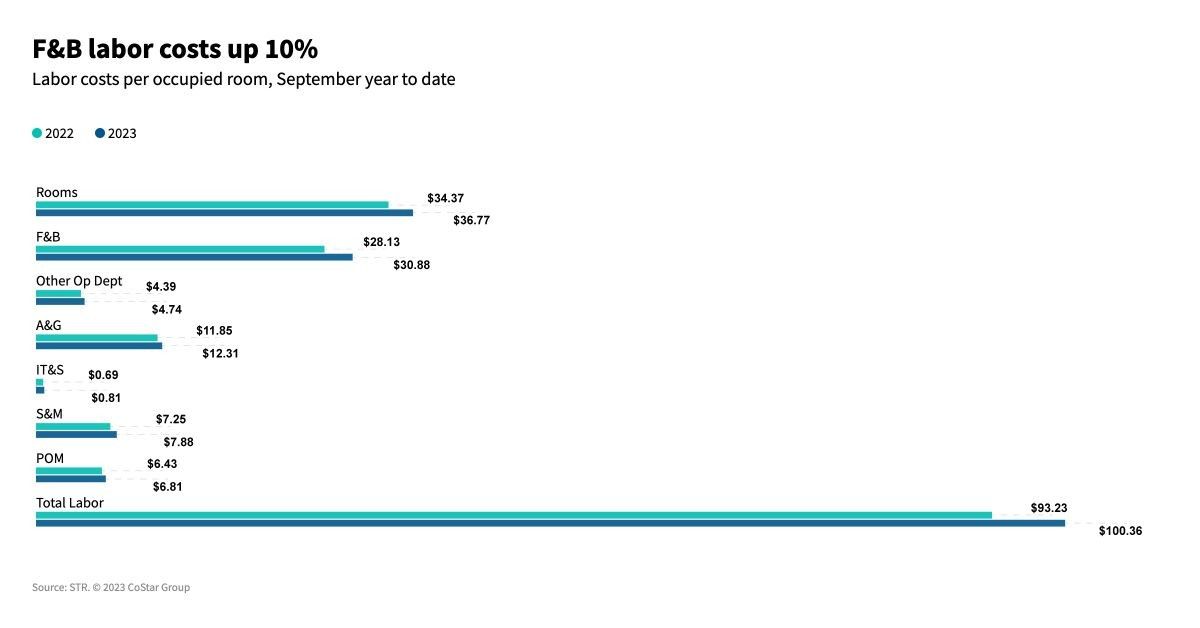 U.S. HOTEL PROFITABILITY rose in September, driven by increased corporate demand and group bookings, according to STR's May 2023 Profit & Loss data. Meanwhile, this upward trend is complemented by a recent increase in U.S. hotel labor costs, indicating a shift towards a more balanced business mix and substantial growth in group demand.
In September, GOPPAR reached $75.74, showing a 6.2 percent increase compared to the same month in 2022. TRevPAR stood at $208.34, indicating an 8.6 percent increase, while EBITDA PAR amounted to $52.95, up 5.1 percent from September 2022. Labor costs experienced a notable rise, reaching $69.36, reflecting a 13.1 percent increase.
"September labor costs were higher than the summer months even though overall demand was lower," said Raquel Ortiz, STR's director of financial performance. "This aligns with leisure travel subsiding and corporate travel peaking in the season."
"Revenue metrics have fluctuated month to month, but labor costs have shown steady growth," Ortiz added. "On a per-occupied-room basis, F&B labor costs increased by 9.8 percent year to date, the highest among all departments. This nearly double-digit rise corroborates the uptick in group business we've been observing in the top-line metrics and correlates with weekday groups boosting the bottom line. Catering and banquet revenues surged by 20 percent year over year, further indicating the resurgence of corporate and group demand."
Profit levels in major markets reflect increased business travel and group activity, CoStar data showed. Of the top 25 markets, 13 saw double-digit growth in GOPPAR through September, with New York City and Oahu leading the way.
"Roughly 60 percent of hotel industry revenue growth in the past six weeks is from weekdays, with the major markets leading the way," said Ortiz. "Additionally, U.S. group demand has risen by an average of 3.1 percent year over year since Labor Day."
According to CoStar's June 2023 Profit & Loss data, GOPPAR for U.S. hotels experienced a year-over-year decline for a second consecutive month, primarily due to rising labor costs. Despite this, the GOPPAR level showed signs of improvement compared to May.