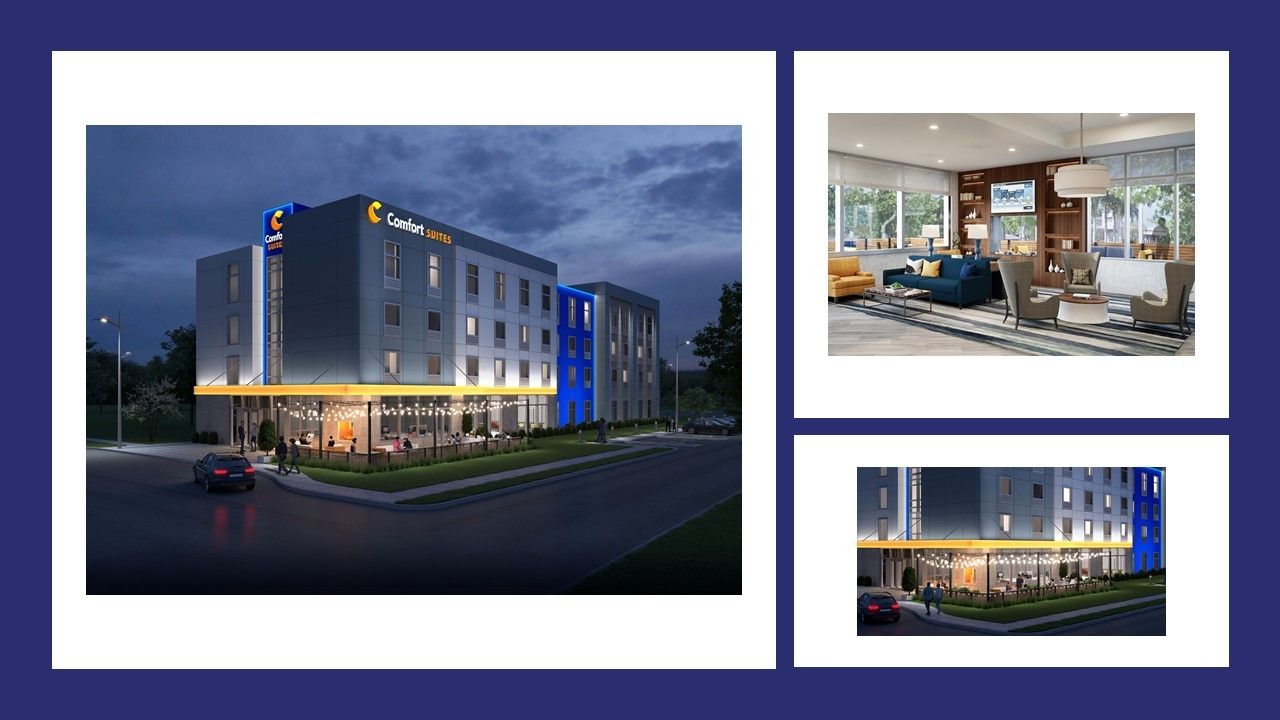 AFTER FOUR DECADES as Choice Hotels International's flagship brand, Comfort Inn is getting a new start. The company has announced a new prototype, Comfort Rise & Shine, with the first hotels in the new model expected to open in 2023.
Choice announced the new prototype in an online roundtable on Thursday. It came as part of the 40th anniversary of the upper midscale Comfort brand. The Rise & Shine prototype includes a reduced footprint, an outdoor porch near the entrance to each hotel, a "flex-room" for multiple functions, and three color schemes; City, Sea and Sun.
"After finishing Comfort's multi-year, $2.5 billion transformative journey, which resulted in upgraded guest rooms and public spaces, as well as a new logo and signage, the ongoing success of the brand is proof positive that we invest for the long term," said Pat Pacious, Choice's president and CEO. "Now that the Comfort refresh is complete, we are introducing the next milestone for our flagship brand: an exciting, new prototype that is designed to maximize return on investment."
There are more than 1,600 Comfort hotels in the U.S. with nearly 300 properties in the pipeline, about 80 percent of which are new construction. The Comfort brand's position in the midscale and upper midscale segment puts it in Choice's "sweet spot," said David Pepper, Choice's chief development officer.
"More than ever, developers and guests are gravitating towards established brands they know and trust, brands like Comfort," Pepper said. "Whether looking to build new construction or convert existing businesses, the Comfort Rise & Shine prototype was flexibly designed to accommodate a broad spectrum of investment opportunities coupled with access to Choice's industry-leading resources and technology. As owners look to build for tomorrow, they will be well served by building Comfort."
During his presentation, Pepper read a quote from Azim Saju, CEO and president of HDG Hotels, as an example of feedback the company has received about the new Rise & Shine prototype. Saju was one of several owners consulted on the design.
"It's not every day you can say that you directly influenced a brand's new product, but the Comfort prototype is a great example of how Choice Hotels' collaboration with owners and developers ensures a win for everyone," Saju said. "I'm always looking for ways to optimize returns for my investments. I know Choice is, too. I'm proud to have been a part of an incredible project that will be a game changer in the market of current and prospective owners as well as our guests."
The new prototype is designed to be "functional yet uplifting," said Megan Brumagim, Choice's vice president for brand management, design and compliance. For example, there is more open space and lighting, including the front desk welcome wall, public space millwork shelving, up-lighting on the guest room headboard wall and media panel and on the prototype exterior.
"It offers spaces that can transform from day to night and serve a broad range of guest stays, whether business or leisure," Brumagim said. "The new prototype reinforces the brand's strong value proposition with guests and owners by blending form and function to help optimize the guest experience and developers' investment."
Pepper said he expects more new Comfort Rise & Shine hotels to be developed in 2024 as the nation continues to recover.
In March, Golden Eye Hospitality, led by Kalpesh 'KP' Patidar as CEO, completed $2 million in renovations for its Comfort Suites McDonough Atlanta South in McDonough, Georgia.