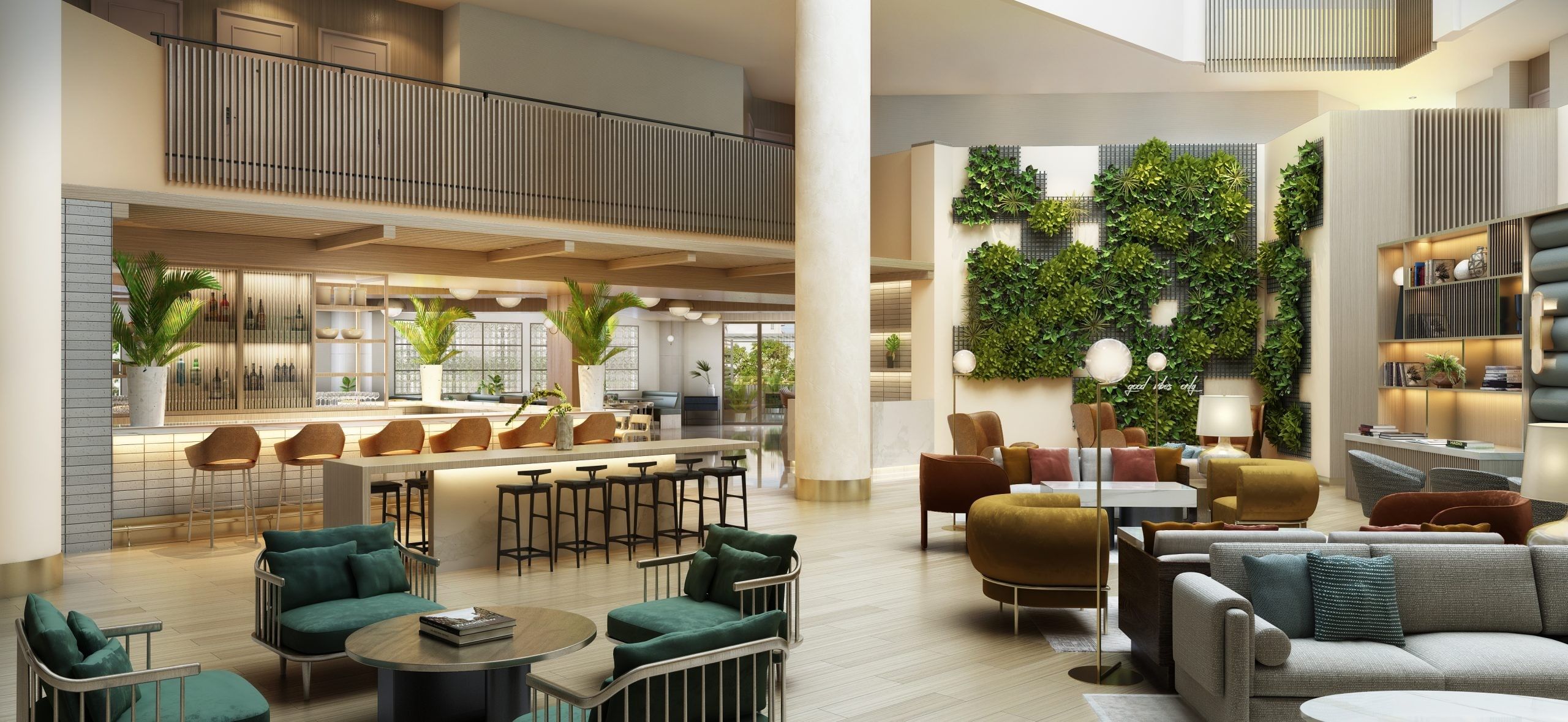 THE HOTEL INDUSTRY is one of the badly hit sectors across the world due to COVID-19 pandemic. Now, as expected, the recovery process is also slow in the segment. But there are some changes in hotels happened due to the pandemic. Experts say that these will be permanent in the future.
Hilton has listed seven temporary adjustments which will become permanent and the impact of the pandemic on hotel stays in the future.
These are the predictions in hotel experience from Hilton which travelers can expect in years to come.
Hotel design
The future of hotel public space design will embrace social distancing, enable contactless guest journeys, and deliver innovative new ways of blurring the lines between indoors and out.
"Everyone traveling today has a heightened sense of awareness of their own personal space and the cleanliness of their environments, and they will require additional assurances of their safety while staying with us," Larry Traxler, Hilton's senior vice president for global design.
According to Hilton, by introducing the amenity of flexible and adaptable spaces in lobby bars, guests will have the choice of personalizing their environment to deliver more connections or seek out protective comfort.
The global firm said that it is working with engineers and scientists to identify solutions to purify the air, ensure a variety of clean surface solutions and introduce biophilia. More connections with natural light and air are not only helpful in delivering safer environments, but these venues are also the spaces that guests find warmer and more inviting, Hilton said in a post on its website.
Contactless guest experience
According to Hilton, many guests will appreciate the ability to check-in, choose their room on their phone and walk straight to their room – where their phone is now their key.
When a guest checks in online or on the Hilton Honors app, they are able to request a digital key. With Digital Key, guests can use their smartphone to access their hotel room, fitness center, pool and other hotel areas requiring a key.
Going forward, travelers will also notice more minimalism within hotel rooms and community spaces in Hilton, it said.  The brand had earlier removed extraneous items like throw pillows, in-room notepads, pens, brochures and room-service menus. These were replaced in some cases with QR codes.
Transparency on cleanliness
Guests will find that their future travel experiences will include more transparency regarding cleaning standards. In the past, cleaning was something that the industry tried to accomplish behind-the-scenes when few guests would be around to see it happen. Now, in a significant shift, guests find it reassuring to see housekeeping teams around the hotel as they carry out our more rigorous cleaning regimes.
Besides, guests will also have the opportunity to select which cleaning services or room materials they'd like to experience, or avoid, during their stay, such as replenishing soap or towels.
Creativity
While moments like virtual wine tastings may fade, new products such as to-go cocktail pouches and grab-and-go meal sets are expected to have a place in the hotel experience as an add-on to a guest's stay or event offerings.
"The pandemic has pushed us to rethink and reimagine how we provide our guests with the services and experiences that they are looking for – resulting in high-end, to-go cocktails, expanded grab-n-go markets and personalized plating for meetings and events. When life returns to a more normal state, these new offerings won't completely go away," said Adam Crocini, vice president and global head, food & beverage brands, Hilton.
Work out space
The pandemic has changed the way the world works out. Across the world, people dramatically adjusted their daily exercise routines in just a year and creatively reimagined their living spaces to make room for stationary bikes, yoga mats or just a place to take a deep breath from time-to-time – uninterrupted.
According to the Hilton post, providing pieces of fitness equipment and accessory options will be the new normal along with suitable space for it.
Flexible offerings
As the world emerges, the current untethered office is going to start to merge more with in-person events – making the ability to successfully deliver truly hybrid events even more critical. Already, event planners are looking for spaces that allow a combination of on-site and expanded on-screen attendees, as well as seeking expert support to help them execute the events.
According to Hilton, this will be another visible change in the industry post-COVID.
Support for loyalty members
The pandemic has provided an opportunity for loyalty programs to prove their value and commitment to their members. So, whether travelers choose to stay for one night on a business trip, or over a long weekend with their families, one thing is for certain, brands may need to provide exclusive access to flexible benefits, special offers and elevated experiences.
According to experts at Hilton, brands should provide members with flexibility and value in the future.
In a recent blog post, HotStats predicted that hotel industry will be changed forever post-COVID-19 pandemic.