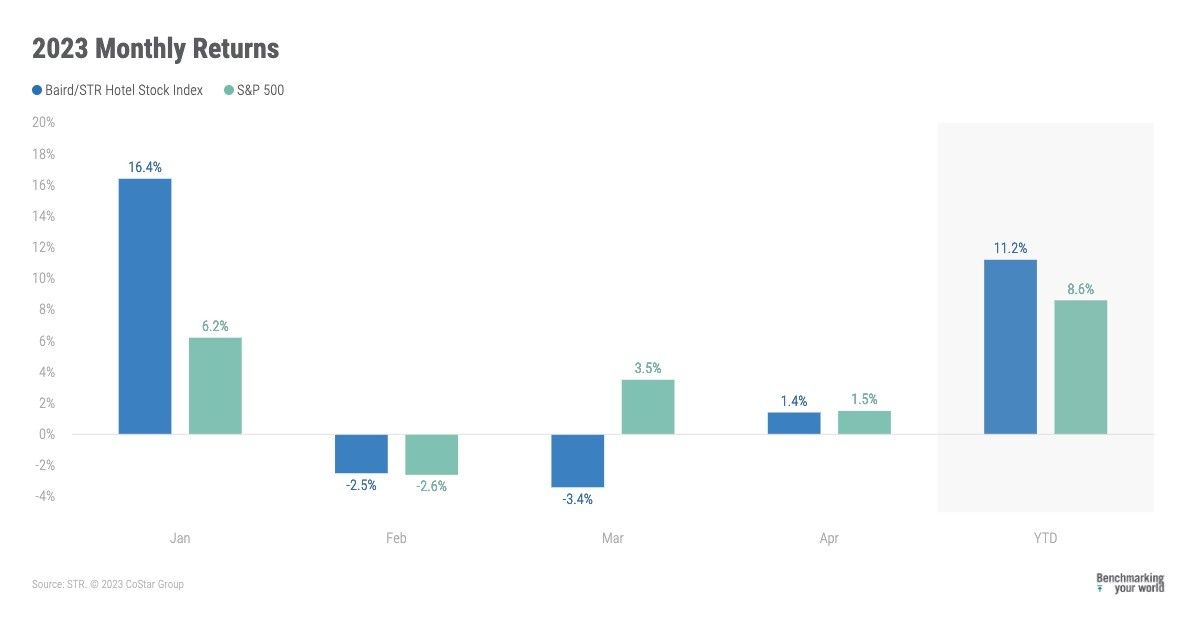 STEERED BY SEVERAL factors, including the strong performance by several hotel brands, the Baird/STR Hotel Stock Index increased 1.4 percent in April to a level of 5,430, STR said in a statement. Growth is slowing, STR said, but will continue for the next quarter or more.
"Hotel stocks increased in April, and the gains were driven by outperformance from the global hotel brands," said Michael Bellisario, senior hotel research analyst and director at Baird. "RevPAR trends have remained solid in the face of growing macroeconomic uncertainties and continued banking turmoil, and first-quarter earnings generally have surprised to the upside with positive full-year estimate revisions occurring. The Hotel REITs declined more than 2 percent in April and underperformed the RMZ, while the global hotel brands gained just over 2.5 percent and outperformed the S&P 500's return by 100 bps."
According to STR, the Baird/STR Hotel Stock Index fell slightly behind the S&P 500, which was up 1.5 percent in April but came in above the MSCI US REIT Index, up 0.7 percent. The hotel brand sub-index jumped 2.5 percent from March to 10,178, while the hotel REIT sub-index dropped 2.6 percent to 1,045, it added.
"The industry continues to revert to normal patterns and calendar shifts with growth slowing as forecasted," said Amanda Hite, STR president. "Monthly demand fell year over year for the first time since the recovery began in April 2021, but that decrease can be attributed to an extra Sunday on the calendar this year versus last. Without the extra Sunday, which is historically a low-performance night, demand would have been slightly up from last year. ADR, on the other hand, grew 3.4 percent, while RevPAR was up 1.8 percent – the lowest increase of the recovery thus far. Despite slowing growth, we expect the industry to see further gains throughout the summer and fall."
Meanwhile, the Baird/STR was down 2.5 percent in February as the focus turned to earnings and initial 2023 outlooks.
The Baird/STR Hotel Stock Index was set to equal 1,000 on 1 January 2000. Last cycle, the Index peaked at 3,178 on 5 July 2007. The Index's low point occurred on 6 March 2009 when it dropped to 573.