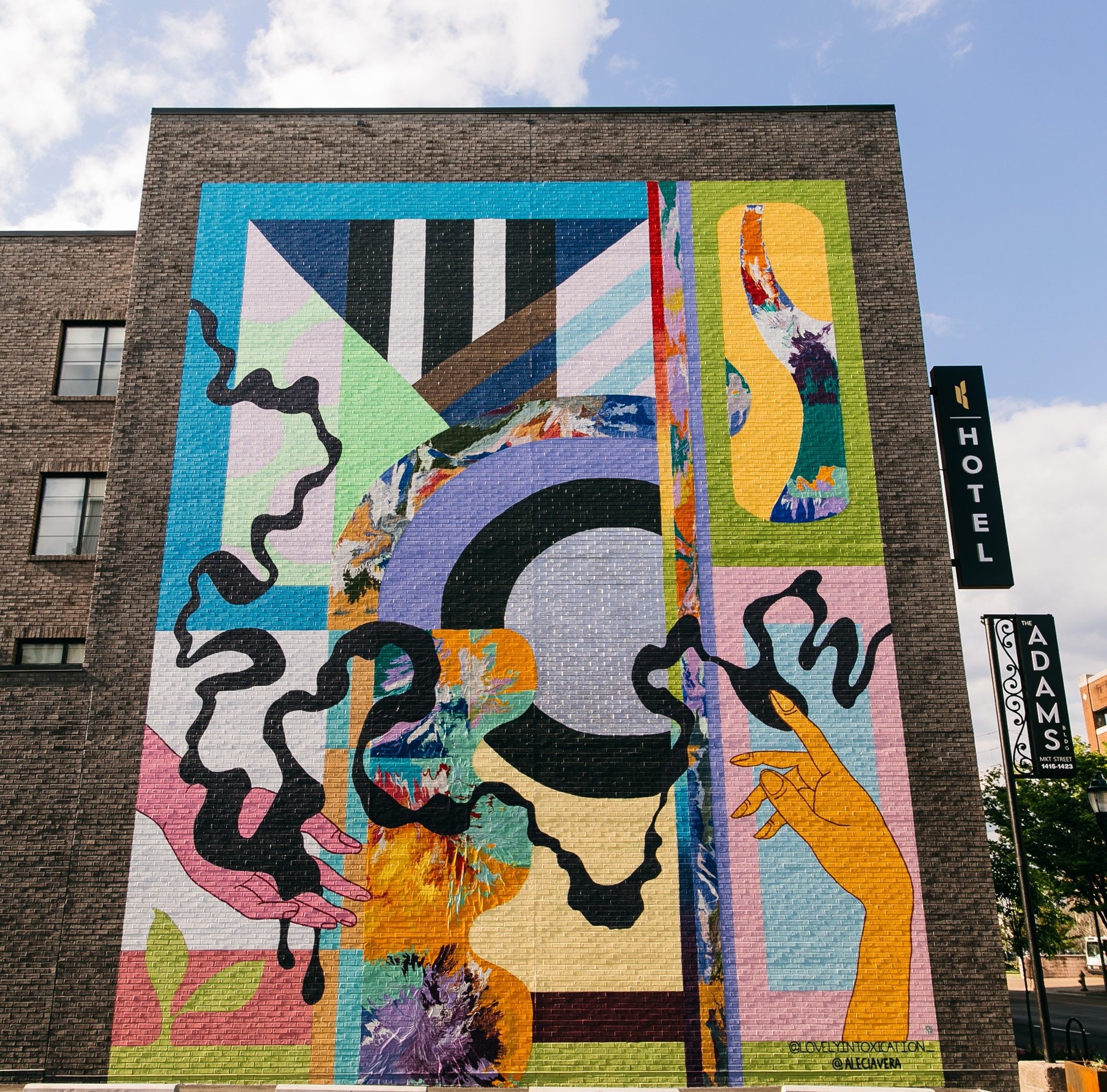 KINLEY CHATTANOOGA SOUTHSIDE, a recently opened boutique hotel in Chattanooga, Tennessee, is promoting the work of local female artists by displaying it throughout the hotel. The program is part of the lifestyle design concept of the Kinley brand, owned by Vision Hospitality Group under president and CEO Mitch Patel.
The 64-room hotel, opened on March 4, will feature a mural called Communal Kaleidoscope by Alecia Buckles and Briah Gober on an exterior wall. Inside, the artists collection includes "Tiny Blue Planetary Alignment," a monotype print by Janet Campbell, hanging in the lobby.
In The Exchange, Kinley Chattanooga's coffee and cocktail bar, hangs "The Magnolia Story," a 6-foot 11-inch weaving by Anna Carll. Over the hotel's front desk is an abstract painting collection curated by stained-glass artisan Amber Droste.
"Chattanooga is a hip, cool and creative city. We wanted to showcase the local work of some of Chattanooga's talented female artists both inside and outside The Kinley Hotel to help us create a truly one-of-a-kind experience," Patel said. "Sharing locally curated art celebrates Chattanooga and its talented female creatives. Creating a sense of arrival is important to us. It adds to the welcoming environment, inviting locals and visitors to escape the stressors of the outside world and safely relax and unwind."
Managed by Humanist Hospitality, the new Kinley is in the city's Southside entertainment district. It is the second property to open as part of Vision Hospitality's The Tribute Portfolio, following the opening of the October opening of the Kinley Cincinnati Downtown in Cincinnati, Ohio.
The artists participating in the collection explained their processes behind their work.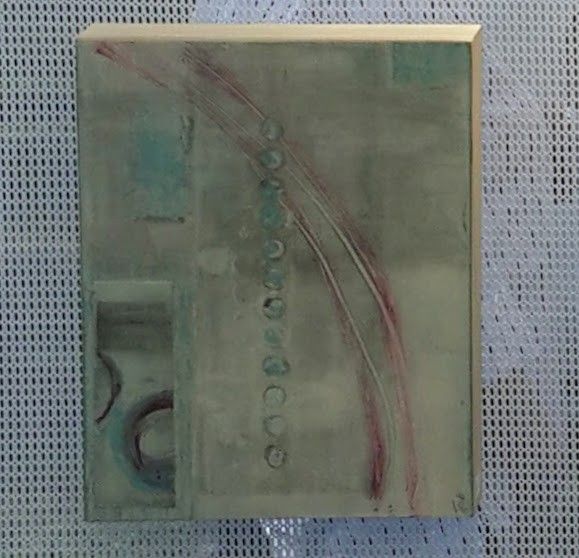 "We really wanted this project to speak about community, diversity, and belonging," said Grober and Buckles. "We were both inspired by how many females were involved in the Kinley Chattanooga artistic process as a whole, so naturally we leaned towards the idea of quilt making and the history of stitching various fabrics together to create something unique. That is exactly what the Chattanooga community represents  and that is what you will find when you look at the details of the work. There are motifs scattered about that include traces of the city, connections between people, and a vibrant landscape that inspires all who encounter it."
The process of creating a monotype like Tiny Blue Planetary Alignment involves printing a design with ink on metal plates and using a printing press to emboss the pattern onto paper.
"Tiny Blue was part of a series of experimental works that used line, shape and color to evoke a sense of the way that events in life interplay and line-up in relation to each other," Campbell said.
Magnolia Story is made from acrylic, alcohol inks & Irish linen waxed thread on 300 pound watercolor paper.
"The Magnolia Story began with the tending of my 70-foot magnolia tree named Bella," said Carll. "The pod images are based on the shape of the magnolia blooms center that drops from the tree after dispersing the bright red seeds like red rain. In creating the large-scale pod weaving for the Kinley Hotel, I was able to stretch the limits of my artistic practice to new heights. It was a pure joy to work on this project and become part of the Kinley's artistic family that showcases the best of what Chattanooga can offer culturally to the greater world."
Droste said her work on her abstract art pieces began in 2016, amidst what she viewed as a societal shift in America.
"Highly worked canvases create a narrative using repeated forms, lines and colors," Drose said. "I work from multiple perspectives and vanishing points, creating a tornado of visual incident – reminiscent of layers of graffiti. They are distinctly modern images with modern narratives, executed in the traditional materials of pencil and paint. Though my paintings contain a lot of visual information, I try to be mindful to retain some semblance of calm and quiet. However, I don't treat the canvas as a precious object.  I make mistakes.  I welcome them and embrace them.  I purposely make the canvas ugly to try and make it beautiful again."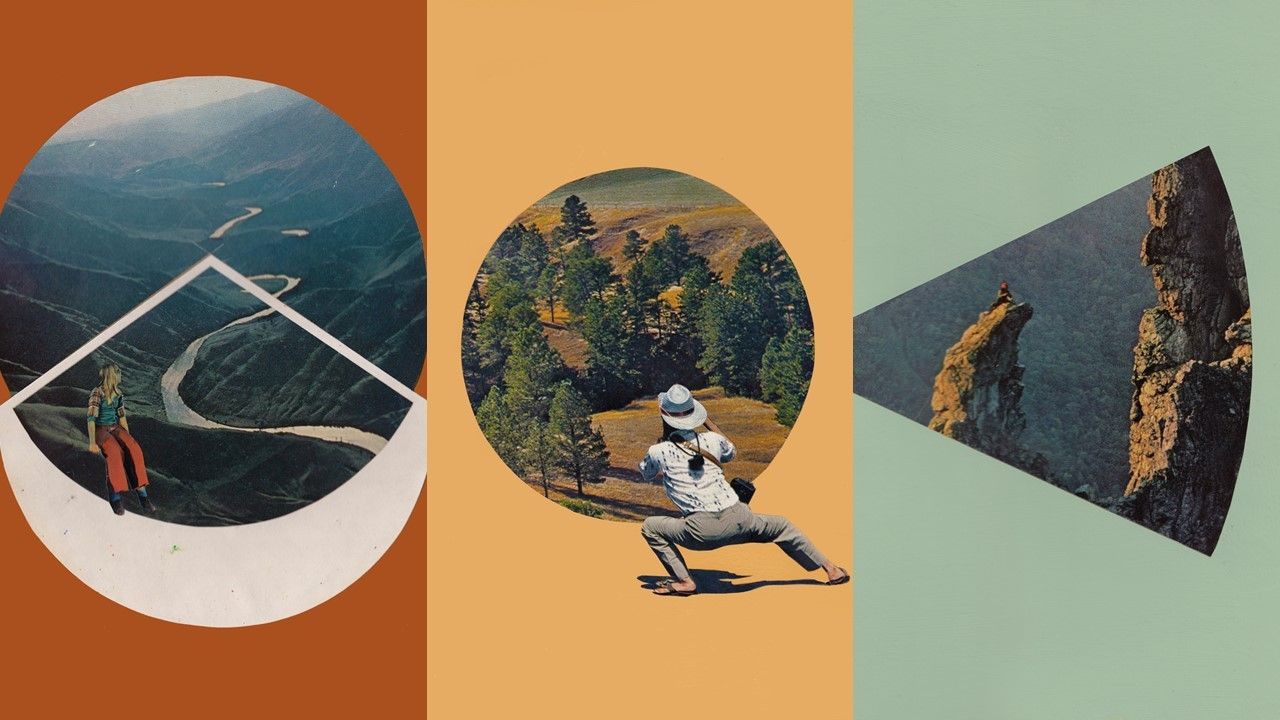 Other works by the artists in the collection include "Show Me Love" in The Exchange, an abstract mixed media mortar series on insulation by Cydney Parkes. It is based on lyrics from the song "Show Me Love" by Hundred Waters.
"I wanted the piece to represent an open mind and carefree spirit," Parkes said.
Hollie Chastain, a local mixed media artist and illustrator, curated a combination of gouache painting and clipped vintage ephemera to decorate guest rooms in the hotel.
"I keep a plethora of magazines handy and finding the wild, playful images that I wanted was easy and then hard to narrow them down," said Chastain. "Capturing the Chattanooga vibe through color and activities was important to me and I focused on our mountains and streams that we are so lucky to have."
In February, Vision Hospitality announced Michael DiMaria as general manager for the hotel.