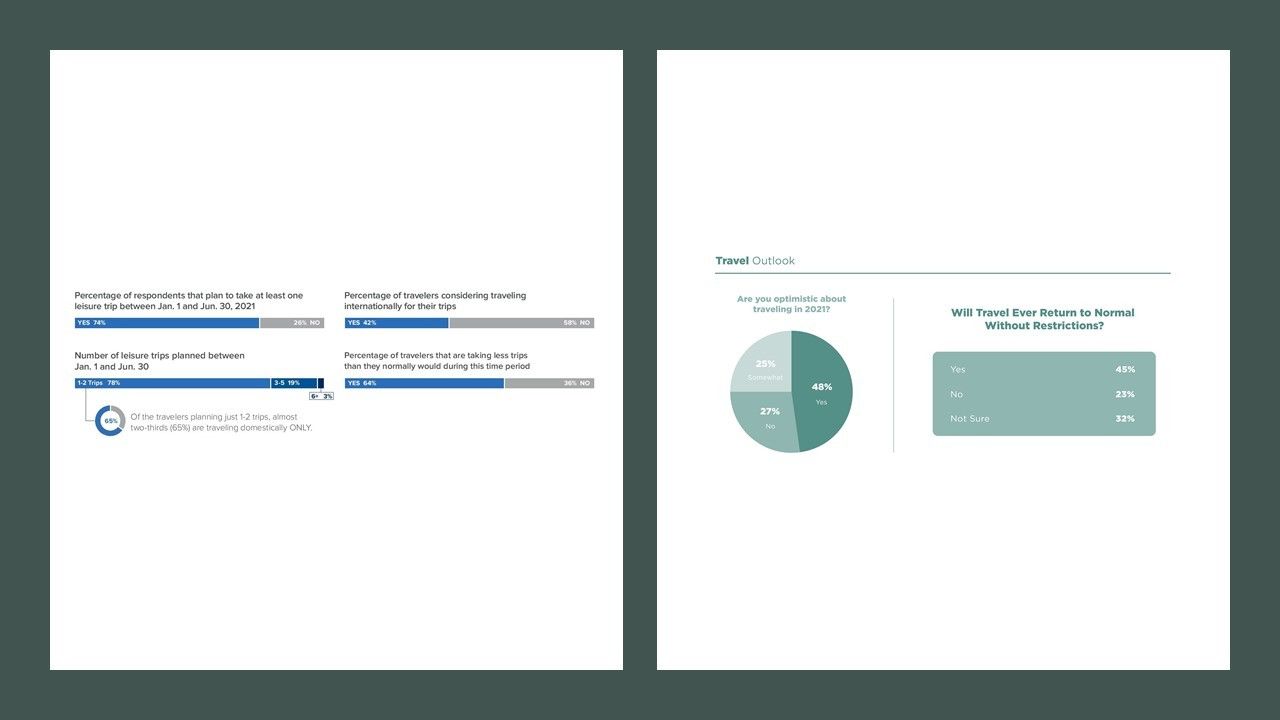 U.S. ADULTS' LEISURE travel intent will remain high for the first half of 2021 with a 'cautiously optimistic' outlook, according to a survey by travel software company Pegasus. Another survey from financial planning company IPX 1031 found similar optimism among pandemic weary travelers.
Eager for leisure
The Pegasus survey found that 74 percent of respondents plan to take at least one leisure trip between Jan. 1 and June 30, most domestically. It also found that 64 percent are taking less trips than they normally would during that time period.
It also covered several factors affecting that optimism, such as the distribution of COVID-19 vaccines, and ways hotels can position themselves to attract those travelers.
Travelers prefer small town and countryside destinations to urban centers as most are taking fewer trips than usual and traveling domestically by car, according to Pegsus's "U.S. Leisure Traveler Sentiment Survey."
"Factors such as public health measures and flexibility with cancellations and rebookings are also reported as key decision factors in booking accommodations. In contrast, travel behaviors and preferences for researching and booking trips have not changed significantly, nor has the appetite for traveling far from home," said the survey. "The COVID-19 vaccine news has spurred excitement for the return of international travel in 2021, including the bounceback of business travel and a potential rise of vaccination vacation packages, or 'vaxications,' as coined by travel marketing firm MMGY Global."
The survey also predicted that the availability of vaccines will likely not have a major impact on leisure travel until the third quarter. Instead, road trips to outdoor destinations such as beaches and small towns, will remain popular even as more travelers are willing to fly. Hotels are the preferred accommodations, and survey respondents like to book online directly.
"Expected booking lead times for accommodations remain consistent with pre-pandemic trends, but travelers are now placing importance on public health measures and the ability to cancel or rebook without penalty," the survey said. "The pandemic has primarily affected the number of trips people have planned, but has otherwise had only a minor impact on traveler intent, research, and booking."
Acquiring new guests will require less focus on ad spend return and more strategies to re-engage previous guests.
"Take advantage of relatively inexpensive channels such as email marketing and Instagram stories or Facebook ads where you can run inspirational top-of-funnel marketing campaigns, especially if you can make your property a key part of the destination experience. Using tools that can target users with content that is easily shareable can be especially helpful," the survey said.
Pegasus advises U.S. hotels to apply strategic length-of-stay discounts to encourage longer bookings, such as offering 25 percent off bookings of three nights or longer.
"Other ways to encourage longer bookings include free room upgrades or special packages for guests staying a week or longer," the study said. "Curate your offerings to include amenities that will be popular for the moment, including parking, outdoor activities, bicycle rentals, and socially distanced dining options."
Expecting a return to normal
The IPX 1031 survey found that 48 percent of respondents were optimistic about traveling in 2021. Also, 45 percent said they believe travel will return to a pre-pandemic level of normalcy with no restrictions.
"As Americans begin receiving vaccinations for COVID-19, many are already planning to travel this year. In fact, more than half, 58 percent, say they have travel plans this year with one-third of those planning on vacationing during spring break. Some are not wasting anytime as 42 percent already have their trips booked," the survey said. "Among all respondents, 20 percent still are not sure when they will vacation again, but 33 percent say they plan to pack their bags and vacation by this summer. Safety and health concerns during the pandemic is the top reason for Americans holding back on vacationing this year followed by financial reasons."
Those financial reasons include the fact that 70 percent of respondents said they can currently afford to take a vacation but the average budget would be around $2,470. A new federal stimulus package would help as 36 percent said they would spend their stimulus check on a vacation.
"According to respondents, 29 percent are eager to take advantage of their vacation time this year by taking a longer vacation compared to previous years," the survey said. "A majority of respondents are also viewing safety as a top priority when they travel. Overall, 62 percent say they will only travel to areas with a low number of cases and 73 percent are prepared to cancel or postpone their trip if cases spike in the destination they plan to travel to."
Other findings in the survey include:
48 percent said they feel safe flying this year but 80 percent said they will feel safe next year.
72 percent said they will feel safer flying after being vaccinated.
57 percent said they've gone a year or longer without taking a vacation.
Other studies from AAA Travel and the American Hotel & Lodging Association found Americans traveled less over the holidays.