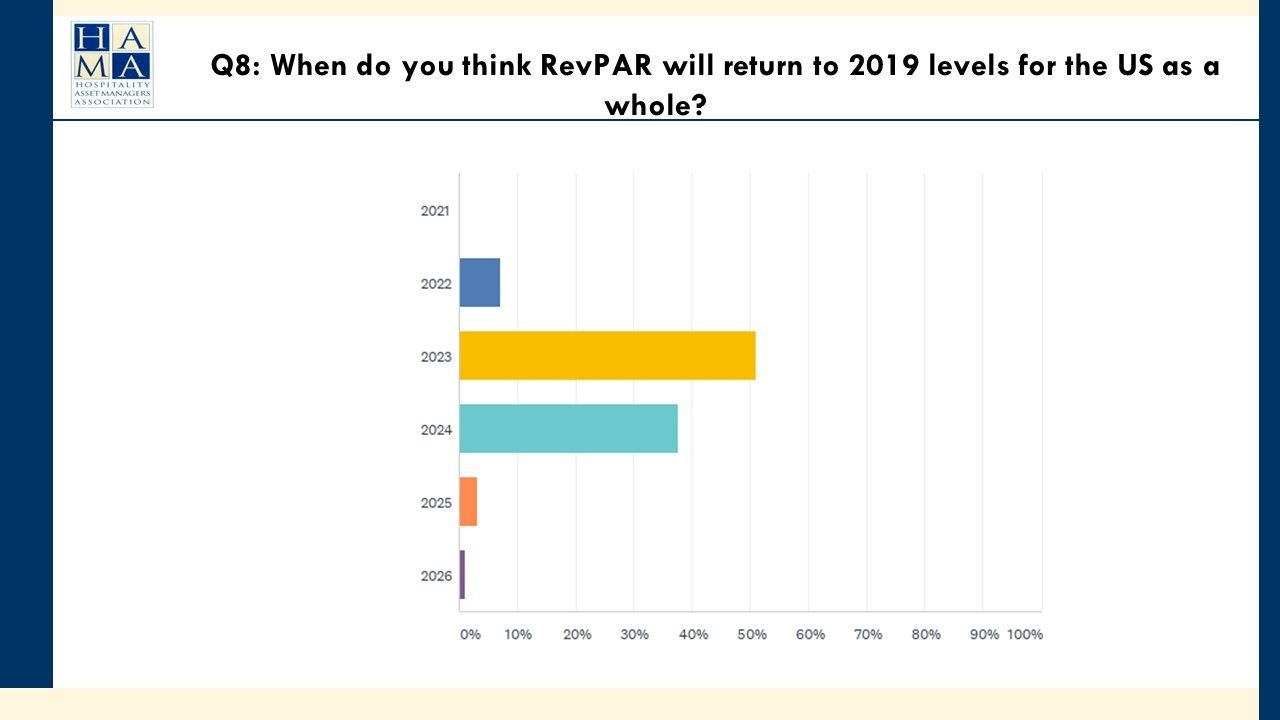 IT'S TURNING OUT to be a good spring leading into a promising summer for U.S. hotels, according to a survey from the Hospitality Asset Managers Association. The bi-annual survey of asset managers covered questions about current acquisition appetites, new brand management plans and other leading issues.
The survey of 100 respondents, conducted as a lead in for HAMA's 2021 Annual Spring Meeting, found that the ongoing vaccination program was leading to some optimism among asset managers. Half of HAMA members believe RevPAR will return to 2019 levels by 2023 and around 10 percent believe it will occur as early as 2022. However, approximately 37 percent believed it would happen in 2024.  Predictions for 2025 and 2026 came in at three and one percent, respectively.
"As vaccinations in the U.S. continue, it would appear the light at the end of the tunnel for the hospitality industry is coming into clear focus, and we are delighted to find it is not an oncoming train," said Larry Trabulsi, HAMA president.  "Based on our findings, while there is obvious optimism about a much quicker than expected recovery, a meaningful percentage of hoteliers still are working towards solutions.  We are confident that better times are not too far ahead.  Whether or not individual owners and properties will continue to survive and hopefully thrive remains to be seen."
This optimism compares favorably to HAMA's previous survey in October, when between 50 to 75 percent of respondents expected continuing declines in RevPAR for U.S. hotels until 2023.
Survey findings show that:
Nearly 30 percent of respondents are considering brand or management changes as part of their recovery strategy, with approximately 5 percent believed they would change brands, 10 percent foresaw changing management companies and roughly 15 percent believe they would change both.
Approximately 15 percent of participants expected to either hand back keys to the lender or enter into a forced sale situation. Nearly 10 percent already had.
The three factors most concerning to participants right now include labor availability (75 percent), demand (60 percent) and labor costs (55 percent).
On average, in urban markets for full-service and luxury properties, nearly 45 percent of those surveyed anticipated acquisition price discounts of 11 to 20 percent. While one respondent believed discounts could reach 41 percent or more off pre-pandemic pricing, approximately 15 percent felt discounts would be as low as 0 to eleven percent.